The high-stakes world of rare-plant theft
By Anne-Marie Bullock
BBC Radio 4's Costing the Earth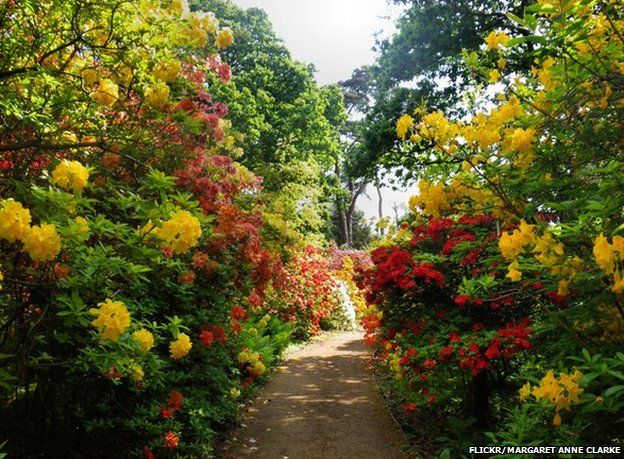 The theft of endangered and rare flowers has led botanical gardens to go to extreme measures to protect their plants, locking them down with cables and installing CCTV. But is this enough to preserve such species?
The gently swaying trees and luscious foliage of the Sir Harold Hillier Gardens in Hampshire hardly look like a crime hotspot. Young families amble with pushchairs and pensioners take tea and cake.
But the staff must remain vigilant.
"Each time there's a theft it's as shocking as the first time," head gardener Fran Clifton explains.
"Earlier this year we put out two of a certain rare species of mahonia, and within a week one of them had gone."
They say thefts take place regularly, including hundreds of bulbs of new snowdrop varieties worth up to £100 each. Now the snowdrops are kept locked away and on limited display.
"Records show 10 to 20 plants are stolen a year from here," says the site's botanist Barry Clarke. "In reality it's probably much more than this. I imagine 50% of those plants will die shortly after being taken."
He also has his suspicions about who's responsible: "We've caught people taking cuttings before - and they can be anyone from the little old lady down the street to a young person out of agricultural college.
"But sometimes the mother plant is stripped to such a degree the plant is damaged beyond repair. We are of the opinion that unscrupulous nurserymen may be to blame for this kind of theft."
•The Victorian Fern Craze, which gathered momentum in the 1840s, drastically reduced numbers of the Killarney and Woodsia fern. Population sizes have never recovered
•Once not uncommon in parts of northern Britain, the exotic Lady's Slipper orchid was wiped out by thieves and declared extinct in 1917. A single wild, native plant was then discovered in 1930, and this remains the only native site
•The Summer Lady's Tresses orchid was lost from Britain in 1956, largely due to thefts from its last remaining sites in the New Forest. It is still classed as extinct
•In 2007, two men were fined £7,000 for stripping bluebells - which, though not endangered, are protected by law against picking for sale - from woodland near Pwllheli in north-west Wales
A more sinister black market has also developed. Kew Gardens hit the headlines in January when a priceless rare African water lily, the Nymphaea thermarum, was stolen - likely dug or pulled up from a shallow water lily pond.
The plant, which is now extinct in the wild, has never been recovered and may well have died.
Kew's Madeleine Groves believes it was stolen to order for a collector: "A lot of people are recognising that [such thefts] involve organised crime," she says.
"Criminals will use wildlife and plants and flowers - [they think] it's a commodity. If you get a new species of orchid - say from Asia or South America - sometimes you can see them go for $500 [£300] a pop."
National wildlife crime agencies do not keep registers of reported plant thefts, so the scale of the problem is difficult to assess. But botanical gardens have begun anchoring plants underground, growing them under cages, and installing CCTV cameras.
Botanists are also concerned about the rare flowers being sold on the internet. There are five times more plants than animals covered by the Convention on International Trade in Endangered Species (CITES) - including cycads, cacti and many species of orchid.
Anything sold without a CITES permit is illegal, yet a simple search on internet auction sites reveals rare species with no mention of authorisation.
Some species have already become extinct purely due to collection. In 1999, Paphiopedilum vietnamense was discovered, new to science, in Vietnam, and was extinct in the wild within five years.
Border Force, who intercept illegal goods coming into or through the UK, say that while items from outside the EU have declined, the old colonial trade routes mean items can go into other EU states and then be traded into the UK.
Taking any wild plant without landowner's permission is considered an offence under the Wildlife and Countryside Act of 1981, though there are concerns this is rarely acted upon
It is illegal to take any plant growing in council parks or on council-maintained displays, such as roundabouts, without permission
While it is illegal to damage or disturb the habitats of protected animals, there is currently no offence for reckless destruction of the place where a protected plant or fungus grows
Non-commercial gathering of fruit, nuts and plant leaves is not normally considered an offence
But not all native rarities are in staffed gardens. Some of the UK's endangered flowers can be found growing in the wild - sometimes on towpaths or footpaths - and are far more susceptible to being stolen.
Campaign group Plantlife says such thefts are hard to prove. It's calling on walkers to monitor the routes they take and report thefts to them. It also wants protection in law on the places where rare plants grow, in the same way that rare animals' habitats are protected.
The University of Kent is working on other methods to help detect plant crimes and improve conviction rates - such as an alarm system for use on cycads.
It is hoped that by attaching a tagging system to the plant with a sensor, wardens will be alerted if it is removed or tampered with. It is due to be trialled in South Africa next year.
The university is also working on isotope testing so that when plants are discovered, botanists will know whether it has been taken from the wild rather than cultivated. Software engineers are also developing a system to scan internet sales and alert officers to suspicious adverts.
Botanists say such research is important because the theft of rare plants could have broader consequences than a simple aesthetic loss.
"All species play a part in the ecosystem and environment, so it may provide a vital food source for a community. You can't say I'm just taking one species out of the wild because if we all did that a whole forest could be decimated," says Madeleine Groves at Kew.
"If you're just ripping plants from the wild, you don't know what pests and diseases you're bringing back," she adds. And, just possibly, a stolen rare plant "might be the last species known to science and contain the wonder drug that's going to cure cancer".
Listen to Costing the Earth: Where Have all the Flowers Gone? on BBC Radio 4 on Tuesday 28 October at 15:30 GMT, or on Wednesday at 21.00 - or catch up online
Related Internet Links
The BBC is not responsible for the content of external sites.