Mysteries of the deep - what's been lurking in the Baltic Sea?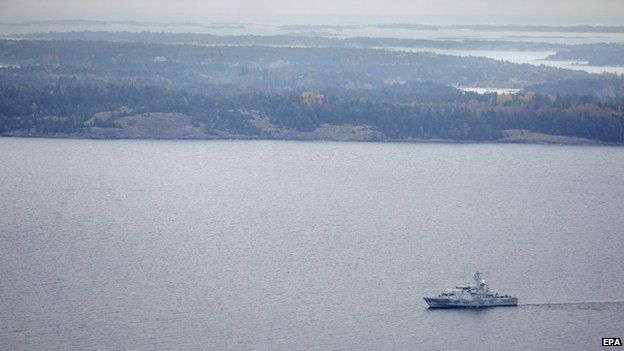 Sweden spent the past week trying, unsuccessfully, to find a foreign submarine thought to be lurking in its waters. But on Friday, having scoured the coast, the Swedish military called off the search. So what's going on in the Baltic?
On a long warm summer evening when the sun refuses to set, there are few finer places in Europe than the Stockholm archipelago.
There are 30,000 Swedish islands and rocky outcrops, picture perfect holiday cabins painted reddish-brown or yellow as mustard and sailboats bobbing at anchor in a clear blue sea.
But it's not necessarily where you'd choose to be when - like this week - the rain is lashing down, the wind is whipping off the Baltic Sea, the skies are a forbidding grey and you're looking for the naval equivalent of a needle in a haystack.
Foreign underwater activity - that's what the Swedish authorities officially called it. The tabloids dubbed it the hunt for Reds in October.
What it means is that they've been searching among the islands and skerries off Stockholm for a submarine that shouldn't be there, bringing back dormant memories of the Cold War.
Back in the 1970s and 80s Sweden regularly scoured its territorial waters for Soviet subs, almost always without success.
Fast forward to today, and a time when countries around the Baltic Sea are casting nervous glances towards a newly assertive Russia.
After Crimea, and after eastern Ukraine, they can't help but wonder what Moscow is planning next.
The Kremlin laughed off suggestions that one of its vessels was involved in this latest maritime drama - it adopted an almost mocking tone towards Sweden's military response.
But there were tantalising hints - a coded message in Russian, allegedly intercepted by Swedish intelligence, sent from the archipelago to the Russian enclave of Kaliningrad on the southern coast of the Baltic Sea.
And a series of civilian sightings of a mystery vessel, possibly a Russian mini-sub, which may have run into difficulty.
"We hate the fact that something is in our waters," an admiral leading the Swedish operation told me, "but time is on our side, and they are the ones wearing the watches."
It was all deadly serious, but there have been moments of farce as well. A grainy photograph thought to be the mystery sub breaching the surface may well turn out to be genuine. But it still brought to mind fake pictures of the Loch Ness monster.
And a mystery man - dressed in black and carrying a backpack - sparked momentary talk of a possible incursion by special forces, until he turned out to be a retired local minding his own business.
"I could see there were lots of military boats out and about," he said. "But I was just going fishing."
He didn't mention "the one that got away", but it looks like the unidentified intruder will never be found. And if it was indeed a Russian sub, why was it there? Swedish defence experts have several theories.
It could have been mapping or training, it could of course have been spying. Or is it even possible that it set out to be noticed - just to send a message? Here I am. Catch me if you can.
If so it would appear to be part of a pattern of Russia trying to probe the defences of some of its near neighbours - both countries like Sweden which aren't in Nato, and countries like Estonia which are.
Last month Sweden protested to Moscow after two Russian fighter jets entered its airspace. And across the Baltic in Estonia, an intelligence official working close to the border was abducted by Russian agents and taken to Moscow.
This week a Russian surveillance aircraft took off from Kaliningrad and flew first toward Danish and then Swedish airspace. Finally it entered the airspace of Estonia, before being escorted away by Nato jets.
All this activity is changing security calculations across the region. Sweden has already announced defence spending is going to go up, and Latvia's foreign minister said the Swedish sub search could become a game changer.
It didn't feel quite so threatening as I stood on the dockside in the port of Nynashamn, watching a naval vessel heading out to sea.
"The Russians are probably coming in and out all the time," said a passer-by with a shrug. "We just don't get to hear about it."
"Are Swedes nervous about all this?", I asked. "I've no idea," he said. "I've lived here for 35 years. But I'm Turkish."
BBC Radio 4: Saturdays at 11:30