Afghanistan: A father's journey in the footsteps of his fallen son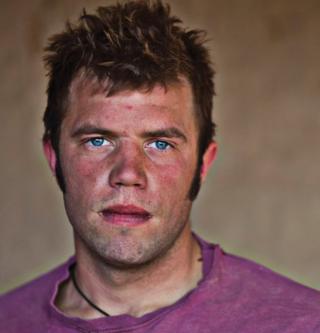 Tony Lewis's son Conrad was killed in action in Afghanistan in 2011. His father travelled to the country to try to understand what he died for.
So often on the journey his mind turns to the memory of the living boy - the 16-year-old fizzing with energy, the athlete and the would-be rock drummer, the boy who couldn't wait to quit school and be a man. And there was the picture of Conrad that would live with Tony forever, as he was the last time he saw him alive. Already a battle-hardened warrior, his son was standing among hundreds of fellow paratroopers at Brize Norton when he embraced his father.
"He was stood in the middle, para beret on, looking a proper soldier... he gave me a massive hug in front of a few hundred guys. That's my last memory of him. Not embarrassed to do so. Big strong boy didn't give a damn what others thought of him. That's quite a memory."
I am listening to Tony Lewis on a hill high above Kabul. It is dusk and we are watching the kite runners on the slopes, their brightly coloured flags jumping and darting in the falling light. Two helicopters circle to land at a Nato base in the city below. Closer by, some boys are diving into a pool of brackish water. Silhouetted against the sun, with their splashes and laughter, they drown out the more distant clatter of the helicopters.
We have come to Afghanistan because Tony wants to see the country where his 22-year-old son was killed by a Taliban sniper on 9 February, 2011. He wants to pay his own tribute to the fallen boy and his comrades of 3 Para.
But there is another journey within the journey. For the father of a son who died in the long war there are questions. What was it all for? What did it achieve? And with the war still going on, has the task that Conrad Lewis and thousands of British soldiers went to achieve been completed?
And Tony has some people he wants to thank. On the Christmas before he died, Conrad came home on leave. He told the family about a dog he'd adopted, a stray that followed him on the dangerous patrols around Quadrat in Nad Ali, Helmand.
The men had named her Peg, after Pegasus, the winged horse that is the symbol of the Parachute Regiment. Before returning to Helmand, Conrad asked his father to contact a charity called Nowzad - set up by a former Royal Marine - which could ship dogs like Peg back to the UK. She would be his pet when he finished his tour of duty.
After Conrad was killed, Tony remembered his son's deep affection for the dog. "Two weeks after he died we got in touch with Nowzad to get Peg back from the most dangerous place on Earth."
Now the Afghan stray is a consoling presence for Tony and Sandi Lewis at their home in Claverdon, Warwickshire.
Tony Lewis is a reasonable man. He listens and watches before offering his own opinions. There is a gentleness about him that makes him an easy travelling companion.
He believes his son fought for the right cause. But his patriotism is not blind. As we move around Kabul he experiences a see-saw of emotion - from hope to deep worry.
At half six in the morning, the sun already lighting the alleys of Kabul. A girl steps forward to strike a metal plate hanging in the school yard.
There is a surge of energy. In a few cramped dusty rooms, in old refugee tents, hundreds of girls begin their day's work. We see row after row of intense, earnest expressions, bowed to the task of learning. It is a peaceful but powerful revolution.
The hunger for knowledge, the imperative of change is palpable here. I see tears come into Tony's eyes.
He is introduced to a 15-year-old girl called Yasmina. Her face brims with curiosity.
"So what are your plans for life?" Tony asks.
"I want to be a doctor," she replies in fluent English, "and I want to help the people. I want to be a very good doctor."
Tony turns to me. "How brilliant is that?" he says.
"Bloody hell, 13 years ago she wouldn't have been allowed go to school under the Taliban."
However there is a less inspiring subtext. The teachers at the school haven't been paid for two months - a frequent occurrence, they tell us. Because of lack of space the 4,500 girls who attend must do so in three separate shifts.
Systemic corruption and mismanagement has caused massive damage to Afghanistan. Billions in aid have been stolen or squandered. It is a crisis the new president, Ashraf Ghani, has vowed to tackle. But doing so will bring him into conflict with the warlords and their cronies who dominate so much of Afghan life.
We drive to a market, past the numerous checkpoints manned by edgy soldiers and policemen. The Taliban are here in the city. They strike at Nato convoys, at roadblocks. They have attacked restaurants and shot Westerners in the street. At the Serena Hotel where we are staying, they struck last March and killed nine people in the dining room, including a mother and her three children. Her pleas for mercy for the children were ignored.
When we check in, with the customary offer of fresh juice and hot face towels, I note the look of concerned surprise on Tony's face - flak-jacketed, gun wielding guards patrol the corridors and loiter outside the dining room.
Later that day we visit the main market in the company of Khoshhal Taib, a BBC Pashto service reporter who has lived in Kabul for four decades. He has seen the rise of the Communists, the Soviet invasion and war, the civil war that followed, the rise of the Taliban and their fall, and now the fragile democracy beset by insurgency.
"Nobody is safe in Afghanistan," he says. The market is bustling. Crowds are perusing racks of clothes and multi-coloured bolts of cotton. Street children approach with hands outstretched seeking alms. A man is roasting corn on a charcoal fire. "In a minute here you can have a suicide attack," explains Khoshal, "but five minutes after that everything will go back to normal, people will go on with their lives."
Later as we travel across town, Khoshal shows Tony the spot near the headquarters of military intelligence where a suicide bomber struck. Khoshal and his family were in a traffic jam and witnessed the attack. "It was terrifying," he recalls. "You don't know where to run."
Each day in Kabul the journey turns from encounters with the bigger political crisis to the more personal concerns of a father grieving for his dead son.
For Tony one of the essential moments of the trip is a visit to the animal charity Nowzad. As we walk past the huge concrete blast walls that protect the shelter, the sound of dogs barking grows louder. Just inside is a huge poster of Conrad with his dog Peg on patrol in Helmand, next to a sign for the Conrad Lewis Clinic - for the veterinary surgery named in his memory.
"Welcome to Kabul, mate," says Pen Farthing, the former Royal Marine who established the charity, and named it after a dog he adopted in Helmand. He's helped by a full-time manager Louise Hastie, who served in Iraq, his wife Hannah, and a team of Afghan vets and assistants. Among them is Maliha, one of two young women training to be vets and busy bandaging the leg of an injured dog.
"I cannot tell you how happy I am. I am very happy that I can work here. During the Taliban no lady could work here. Now I can study and I am working and helping animals, especially street dogs and street cats. I am very happy and I am glad to do it," she says. An elderly Afghan man who has brought a pair of chihuahuas arrives. The dog, de rigueur of the Hollywood B-list, looks distinctly out of place in Kabul. Perhaps that explains their endless and nerve-shredding barking.
All around us young animals are springing against the mesh of their cage, eager for attention. Some were adopted by British and American troops and left behind when the armies departed, others are strays and still others are pets abandoned by their Afghan owners. The charity tries to find them homes in Afghanistan but also the UK and America. Penn Farthing says former soldiers can find bonding with the dogs helps them to combat post-traumatic stress disorder.
"When the guys come back from places like Afghanistan and Iraq they can't really handle what they've seen," he says. "There's no way of just trying to process all of that. The dog represents something that's positive about where they were. They've helped that animal out. A lot of guys who have looked after dogs, when they have gone home their wives say, when the husband is struggling they go out for a walk with the dog. When they come back it's like there was nothing wrong in the first place."
As the journey draws to a close, the pain that war begets becomes more acute for Tony. We drive from the shelter back along the Darulaman Road, past the palace ruined in the civil war, and back to the hilltop that looks out over Kabul so that we can film the sun setting over the city. Just below we notice a cemetery - the green flags that mark graves are blowing stiffly, as a wind gathers force across the valley.
A man in his 50s - the same age group as Tony - is cleaning a set of graves. Abdul Gafar explained that his 12-year-old brother was killed in the civil war. Soon afterwards his grief-stricken father died. "He could not live after what happened," Abdul explains. Tony listens and offers his sympathy. Then he tells Abdul that he, too, has lost a child to the wars of Afghanistan. As Tony's words are translated I notice that Abdul is looking at him with an expression of great intensity. Then he speaks: "The fact that I am Muslim and you are not, the fact that you are from the West and I am from here, it does not matter… I can feel for you."
All through this journey we have been conscious of the presence of the departed. Constantly in his conversation Tony will refer to his dead son. Theirs was a warm and close relationship. I look at one of the letters Conrad wrote to his father from Helmand.
"As promised opened your letter when we got here and just wanted to say Dad, you're the best Dad anyone could ever ask for," he wrote. "It's you that filled me confidence to have the ability to do all the things I have."
The words come back as we are standing in the British cemetery in Kabul, a quiet and neatly preserved corner off a busy road, a place where few westerners come nowadays. There are graves here from Britain's Afghan wars of the 19th Century and a memorial to the British dead of Helmand.
As Tony approaches to lay a poppy wreath, he sees Conrad's name. He places his finger on the carved letters. It is a gesture of perfect tenderness.
He cannot stifle his feelings. With voice breaking he says, "Oh son, who'd have thought." We walk away and give him time to be alone. Afterwards I ask Tony what he remembers best about Conrad. "He didn't waste a minute of his life," he says. The words are both a stirring tribute and a haunting epitaph for a lost son.
You can see Fergal Keane's report from Afghanistan on the BBC News at Six and News at Ten on BBC One and BBC News Channel, 27 October 2014
Subscribe to the BBC News Magazine's email newsletter to get articles sent to your inbox.