Does the WW1 tourist trade exploit the memory of the fallen?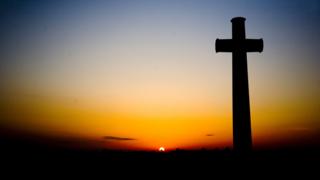 One hundred years after the start of World War One, visitors to Ypres are paying tribute to the soldiers who died there. Local shops offer a huge array of souvenirs - but are mugs and chocolate poppies an appropriate way to remember the soldiers who lost their lives?
At sunrise last Sunday morning I walked through the Menin Gate and out of Ypres, heading north across Flanders fields to the village of Langemark.
Wind-blown paper poppies were strewn across the Menenstraat and there was a streak of red in the eastern sky.
I was on the move because Ypres had disturbed my sleep. Exactly 100 years ago the first battle for this city had given the world a preview of how World War One would be fought.
With the front line now stretching from the Belgian coast to the Swiss frontier, the ebb and flow of mobile combat was replaced by the stagnant morass of trench warfare.
By 1919, Ypres was just rats and rubble, but even as they were still recovering corpses from battlefields, the visitors started coming.
The first were the relatives of the dead, brought over free of charge by the St Barnabas Society, but they were soon ousted by commercial tours.
Thomas Cook offered two itineraries - the basic package, priced at nine-and-a-half guineas and the luxury experience, priced at 35 guineas - £399 and £1,475 at today's prices.
Alarm at the exploitation of sacrifice for profit quickly spread.
The journalist Harry Greenwall described the tourists as "morbid seekers after sensation" and Rudyard Kipling was moved to remind visitors to "respect the spirit that lies on that land of desolation and to walk through it with reverence."
With the centenary of the World War One upon us, the next four years will be a boom time for tourism, and Ypres, which peddles remembrance where once it sold linen, is cashing in.
On streets teeming with old soldiers and school groups, you can buy T-shirts proclaiming "I'm a Battlefield Relic", teddy bears in tin hats, and, perhaps most cynically, Passchendaele lager.
"When opening the bottle, please hold a minute of silence to commemorate those who fell on the battlefield," says the label.
"This is what God has given us," growls a grandmother selling chocolate poppies, "we make the best of it."
Steve Douglas, who runs the British Grenadier bookshop, is worried about the commercialism, but argues that the merchants of Ypres are merely fulfilling a need.
"People need hotels, they need restaurants and they want to buy souvenirs," he says. "And as long as the memory of the men is not being exploited I'm…"
He pauses: "I'm kind of OK with that."
"We have a right to make a living," says student Niki Vloeren, "the past has cast a shadow that won't be lifted in our lifetimes. Their names liveth for evermore, remember?"
Keeping that promise is a full time job for the Commonwealth War Graves Commission, which maintains 196 cemeteries around Ypres.
The wet weather of Flanders has been as tough on the Portland stone as it was on the men it commemorates. Age has withered the headstones, erasing soldiers' names, and the commission is busily replacing 22,000 a year.
My route march takes me past a dozen of these lonely cemeteries. They lie under a low mist that shrouds the fields like mustard gas, and while all seems quiet on the Western Front, I am uneasy.
It's nothing to do with what local farmers call the iron harvest. Around a quarter of the one billion shells fired in Flanders were duds, and every year around 150 tonnes of unexploded ordnance emerges from the sticky mud.
My disquiet is caused by something less solid - a brooding sense of malevolence oozing from the earth, as though the violence has a half-life. I'm no believer in spooks but the old lady I meet walking her dachshund most certainly is. Her name is Beatrijs and her dog is called Robert.
As we amble down the muddy track, she tells me about mysterious lights seen flickering in no man's land, of half-heard screams in the night and of corners of fields where generations of Robert's ancestors have refused to go.
We part at a crossroads, and I continue counting the graves. By the time I reach the Cement House cemetery the total is a staggering 5,645 deaths for just 5,000 metres of line.
But in Langemark, there's even greater horror. Here, in an area the size of a tennis court, lie the bodies of 24,917 German troops.
Their names are inscribed on weatherproof blocks of black basalt, and beside one, under a pebble, there's a note in a polythene bag that couldn't keep out the Flanders rain. The letter is smudged and unsigned, but legible.
"Es tut mir leid aber ich verstehe nicht wofur du gestorben," it says.
"I'm sorry, but I don't understand what you died for."
Few of us do, but we can be sure of one thing: it wasn't for chocolate poppies.
How to listen to From Our Own Correspondent:
BBC Radio 4: Saturdays at 11:30
Listen online or download the podcast.
BBC World Service: Short editions Monday-Friday - see World Service programme schedule.
Subscribe to the BBC News Magazine's email newsletter to get articles sent to your inbox.