The rubbish collector left on the scrap heap as his city goes green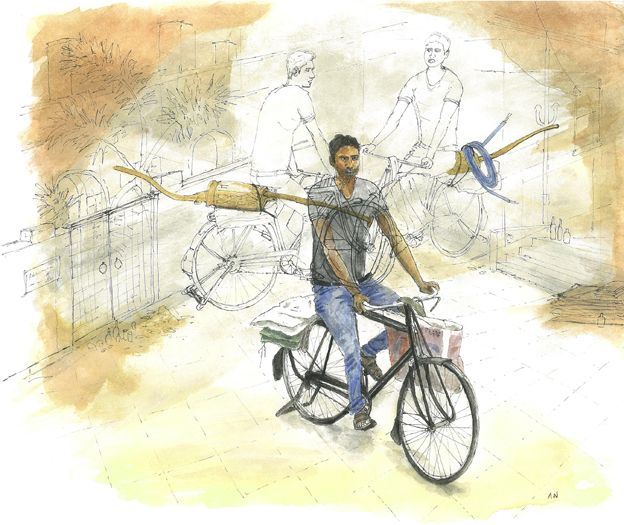 India's prime minister has ordered a drive to rid the streets of rubbish, but his Clean India campaign could spell the end for Delhi's army of informal rubbish collectors. I went to speak to them, with my sketchpad.
"Junk, bring out your junk," Lakhan Singh calls out, as he makes his daily bike round of one of Delhi's plushest neighbourhoods.
But no-one responds from behind the dense shrubs and high walls.
These leafy avenues of colonial-era bungalows were once his best source of saleable rubbish. But his bike rack, strapped with collection sacks, is empty.
Lakhan Singh, known as Lucky, is one of Delhi's army of informal waste collectors or kabadi wallahs - long a fixture of the city's street life and essential to the battle with rubbish in the absence of a comprehensive city-wide collection regime.
But increasingly they are being squeezed out - as being clean and green becomes trendier, and even profitable.
A high-profile drive by Prime Minister Narendra Modi to get Indians to be tidier may even be accentuating the demise of the kabadi wallahs.
Simply put, their problem is competition, particularly from green groups promoting recycling and - most serious of all - the internet.
Rather than hand over old televisions, furniture and even lower value household junk, people can sell them online on classified sales sites like OLX and eBay's growing Indian operation.
But green groups - often staffed by volunteers from the same middle class households the kabadi wallahs see as most lucrative - are now doing the same rounds, often paying better prices to take things away for recycling.
When Lucky first heard of Modi's clean-up drive he was enthusiastic, hoping it would give his work a boost.
"We are the original Clean India Campaign," he says.
Instead, all the publicity around the campaign seems only to be making things harder, as people realise they can make money from their junk.
"Mostly we just get paper, cardboard and bottles now," shrugs Lucky.
He's been working the same areas for nearly 10 years, earning enough to support his family who live in a Rajasthan village, and put his eldest daughter in school. But with inflation high, his 7,000-rupee ($114, £72) average monthly income buys less and less each month.
These changes are a sign of progress too. Few would choose Lucky's job. But if they are squeezed out, Delhi's rubbish collectors see little alternative employment.
Almost all are from the lowest Dalit social caste - formerly known as "untouchables" - or are Muslims, at the bottom of the Indian social hierarchy.
Now they fear they are being excluded again just as rubbish collecting becomes socially respectable.
Things look up a bit for Lucky in Delhi's posh Khan Market shopping area - though not in the expensive boutiques at its heart, but in the service shops at the side.
The owner of an auto-parts store hears Lucky's call and comes out with a rusted car exhaust.
In a nearby warren of alleys and rundown apartment blocks - home to many of the neighbourhood's legions of servants - a woman hands over a bag of beer bottles. Then he gets a roll of heavy electrical cable.
But it's slim pickings for a couple of hours' work.
"We want Mr Modi's campaign to work," says Lucky as he unloads his bike at a rubbish dealer's lock-up garage. "Of course, we want India to be cleaner."
"But where are the 'Good Days'?" chimes in a man sorting through a large heap of bottles, satirising Modi's signature election campaign promise.
Heads turn as they hear raised voices from the lock-up garage. The dealer Bashir Khan has bought some pipes after weighing them on his scales, but the seller isn't happy with the money.
Business is hard, says Khan, but he is tight-lipped about how much he makes.
"They swear at me twice and I swear at them twice," he says.
Lucky and his fellow kabadi wallahs turn back to the rubbish they are sorting.
"This could be the end of our business," he says.
Illustrations by Andrew North