Navigating the lame duck US Congress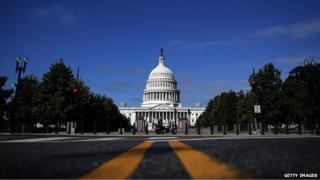 As dozens of newly elected congressional members descend on Capitol Hill, seasoned veterans advise them on how to navigate the treacherous political path ahead.
Patricia Freeman has spent more than a decade making sure US lawmakers get where they need to go.
The long-time US Capitol employee operates an underground tram between the hallowed seat of Congress and the US House of Representatives' outbuildings. Back and forth, every day, she shuttles politicians to important meetings and votes.
This month, though, she has homework. She will memorise the names and faces of new congressional members who emerged victorious during the 4 November mid-term elections.
"We welcome them and talk with them," Freeman says. "Just as we did with the old ones."
There are quite a number of new names to learn after Republicans drubbed Democrats, capturing control of the Senate and reporting the largest majority in the House since World War Two.
For new congressional members, the time to celebrate their victories is brief. Just one week after elections, they are summoned to Capitol Hill for orientation.
This week, new members will be schooled in security procedures and ethics guidelines, participate in a lottery for their assigned office spaces and take a class photo.
During orientation they also learn how to hire staff, run their office and meet with respective party members on the finer points of representing the American people.
But as Congress registers some of its lowest overall approval ratings in history - thanks to ongoing partisanship and frequent political gridlock - veteran politicians warn there is a great deal more to keep in mind if you want to hold onto your newly won seat.
As Republicans gained ground in the House and grabbed control of the Senate, six-term Republican Congressman Phil Gingrey saw his dream of a Senate seat crushed during the primary.
Now, with his party firmly in power, the conservative politician advises new members not to let partisanship get the best of them.
"A lot of times you're just so determined to get everything that you're going to vote no if you don't," he says. "But if you get 75% of what you want and what your district wants, you should be satisfied with that."
Looking back on his more than decade in the House, Gingrey says there were times he could and maybe should have approved legislation instead of taking a hard partisan line.
"Every member, I think, has those feelings," he says. "People need to look beyond just the immediate victory... There are no permanent victories."
"In a presidential election year, things could change."
Retiring Republican Congresswoman Michele Bachmann, former presidential candidate and four-term House member, advises incoming freshmen lawmakers to take advantage of the congressional "knowledge factory".
"They will have the finest information in the world at their fingertips," she says. "The incredible people, world leaders, heads of state, movers and shakers that they will have a chance to meet ... they should avail themselves of those meetings because the relationships are everything."
Several politicians warn, however, never to take your eye off your district and constituents.
"Pay attention to back home," Republican Congressman Steve Stivers, re-elected to his third term, says. "Do what you think is right, and leave it at that."
Fellow third-term Republican Congressman Alan Nunnelee calls establishing a strong presence in the district "the most important thing any freshman can do".
"When you run every other year ... elections come around real quickly," he adds. "If you forget the people back home, they have a way of reminding you."
That advice was echoed by now 11-term Democratic Congressman Elijah Cummings, whose party saw huge mid-term losses.
He urges incoming members to stay in contact with the political base because "when we stray away from our base, our base might very well stray away from us".
As the minority party, new Democratic members should focus on good constituent services like scholarships and job fairs, Cummings advises. Above all else, however, they should be authentic in their political messaging.
"Do not run away from the things you believe in," he says. "Don't run away from the things you told people you were going to do, no matter how unpopular they may become."
"And just try to keep reminding people of the principles that have made this country great."
As congressional members debated legislation inside the Capitol, outside Alex Sullivan and a friend looked giddy following their first tour of the historic building.
Shivering in plunging winter temperatures, the Florida tourists said it was exhilarating to see the people's house featured so frequently in movies and television.
They also had advice for politicians joining the Republican-led Congress, which will square off against Democratic President Barack Obama for the next two years.
"Don't mess up," says Sullivan. "Do what needs to be done... Do your job."
As politicians prepare for next January, at least one thing remains consistent. Tram operator Patricia Freeman will be waiting to greet them with a smile and some kind words.
"I just encourage them, that's it," she says. "That's what we do ... because we've got to move on. We've got to get [the job] done."
Additional reporting by Micah Luxen
Subscribe to the BBC News Magazine's email newsletter to get articles sent to your inbox.