Saving black children from suicide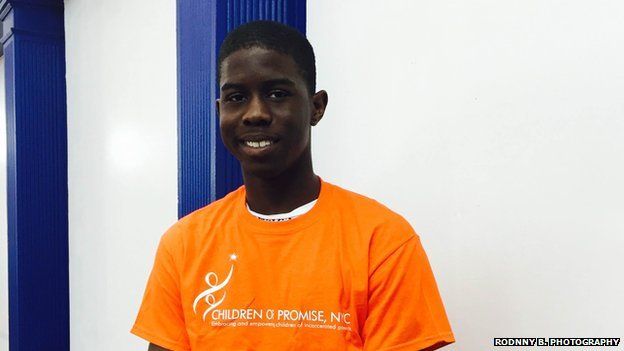 An increase in suicide among black children has alarmed mental health professionals - and thrown light on issues that may have been overlooked when treating trauma in the young. Journalist Krishana Davis talks to those on the front line.
Matthew Morris cowered in the hallway of the crowded Brooklyn home he shared with his mother, sister, brother and grandmother and looked down at the knife in his hand.
He was contemplating whether this would be his last day, he says, recalling the night earlier this year when he attempted to take his own life.
"This is really it. I can't do this anymore," 17-year-old Matthew thought to himself.
"Part of me was saying, Matthew, you can't do this," he says. "But because of all I've been through I had created a new person in my head."
Matthew immigrated to the US with his family from Kingston, Jamaica. He was 12 years old.
He had an idealistic view of America, in part from the shows he watched on the Disney Channel. The America he found was very different.
"I was bullied about my accent and how I dress, and about not wearing the latest fashion of clothes, or for being smart," Matthew says. "This is not what I signed up for."
As bullying at school and in his Brooklyn neighbourhood continued, Matthew says he would often "blackout" and physically attack the students who bullied him.
"I don't see the kids. I see my dad."
As a child, Matthew says his father, now in jail for a violent offence, was physically and emotionally abusive to the entire family.
On the night Matthew attempted suicide, his mother found him with the knife in his hand.
She tackled him and tried to take the knife away. Eventually his grandmother was able to wrestle the knife away from him.
Matthew was rushed to a children's psychiatric ward at a nearby hospital.
Stories like Matthew's are becoming more common, as black children are particularly at risk.
According to a study in JAMA Pediatrics, while the suicide rate among all children was relatively stable over 20 years, there was a significant increase among black children in one of the periods studied.
"Findings highlight a potential racial disparity that warrants attention," the paper's authors wrote.
Many in the mental health field, especially those who work with children, says this is historically surprising and troubling.
The study has "rung an alarm", says Dr Robert Findling, director of paediatric psychiatry for Johns Hopkins Children's Center. Previous studies have shown adult minorities commit suicide less frequently than whites.
While an average of 33 children died of suicide each year between 1993 and 2012 - 84% who were boys and 16% who were girls - the study shows a significant increase in suicide among black children and a decrease among white children.
"This demonstrates that children are not the same as adults," Findling says. "The rules for adults don't necessarily compare to children."
But which factors contribute to this rise have yet to be fully addressed, he says.
Emmanuel Cleaver, a Congressman from Missouri, has called on the Obama administration to form a task force dedicated to the problem. He hopes the Centers for Disease Control will address the issue in 2016.
Anna Morgan-Mullane, vice president of mental health services at Children of Promise, believes the incarceration of the parent is one of the reasons behind the dramatic increase.
Children of Promise are helping Matthew and young New Yorkers break the cycle of involvement in the criminal justice system.
Suicidal ideation, which includes thoughts of suicide or failed attempts, can start with children punching walls or cutting themselves to relieve whatever pain they are experiencing, Morgan-Mullane says.
"Because of the cognitive development of adolescents and not being capable of realizing the finality of death, some children begin upping the ante," she says.
"Sometimes they don't realise that cutting themselves can have serious medical implications."
Other mental health clinicians believe a number of factors can impact a child's decision to end their life.
One of the biggest obstacles facing adolescents with trauma is that "they don't have the language" to effectively communicate their struggles, says Dana Crawford, paediatric psychologist at the Behavioral Health Integration Program at Montefiore Health System.
Another issue specific to black children is internalised racism, she says.
"As adults, when we ignore internalised racism and cross-cultural issues, young people are left to figure out what's going on by themselves," Crawford says.
Mental health issues in the black community have not been well documented over the years, said Dr Linda Darrell, associate professor at Morgan State University School of School Work
Suicide rates among black children may be higher, Darrell says, because they are experiencing trauma earlier.
And that trauma is not always direct.
Inner city black children may internalise a feeling of being devalued - based on dilapidating neighbourhoods filled with blight, funding priorities for schools and other factors negatively impacting their communities - Darrell says.
"[Many urban black children] live in communities that may not be getting bombed, but could be considered war-torn communities," she says.
"You have families living in areas where three-fourths of the homes are boarded up."
Darrell says such issues have been overlooked when talking about children's mental health.
"We have to really begin to pay attention to the traumatic experiences children in urban cities have been experiencing," she says.
Matthew is one of those adolescents who is getting his trauma addressed. He regularly attends therapy and counselling at Children of Promise and recently joined their mentoring program to help dissuade other young children and teens from resorting to violence that hurts themselves or others.
He is hoping to go to college to become an engineer.
"I want to help others," he says. "I really want to show others you can do it too."