Could the dining car ever make a comeback?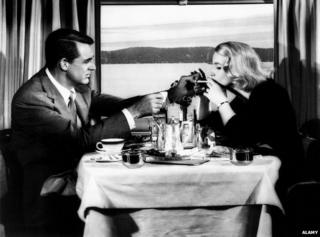 Britain's traditional railway restaurant car is threatening to make a surprising comeback, writes Adrian Quine.
The years after privatisation were not kind to the UK's restaurant cars. A 150-year tradition of fine dining on the move appeared to be about to be confined to the history books.
But now the romance of dining on freshly cooked cordon bleu cuisine and fine wine while travelling at 125mph appears to be creeping back.
Train operator First Great Western is the only company in the UK to offer traditional dining cars on regular services. When the railways were privatised in 1995 there were nearly 250 trains a day across the UK offering everything from artichoke and parsley soup to fillet steak, accompanied by on-board cellars stocking fine wines.
By 2012 that figure had shrunk to just four trains a day as rail companies chased profits and reduced costs. The large dining tables were scrapped in favour of tightly packed airline-style seating. A trolley selling sandwiches stood where once the onboard chef in pristine whites could be found creating mouth-watering dishes like flambéed Bourbon shrimp or zesty brochette of Dijon lamb.
The rail industry's PR machine trumpeted the scrapping of such fripperies as "progress" but there were always some who regretted the decline. The romance of the restaurant car was clear - could the famous meeting between Cary Grant and Eva Marie Saint in North by Northwest have been as compelling if it had taken place in the "onboard shop" over a microwaved burger?
Virgin Trains even went so far as to appropriate the scene, but moved it to standard class on one of their trains, with a plastic bottle of mineral water and a paper sandwich bag in view.
You can still get table service on some rail journeys - such as with Virgin Trains - but it's only for those in first class and it's not quite the classic dining car experience.
The only place where the experience has survived and is flourishing is on traditional dining trains from London to the West Country, and Swansea. They have survived and proved so popular that First Great Western has started adding more.
They still have the modern airline type seats, and they are technically within first class, but standard class passengers can sit down for dinner. There's still some distinction in that first class customers can book a table, while standard customers have to walk in on-spec.
There's been input from West Country restaurateur and food writer Mitch Tonks. The menu is from his Seahorse restaurant in Dartmouth, voted the best seafood eatery in the UK.
"I was approached by First Great Western when they came into my restaurant and said can you replicate this on board our trains? I love a challenge and really wanted to make happen," he says.
It's not cheap, of course - at £65 for a three-course meal including wine. But the "Pullman dining" trains retain a loyal following. And they don't appear to be a massive money-maker.
"In isolation they don't make a profit but it's unique and helps build a loyalty and retain passengers," says managing director Mark Hopwood.
One fan is regular Cornish traveller Hillary Davis: "After a long day in London it's such a wonderful experience to have dinner onboard." Regular traveller Dr John Davis agrees: "There is a lot of gamesmanship for the best seats. Some passengers opt for small tables and hide behind their newspaper but others like me enjoy sharing a table and engaging in conversation."
Dining cars go against the general trend on British railways. Since privatisation, train operating companies have largely tried to cut costs, raise fares and transport as many people as possible.
Despite privatisation not all companies followed the "pile-em high" model. The now-defunct GNER which operated the London to Edinburgh route from 1996 to 2007 actually increased the number of restaurant cars during its tenure to around a hundred a day.
GNER's exuberant and often outspoken managing director Christopher Garnett had his staff wearing waistcoats, and meals were served on bone china plates embossed with the company's own crest. He denies the popular notion that restaurant cars always lose money. "Absolute nonsense, we made a huge amount of money out of them and they were hugely popular and I'm delighted that Great Western is bringing them back," he says.
But this "Pall Mall club on wheels" is not to everyone's tastes. Russell Hollowood, curator at the National Railway Museum, believes that social attitudes have changed dramatically and that the restaurant car is a bastion of social divide and elitism that belongs firmly in the 1920s.
"Many people feel belittled by sitting in a restaurant worrying about whether they are holding the knife and fork correctly," he says. "I personally prefer to munch away on a sandwich in the privacy of an airline seat rather than being judged as you play footsie with the stranger sitting opposite."
Rail industry consultant Barry Doe believes many rail companies are missing a trick. "I live in Bournemouth and regularly travel to the north of England but never use the direct train because of its terrible catering."
Rail aficionados will be keenly watching to see whether other firms follow First Great Western's lead down the "haute cuisine" route. Many will hope they do.
Subscribe to the BBC News Magazine's email newsletter to get articles sent to your inbox.