The man who found 100 bombs
By Lucy Wallis
BBC News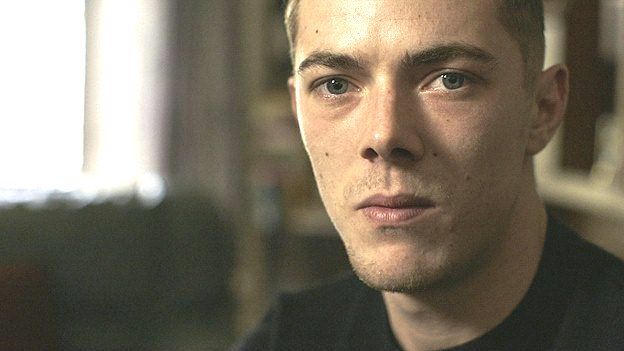 During the conflict in Afghanistan, Improvised Explosive Devices (IEDs) became the greatest threat to British troops, but what was it like to be given the task of seeking out these devices?
In the difficult and dusty terrain of Helmand province, homemade bombs buried underneath the ground quickly became the Taliban's most terrifying weapon.
"People who have been blown up are a complete mess and often don't even look like a person when you get them," says Anthony Lambert, who worked as a surgeon commander at the trauma hospital in Camp Bastion in Helmand and treated many casualties of war.
At the time of soldier Chris Scott's first tour of Afghanistan in September 2011, counter measures had been introduced by the British army to try to locate IEDs before they detonated.
At just 20, Scott was given the job of "vallon" or front man, responsible for protecting the lives of the 30 men behind him in his patrol from the dangers of IEDs.
"I basically got the front of the patrol, first man through to check the ground… to get all the patrol safely through," says Scott. "It was good because I was trusted within the platoon to do that role as well. It kind of made me feel important in a way."
Scott's platoon was charged with protecting Route 611, a main road that linked two major cities in Helmand. The local people and troops used the route, as well as the Taliban, and it had become a dangerous hotspot for IEDs.
Armed with a mine detector, Scott would search the patrol area for devices, but the responsibility for other people's lives was intense.
"You couldn't let it play on your mind at all. If you did you'd just go insane, you wouldn't even get out of bed. The pressure's unbelievable," says Scott.
For Scott's mother Lesley, back home in the UK, news of her son's role in the conflict was terrifying.
"He kept me fully informed and I knew he was vallon man, he was front man, and I'm thinking, can I say the phrase, 'cannon fodder'," says Lesley Scott.
The Taliban would always leave some sort of marker near to where they had planted a device, so they could remember where the bombs had been placed. If anything looked suspicious, Scott would be the first to investigate more closely by lying down on his front on the floor.
"You just get on your belt buckle, try and reach out with your hand as far as possible, trying to get the blast area away from your face if anything was going to go off. So hopefully then if anything did go off you'd only lose your hand. Then slowly stone by stone, grain of dust, dirt by dirt, you'd search the ground," says Scott.
"If I didn't find anything, I'd say to everyone it's clear, but then I would also stamp on it myself. I know then it's clear. So if I said it was clear and then someone else behind me got blown up, that would be devastating, that would be a horrible feeling in the world, knowing that I said it was clear and it wasn't."
Lesley Scott kept a diary of her thoughts during her son's time in Afghanistan and an extract from that journal reveals the anxiety she constantly felt.
"Not heard from you for a week, no news is good news so they say. I'm scared that you're not even going to read this. Every time I hear a car, I jump to the window hoping it's not two guys in army uniform. Would be good to hear your voice right now."
In the six months Scott was stationed in Afghanistan he discovered over 100 IEDs which were then detonated under controlled conditions, saving the lives of many.
"You feel a sense of accomplishment then," says Scott. "Yes, I've found this, you've put this here to kill me. I've found it."
However, the memories of Scott's final mission, before he returned home to the UK, have left a deep scar. On his last valloning assignment, Scott was being followed by his cover man and one of his officers, Captain Bowers. All of a sudden he remembers hearing a massive explosion.
"I just remember being pushed down to the side on to the floor. All dust being pushed in my face and stuff flying everywhere and my initial thought was, I thought it was me," says Scott. "First thing I did, I stood up and I said, 'I'm fine, I'm alright, I'm fine.' I didn't know I was fine, I didn't check or anything, that was just my initial response.
"Turned around and Captain Bowers was gone. He just wasn't there. Blakey shouted out, 'where's the boss,' and we just visually looked around the area and he was about 20m away in a bit of rubble, not in a good shape."
Captain Bowers had been killed in the blast.
140,000 UK troops served in Afghanistan
£19bn total operational cost
453 UK troops killed
108 died in 2009 - the worst year
Up to 500 mentors to stay after 2014 in a non-combat role
Source: Ministry of Defence
Lesley Scott's journal entry from the time recalls that devastating day and her son's distraught phone call afterwards.
"You phoned, you sounded sad, you sounded angry, you sounded ready to leave that God awful place. You said you have shrapnel in your knees and your ears are still ringing three days later. Lovely, I cannot begin to imagine how you're feeling, I cannot begin to imagine what you've seen. Things that I hope you can in time overcome. You did and have done everything you could have done".
Scott is still serving in the British army and in 2014 was promoted to the position of lance sergeant, but he says he will never forget that final mission.
"I was the front man, I was meant to make sure this doesn't happen. I do think about that everyday, that maybe I missed something, maybe something didn't pick up," says Scott.
"I never stop thinking about what could have happened. After that, in the last day, I always said I'm never going to vallon again."
Related Internet Links
The BBC is not responsible for the content of external sites.