The French delicacy made of 25 layers of pig intestines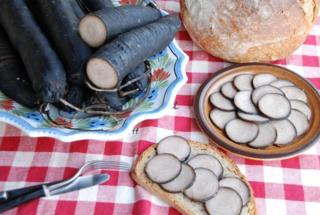 Guemene-sur-Scorff in north-west France may not be well known internationally, but a popular French delicacy was born in the town. The andouille de Guemene is a pork sausage made from pigs' intestines and stomachs.
A local andouillerie, Rivalan Quidu, advertises its presence on the outskirts of Guemene-sur-Scorff in Brittany, France, with a sculpture in the corner of its vast car park.
You won't need to take a great leap of imagination to visualise what a representation, in fibreglass, of two giant andouilles might be mistaken for, but the locals take their home-grown delicacy very seriously indeed.
A steady stream of customers - from passing tourists to lorry drivers on their regular beat - pull in to buy a chunk.
The andouille de Guemene is a relatively new phenomenon - the recipe having been created only in 1930 by Joseph Quidu, the son of a local farmer - but Gallic gourmands with a fascination for all elements of the gastrointestinal tract of a pig have embraced it as a classic.
As I push open the shop door I'm enveloped by the aromas of fat and smoke. I suspect just breathing the air could send my cholesterol levels into double figures.
The narrow shop is fitted out to resemble a Breton kitchen, complete with pine fixtures. Andouilles hang from every part of the ceiling like crinkly brown stalactites. At one end is a typically huge Breton fireplace - it too is festooned with andouilles, being smoked over a wood fire.
The stones are caked in glistening, sooty fat. Behind the counter is Benoit, husband of Joseph's grand-daughter Francoise, who together with their children are carrying the tradition of the andouille de Guemene into its third and fourth generations.
Out at the back, away from the public gaze - and possibly out of respect for the squeamish - is the kitchen where the andouilles are created in a modern style true to Joseph's original recipe.
Inspired, I like to imagine, by the act of pulling on more than one pair of socks to counter the cold and damp Breton winters, Joseph pulled one length of chaudin - or pig intestine - over another, and then another. Around 20 or 25 in all.
The salted intestines of three pigs, weighing in at 3kg, go into each andouille, which are then smoked over oak wood and dried, sometimes for months on end before being cooked slowly in stock. Cut through, the innards resemble pinky-grey tree rings carrying a distinctly smoky taste and aroma.
Benoit had never tasted andouille until he started courting Francoise. He cheerfully admits he at first thought it bizarre, but he saw the potential - especially when, back in the 90s, endorsement by France's outspoken celebrity chef and food campaigner Jean-Pierre Coffe saw demand skyrocket.
Joseph made about five andouilles a week, his son Laurent made about 200, and today Rivalan Quidu employs nine people turning out 1,000 a week.
The younger andouilles, dried for just two or three weeks, are cut up and sauteed in hot dishes. The sausages dried for three months are more shrivelled, more intensely flavoured and served in paper-thin slices as an aperitif, with a glass of chilled muscadet or local cider.
Andouilles de Guemene must never be confused with the ubiquitous, cheap and cheerful, andouillette. These are the plump, loose-stuffed sausages which when cut open spill out a grisly assortment of components like an organic Airfix kit.
The andouille de Guemene is a much more sophisticated speciality with a price tag to match. It retails at 39 euros ($50, £30) per kg. Benoit helps me do the maths, approximately £1 per inch (2.5cm).
At this point, lest I begin to sound like an infomercial, I must state: "Other andouilles de Guemene are available."
The fact is that anybody, anywhere can make andouille de Guemene. And it is happening, on a commercial scale, as far away as Poland.
Benoit is too much of a gentleman to suggest that the rival product is inferior, but says that the production process is turned on its head to save time and cut costs. In some places the chaudins are dipped in a bath of liquid flavouring to mimic the authentic smokiness.
Benoit is not unduly concerned. He is confident that by 2022 he will have doubled production to 2,000 andouilles a week, expanding his market across the Atlantic to the US state of Louisiana and Quebec in Canada.
"Et peut-etre," says Benoit, "Londres?" But then he smiles mischievously to show this is just a joke - a plaisanterie.
He suspects English taste buds will never be sophisticated enough to appreciate "la vraie andouille de Guemene". But his Gallic shrug says he doesn't see this as a serious setback to his ambitious plans.
---
More from the Magazine
The country with 1,200 types of sausage
---
Photographs courtesy of La Maison de l'andouille
How to listen to From Our Own Correspondent:
BBC Radio 4: Saturdays at 11:30
Listen online or download the podcast.
BBC World Service: Short editions Monday-Friday - see World Service programme schedule.
Subscribe to the BBC News Magazine's email newsletter to get articles sent to your inbox.