Why China sees itself in Lowry's paintings of industrial Britain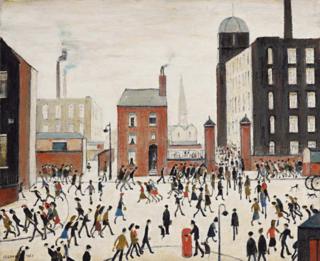 British artist LS Lowry's paintings of industrial, working-class Britain brought him popular fame in the UK. Yet his works have never been the subject of a solo exhibition abroad - until now.
LS Lowry, with his depictions of everyday northern life, is one of Britain's best loved painters. Popular he may be, but since his death in 1976, there have been accusations that the British art establishment has turned its back on him, finding his subject matter too working class.
There's been public pressure for major galleries to do more to celebrate him and last year the Tate Britain put on a Lowry show. But remarkably, for such an icon of modern British art, no solo exhibition of his work has ever been held outside the UK. Until now. A collection of Lowry paintings is being shown at an exhibition in Nanjing in eastern China.
Lowry's canvases depict a side of British life that's now gone. The one above, Mill Scene, from 1965, is reminiscent of many of his paintings, with its smoke stacks and hurrying crowds of workers.
Lowry's subject matter may now be Britain's past but it is, of course, very much a part of China's present day. This is a photograph of one of Beijing's train stations ahead of Chinese New Year when millions of migrant workers flock away from their factory production lines and head home.
The exhibition came about following the chance meeting of Xiao Lang, a Chinese art consultant, and Andrew Kalman.
Kalman's father, Andras, was a private gallery owner in Manchester and a close personal friend of Lowry. He agitated for British art institutions to promote Lowry's work overseas, but no solo exhibition was ever held outside the UK in either his or the painter's lifetime.
The curators hope Lowry's paintings will resonate with Chinese audiences because they will see echoes of their own economic development and the problems it causes.
Xiao Lang points to notorious pea-souper smogs of Lowry's day and the swathes of grey and white in Lowry's paintings.
"First of all the white sky," she says. "We have air pollution issues in China so the sky colour will definitely resonate with Chinese audiences."
Lowry was not a political painter and this is not socialist art. He was, after all, for most of his working life, a rent collector.
But there is great affection for his subject matter and his very painting of it suggests a deep respect for the working communities that he was surrounded by.
The people Lowry painted, like so many Chinese migrants today, were doing hard work for little pay.
Cai Su Yun, a street cleaner in Nanjing stands in front of her favourite picture in the exhibition - Rising Street. She likes the dogs. "It's nice that he painted working people," she tells me. "Do you feel a connection?" I ask. "Everywhere, we're all the same," she says.
Some see in Lowry's decades of work, not a depiction of industrial strength, but a bleak portrayal of long industrial decline. Alongside the parallels with the present, Chinese audiences may well find hints and warnings about the future.
The exhibition at Nanjing University of the Arts runs until the 16 December 2014.
Subscribe to the BBC News Magazine's email newsletter to get articles sent to your inbox.