The immigrants left behind by Obama's executive action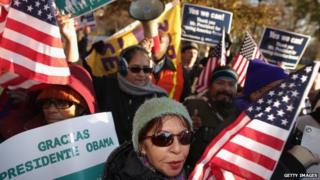 When US President Barack Obama announced plans to lift the threat of deportation from millions of people living illegally, all the attention was on those who qualified. What about those who don't?
Once again, Julio Calderon has had to watch others who arrived in the United States illegally like him move forward while he is forced to stay back.
Last month, President Barack Obama's plan to offer protection to nearly five million undocumented immigrants brought them "out of the shadows", as he himself put it.
The plan will provide them a reprieve from deportation and a right to work, but no path to citizenship.
But an estimated six million people have been left behind.
Unable to obtain driving licences, own a house or travel back to their countries for a visit, many undocumented immigrants in the US endure a life marked by hardship and fear of deportation.
Calderon, 25, an immigrant from Honduras, has been twice unlucky. He met all the requirements to qualify for the relief except an age cap, which was also a condition of a similar, smaller-scale plan in 2012.
To be eligible, young immigrants like Calderon had to be younger than 16 when they entered the US. He crossed the US-Mexico border just days after his 16th birthday.
"Everyone starts getting a better job, a driving licence, and you are the only one that stays behind," he says.
Many of the excluded have lived in the US for a good part of their life, paying taxes and abiding by the laws, except for one - the law that requires them to live in the US with documentation.
Obama's executive action was targeted at two specific groups of beneficiaries - parents of US citizens or permanent residents, and people who arrived in the US as children - with the goal of keeping families together.
Single adults without children in the US do not qualify for the plan.
That is the case of Amrry Gonzalez, 54, who arrived illegally in Miami 14 years ago.
A father of four, Gonzalez left Nicaragua after he divorced. He has not seen any of his relatives since he came to the US.
"The first thing I will do if I ever get my papers will be a trip to Nicaragua to see my four kids and my six grandchildren," he says.
In his native Nicaragua, Gonzalez was an agricultural engineer but here he has worked odd jobs.
He sometimes commutes five hours a day by bus. He says that most people who ride the bus in Miami are undocumented immigrants.
"The service is so poor," he says. "Sometimes you wait for hours until a bus shows up."
Unlike other undocumented immigrants who drive vehicles without a licence, he does not want to risk being stopped, jailed and deported.
Florida, like many states, requires foreigners to prove their lawful presence in the country in order to be eligible for a driver's licence.
But activists are pushing the state legislature to join 11 other states that have passed legislation allowing undocumented immigrants to apply for a licence.
Activists also vow to intensify their campaign for a comprehensive immigration reform passed by Congress.
"We won't rest until there is no single person in this country walking the streets with fear of being deported," says Ivan Parra, spokesperson of the Florida Immigration Coalition.
Rosana Araujo, 46, and her husband Yamandu Champone, 39, did not qualify for Obama's action either.
Their only child, Damian, 13, was born in Uruguay shortly before they packed up and made the trip to the States, escaping a severe economic crisis. That means Damian is undocumented as well.
If Damian had been born on US soil, he would now be an American citizen and the whole family would have benefited from Mr Obama's plan.
Araujo says she felt frustrated when she heard Obama's prime-time speech in which he announced the categories of immigrants that will receive protection.
"I cried, I was angry," says Araujo, who watched the speech alone in the family house in Hialeah, a Miami suburb.
She says she had hopes that immigrants who had stayed in the country for more than 10 years would also be protected.
Since she arrived in the US, Araujo has worked in shoe factories and a flower warehouse.
She was a kindergarten teacher in Uruguay, but here she cannot apply for a similar job, because schools and other employers in formal sectors will verify that foreign applicants are legal residents.
"I suffered so many abuses working in those factories. That was a life I was not used to. In Uruguay I went to university and gave classes", she says.
Now, she studies immigration policy at Miami Dade College. Her husband works as a kitchen countertop installer.
When she meets other students, Araujo says she sometimes feels as if she had a contagious disease.
"If I say I don't have papers, people start to avoid me because they associate undocumented immigrants with conflict."
Unlike other undocumented immigrants, Calderon, Gonzalez, Araujo and a few others are not afraid to speak to the media.
They are very active with immigration groups and say that if authorities were to deport one of them their associations would campaign to protect them.
In only that sense, these activist immigrants have already left the shadows.