Inside the 'world's most dangerous' hospital
By Chris Rogers
BBC, Guatemala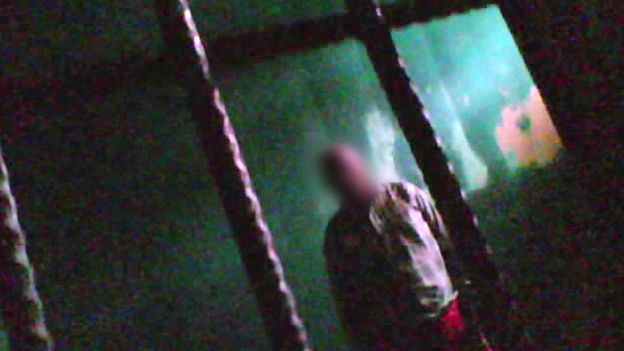 A hospital in Guatemala has been described by campaigners as the world's most abusive and dangerous mental health institution. Former patients say they were raped while sedated, and the director himself admits - while being filmed undercover by the BBC - that patients are still being sexually abused.
Wherever I look I see motionless bodies lying on the crumbling concrete floor of a barren courtyard in the burning sun. The patients appear to have been heavily sedated. Their heads have been shaved and most are dressed in rags with nothing on their feet.
Others are totally naked, exposing their dirty skin covered in their own faeces and urine. They look more like concentration camp prisoners than patients.
The Federico Mora Hospital is home to around 340 patients, including 50 violent and mentally-disturbed criminals. But according to the hospital's director, Romeo Minera, only a minority have serious mental health problems - a staggering 74% have arrived in need of little more than attention and care and should have stayed in the community.
Minera believes we are charity workers, offering help to his failed institution. Journalists are not welcome here - our cover story was the only way to get access to a hospital that has been condemned by human rights groups.
Walking into one of the wards is like entering a hell on Earth. We find more patients in rags sitting on the floor and in plastic chairs, rocking themselves for comfort. There appears to be no form of stimulation in the dark, sparse ward.
The patients reach out to us, desperate for human contact. A man wraps his arms around my chest and begs me to take him away from the hospital.
A male nurse tells me that two or three nurses have to look after 60 to 70 patients, others explain the only way they can cope is by sedating them. As my translator distracts the director, I slip away to the sleeping quarters that line a long, dark corridor. Here I find more patients lying in broken, rusting metal beds.
The patients appear too sedated to take themselves to the toilet. There are puddles of urine on the mattresses, and the clothing on some of the patients is covered in their own faeces. The stench of human filth overwhelms me and I try desperately to stop myself from vomiting.
In response to our investigation, the Guatemalan government said that the hospital "uses the minimum dose of sedatives as recommended by the World Health Organization" and defended conditions in the hospital. "There are trained nurses to attend to the needs of patients including keeping them clean and dressed; and a maintenance team to keep the wards clean," it stated.
But this is not the end of the horror that surrounds us. We are secretly filming the director as he makes an astonishing admission - the guards sexually abuse the patients. The hospital, he says, is a big place "where anything can happen".
Two former patients told me they were raped at the Federico Mora Hospital. And that the perpetrators included medical staff as well as guards.
One woman says she was sexually abused by a male nurse while sleeping. She was just 17 years old at the time, and a virgin.
"Since I was sedated I wasn't aware of it - I didn't realise until the next day that I had lost my innocence. I was bleeding down my legs, so I realised that what had happened that night is that a male nurse had come in and raped me," she explains.
This was on her third day in the hospital. After two weeks her cries for help led her family to remove her. "You can never forget that experience," she says, tearfully. "You store it in your mind. I still think of the patients in there."
Ricardo, another former patient, says he was raped throughout the three years he spent at Federico Mora. He was only released after a legal battle, claiming he was wrongly diagnosed with schizophrenia.
"They took advantage of the female patients when they were sedated and not in their right mind," Ricardo says. "The police officers, the patients and the male nurses - and some doctors too. They put the prettiest girls aside for themselves at night."
The US campaign group Disability Rights International (DRI) spent three years collecting evidence on Federico Mora. In a report published in 2012, the group described the hospital as "the most dangerous facility our investigators have witnessed anywhere in the Americas".
It said "any person with or without a disability detained in this hospital faces immediate risk to his or her life, health and personal integrity, as well as risk of inhuman and degrading treatment or torture".
The report explained that patients were denied medical care, exposed to serious and contagious illnesses and infections and - compounded by the "widespread" sexual abuse - were at risk of contracting HIV.
On one visit DRI managed to film a female patient explaining she had been sexually abused on her first day in the hospital, while she was tied to a wall.
"The sexual abuse makes this place one layer more horrific than any place I've seen before," says DRI's founder, Eric Rosenthal.
"I also saw patients held in isolation. There was a man literally trying to climb out of an isolation cell. He was up on the wall desperately trying to get out. And people were locked in these cells for hours or days at a time."
On my visit to the hospital, I also saw one of the isolation rooms used for patients who become too violent to handle. It's a room of two square metres (22 sq ft) with a small window. A man was cowering in the corner, the floor covered in human waste.
The director told me these rooms were monitored, but admitted in the same breath that one patient had recently committed suicide by climbing up to the window and hanging himself.
The Guatemalan government defended its use of isolation, saying "patients are held in isolation for only two hours at a time" and constantly monitored. The government also claimed no-one was being held in isolation during our visit.
The use of isolation rooms formed part of the evidence DRI took to the Inter-American Commission on Human Rights (IACHR) in 2012, which issued an "emergency measure" - effectively ordering the government to address the issues raised by DRI in order to "save lives".
The authorities agreed to act immediately and to launch an investigation into allegations of sexual abuse. But two years on, it appears they have done nothing. Now DRI is bringing a new legal case against the Guatemalan government in an attempt to have the hospital closed down.
The case will be heard in the autumn of 2015, and will see the Guatemalan government effectively placed on trial by the IACHR over the problems found at the hospital. It could face economic and trade sanctions from other Inter-American Commission members.
Hospital staff fear reprisals if they speak out, but six of them agree to talk to me on condition they are interviewed together, and not identified.
"We don't have the medication we need to treat patients. It is dirty, there are rats and cockroaches," admits one, her hands shaking with nerves.
"I think I speak for all when I say that the abuses committed in the hospital by guards are common knowledge," another adds. By now all six of the care staff are in tears.
"It's not just dangerous for the patients but for us too," says a male care worker, holding the hands of his colleagues. "We have complained but no-one listens. Working at the hospital is terrifying."
Back in the UK, I show some of the footage to a leading human rights lawyer, John Cooper QC. "There is a man lying in his bed with faeces around him. This is an individual at his most vulnerable, I'm just speechless to see that," he says.
He adds it is probably the worst case of poor care and lack of humanity he has ever seen.
The Guatemalan government told the BBC that it has begun the process of improving mental healthcare across the country and is starting to build a wall to separate the prisoners from the rest of the patients. While it had not received any reports of sexual abuse or rape, it said, it has ordered another internal investigation.
DRI's Eric Rosenthal says he has heard such promises before, in 2012, and believes only legal action can save the patients of Federico Mora.
"Being a developing country with a poor economy is not an excuse for torture, sexual abuse and no dignified care," he says.
"It is total dehumanisation. These people are not treated as human beings. They have been written off. They are being locked up for the crime of having a disability."
Our World: World's Most Dangerous Hospital broadcasts on the BBC News Channel 04:30 and 14:30 GMT on Sunday 7 December - or catch up online.
You can also listen online to an extended version on BBC World Service's Assignment.
Internationally, you can see the programme on BBC World News on Saturday 6 December at 05:30 and 11:30 GMT and Sunday 7 December at 17:30 and 22:30 GMT.
Related Internet Links
The BBC is not responsible for the content of external sites.