Should students carry guns on campus?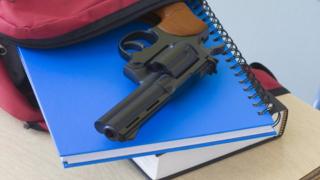 Mass shootings at schools and universities in the United States in recent years have put the issue of firearms on campuses at the centre of the gun debate. Many say the lesson is to keep campuses gun-free, but a growing number of students argue if they were allowed to carry guns at college, they'd feel safer.
A former beauty pageant contestant from California, 20-year-old Taylor Woolrich is the first to admit she's not your usual guns rights campaigner.
She's fighting for the right to carry a weapon on campus, for a very personal reason.
For years she's been stalked by a man she first came into contact with while waitressing at a cafe.
He would turn up to see her every day and began to track her down outside work. An emergency restraining order failed to deter him.
Things became even more terrifying when she moved across the country to study at Dartmouth college in New Hampshire.
"It wasn't even on my mind, and then he contacted me via LinkedIn and used social media to continue to contact me - sent me various very frightening messages, making it very specific he knew where I was," she says.
One summer, when she went home to California, he turned up at her parents' doorstep. She says police found what they call a "rape kit" - rope tied as a slip-noose, gloves, duct-tape, flash light, and a sweatshirt - inside his car.
Taylor's stalker is currently in jail. His sentence will soon be up.
He's due to face trial soon on further charges relating to her case. Still, Taylor is desperately frightened that he could be released, or allowed out on bail. She's certain that if that happened, he would be able to find her.
For that reason, she wants the right to carry a gun on her university premises, arguing it's the only way she could overpower him if the pair came face to face.
"I carry mace, I've considered a Taser, I've considered many options," she says. "Whatever he's going to do, it's going to be worse than the possibility of him grabbing my gun and turning it on me."
Dartmouth College has refused to comment on this specific case due to privacy laws, but says the safety and security of all students is a top priority for them. Any student who reports being stalked is given personalised and heightened protection. On top of this, safety improvements are made, as and when they are needed, says a spokesman.
Like the vast number of colleges and universities across the country, Dartmouth has a policy which prohibits handguns on campus.
The laws on guns on campuses vary from state to state. In more than half of the country, it's up to the universities themselves to decide weapons policy. In New Hampshire, where Dartmouth is located, the decision is left to the college, which chose to keep its campus gun free.
Many institutions believe that allowing weapons on campus has the potential to inflame tense situations, rather than defuse them.
The American Association of State Colleges and Universities (AASCU) has stated, "Even with the best of intentions, armed students or employees could escalate an already explosive situation further, accidentally cause harm or use a gun in a situation that is not warranted."
This month however, a Florida legislator brought forth a bill calling to allow students to carry guns on campus. He cited a recent campus shooting at Florida State University as a reason students need firearms.
A national group, Students For Concealed Carry, is also calling for the right for students to have a concealed weapon. It would mean they could have a gun in their bag at university, but wouldn't be able display it on a holster.
Crayle Vanest is Midwest regional director for the group. A student at Indiana University, she got her first rifle at the age of 14 for sport, before getting her concealed carry permit.
"As soon as you walk into the doors of a university you should still be able to carry your gun if you have a licence," she says.
"Your rights shouldn't change once you step inside the campus."
Vanest says her organisation has attracted many women.
"We want to protect ourselves on campus which is an area where women are very frequently victimised."
But just as there are groups advocating for students to carry guns, there are many who call for the opposite, arguing that the presence of weapons exacerbates violence on campus.
"Having access to guns only increases the chances of an innocent person being hit, versus actually hitting a target or a person who's trying to stalk you," argues Jamira Burley, a member of the Generation Progress, Gun Violence Network.
Burley also cites the high levels of suicide among college students as another reason for guns to be banned from places of education. She says 85% of suicide attempts using guns are fatal, compared with only 2% who attempt a drug overdose.
For Taylor, the right to bear arms isn't about exercising a constitutional right, it's about staying safe.
"What else am I supposed to do? What other option is there? I've tried everything, I've obeyed all the laws," she says. ,"I've never responded to a single message, I've stayed away, I've gone to school 3,500 miles away from my home town, my parents have sold their home and moved," she says.
"There's no other option."