The delicate material that takes months to weave by hand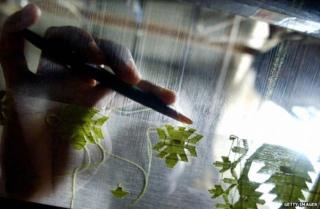 Bangladesh is often associated with cheap clothes produced for the mass market, but the delicate and much more expensive jamdani fabric is also made here. The people who weave the material are highly sought-after employees.
On the banks of the River Lakshya - just outside Dhaka, Bangladesh's capital - the sun is heating the tiny corrugated iron factory I am standing in to oven-like temperatures.
Inside, under a string of bare light bulbs, six master weavers sit in pairs, barely breaking a sweat at their bamboo looms.
The men are shirtless. The women wear neon-coloured salwar kameez - a traditional South Asian garment. All of them rest their arms on cheap white cotton, protecting the delicate muslin they are working on.
This dirt-floor workshop might not hint at luxury, but the special jamdani fabric made here is highly coveted and incredibly expensive.
The factory owner, Anwar Hossain, walks me past the looms. Whiplash thin and just over 5ft (1.5m) tall, he doesn't disturb the workers as he pauses to let me admire the work of one young woman who sits below us.
Her hands, spinning like furious atoms, interlace silky gold thread into a sheer muslin cloth the colour of oxblood.
"Jamdani is expensive since it requires dedicated work and special skills," Hossain says, flicking a bejewelled hand over the peacock feather motif that the young woman works on. "My weavers don't use patterns, they create only from memory."
I first heard the word "jamdani" across the border, in India. On a sticky pre-monsoon night in the south-west state of Kerala on the Malabar Coast, a retired Keralan banker called Harry told me how he missed his old job in Calcutta, almost 1,500 miles (2,500km) away.
How he longed for the poetry of Rabindranath Tagore and tangy Bengali street food. But most of all, how he missed the Dhaka-made saris that he would buy his wife from Calcutta's markets.
"She loves jamdani saris," Harry said, "and I do too. They are so light it is like they've been woven in air. I would save up to buy them for her."
It is the detail of the motifs - the intricate jasmine flowers, marigolds and geometric patterns - that are neither embroidered nor printed, but which are painstakingly sewn in by hand when the fabric is still on the loom, that really ups the price.
The very finest sell for hundreds of pounds in Bangladesh and India, often to brides.
Around us turquoise, yellow and white expanses of the finest gauzy muslin billows in the breeze that - like a cool blessing - comes off the river through the latticed bamboo walls.
A bead of sweat rolls down my face and I am struck by the silence. There are no factory sounds. No shuttles zooming back and forth. No machinery of any kind.
The air inside the factory is hushed and filled with concentration. It is a stark contrast to the chaos and din of Dhaka - a raging bull of a city that forces visitors to adapt or perish.
Hossain tells me that his workers are the most celebrated craftspeople in the riverside settlement of Demra. Below them are the dyers, the spinners and the makers of the looms. They all live together in this community, much as they have done for hundreds of years.
It is no accident that the jamdani weavers live in the settlements of Rupshi and Demra right on the riverbank. The saturated soil is particularly fertile and during the British rule - in the 19th century - the villages here produced the finest of cottons.
Today, huge jute mills dominate the area, but a few factories like Hossain's still remain.
Luxurious it is not, but this gentle environment is worlds away from Dhaka's dire mass-market sweatshops that churn out fast fashion for High Street shops all around the world.
In Hossain's labour-intensive workshop - where each sari takes three to four months to make - female weavers are able to work flexible hours to collect school children, and there is no exploitative child labour.
His weavers, he tells me, benefit from the pride and identity their work gives them, unlike the workers toiling over cheap ready-to-wear clothes in Dhaka's often dangerous garment factories.
"My weavers are in charge, not me," Hossain chuckles. Jamdani expertise is a dying skill and factory owners like Hossain know that to keep these workers on they have to offer benefits.
Emerging from the workshop, I ask him what makes a master jamdani weaver.
"Firstly," he begins, "they must be children of the loom, taught by their fathers. Secondly, they must also have strong backs and dedication.
"Lastly, and most importantly of all, they should possess magic fingers - and that is very, very hard to find."
How to listen to From Our Own Correspondent: BBC Radio 4: Saturdays at 11:30
Listen online or download the podcast.
BBC World Service: at weekends - see World Service programme schedule.
Subscribe to the BBC News Magazine's email newsletter to get articles sent to your inbox.