The big ideas of 2014: Part IV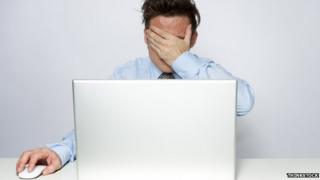 Among the big ideas being debated in 2014 were the constant intrusion of work emails, Serial and the audience as detective, and the idea of "conscious uncoupling".
We have looked at 12 ideas in total. Part I, Part II and Part III can be seen here.
12. Constant intrusion - the work email plague
Work email increasingly bookends an employee's waking hours. In many jobs there's nothing to stop emails arriving on one's smartphone throughout the evening, night and early morning.
During 2014 worries about work email encroachment reached a new peak.
In April, France toughened up its laws for workers in the digital and technology sectors. The deal signed between employers and unions said that workers would have to switch off phones and avoid looking at work email. Firms would not be allowed to pressure staff to check messages. Michel de La Force, chairman of the General Confederation of Managers said that "digital working time" would have to be measured. Some emailing outside office hours would be allowed but only in "exceptional circumstances".
In August the German government looked to be following France's lead. The country's employment minister Andrea Nahles commissioned a report to look at whether a law to restrict work emails could be brought in.
Some German employers already take the matter seriously. In 2011 Volkswagen announced its servers would stop sending emails 30 minutes after the end of shifts. In 2013 Germany's labour ministry banned managers from emailing staff out of hours.
Germany forbids firms from contacting staff when on holiday. This year Daimler went further, announcing that staff could choose to have all holiday email deleted. An automated message would go out informing the sender their mail would not been read and to resend it when the person was back, if the matter was still important.
The battle against intrusive work email has been centred in France and Germany - could the fight widen?
Paul Sellers, TUC policy adviser, argued that the UK needs the same protections. People in modern office jobs are not being allowed to switch off. "Why are we expecting people to work at 8.30 at night?" The Working Time Regulations were drawn up in the 1990s. They needed to catch up with the changes that smartphones had made possible, he argued.
Another view is that work and free time are blending for many professionals. Financial Times columnist Lucy Kellaway has written in the past about how modern business means checking emails on holiday.
But this year Kellaway appeared to change tack slightly. She argued that the working day had become too long, mostly due to email. It was time for a return to the old fashioned nine to five, she wrote.
"We start the daily email orgy before we get out of bed in the morning and then pass the hours till dusk in tiresome meetings and video conferences, only to continue to commune with our smartphones late into the night. Every day feels like a marathon, only by the end of it we have hardly covered any distance."
---
More from the Magazine
Could work emails be banned after 6pm? (April 2014)
Why did offices become like the home? (August 2013)
---
One way to achieve this might be what Google tried at its Dublin office. Workers were asked to hand in their electronic devices on clocking off. They could then spend the evening in peace.
In a highly competitive business climate that approach might not work for everyone. Corporate lawyers, for instance, who are expected to nurse their clients through complex deals during day or night. But to many workers, handing over the smartphone at 5pm sounds like bliss.
11. Serial and the audience as detective
Serial was the podcast of 2014. The 12-part investigation of a crime was downloaded millions of times and provoked frenzied discussions on forums.
It was compared to the great box-set dramas. The Financial Times likened the twists and turns to the fictional whodunnit Twin Peaks: "If 25 years ago the gossip around the office water cooler was all about who killed Laura Palmer, today the talk is all about whether Adnan Syed killed Hae Min Lee."
Hae Min Lee was a Baltimore teenager murdered in 1999. Her ex-boyfriend Adnan Syed was convicted of the murder and has been in jail for the past 15 years. Serial was crime reporter Sarah Koenig's attempt to find fresh answers. She revisited the case and looked at every angle anew, not just the facts but the stories and relationships surrounding it. Each episode was presented in minute detail. Audiences travelled with Koenig through the case, discovering each new lead and discovery in much the same order she did.
It ran from the start of October to mid-December, with one new episode a week. The Telegraph called it the "Greatest Podcast Ever Made".
"The decision to structure Serial as a realtime account of Koenig's detective work, instead of waiting until she's cracked the case to examine what went down, forces us to become detectives with her," wrote Eleanor Robertson in the Guardian. "This is what makes Serial so addictive, and so intellectually fascinating."
---
Serial podcast stats
20 million total downloads; 2.23 million per episode
Fastest podcast ever to reach 5 million iTunes downloads
Top of the podcast charts in the US, UK, Germany, Australia and elsewhere.
Sources: Serial, Apple, iTunescharts.net
---
It allowed journalism beyond mere facts. Koenig's narration let the listener in to how she was feeling about the case, her niggling doubts and thoughts about lines of inquiry.
Reddit had a section devoted to Serial that attracted more than half a million users by December. Fans hunted for clues and travelled to some of the key locations in the case to try to dig up new evidence. After one witness on the podcast claimed to have seen the alleged killer just before a snowstorm, a Reddit user checked and discovered there was no snow on the day in question.
For some, the idea of Serial fans touring locations connected with a murder was distasteful. And those who remembered Reddit users' role in attempting to "investigate" the Boston bombing watched their efforts in the Serial case with scepticism.
There was direct criticism of serial. Many found it distasteful that a story with a real victim and a real grieving family was being enjoyed as entertainment. It was suggested that while much attention was given to the jailed ex-boyfriend, the victim was rather forgotten. And because Lee's family declined to be interviewed there was an argument that the show was unbalanced. There were also some allegations that race was not properly addressed in the show.
Apart from the ethical issues thrown up, some were not convinced by the conclusion of the investigation. The final episode was "a frustrating hour of radio in which Ms Koenig hemmed and hawed and pored back over old evidence and asked, 'Did we just spend a year applying excessive scrutiny to a perfectly ordinary case?'" New York Times critic Dwight Garner wrote.
But he admitted: "In Ms Koenig, an unlikely star has been born. The story she's intimately told over the course of 12 episodes has made plenty of us… feel the occasional tingle of campfire-narration awe."
Serial is back for a second season soon. And a court is considering whether Syed received effective legal representation during his original trial.
10. Conscious uncoupling
When Chris Martin and Gwyneth Paltrow split in March a new phrase entered the idiom. In a joint statement on Paltrow's blog the couple said they'd "come to the conclusion that while we love each other very much, we will remain separate". It went on: "We hope that as we consciously uncouple and co-parent, we will be able to continue in the same manner."
"Conscious uncoupling" was seized on by social media users. And a chart from Google Trends shows the phrase spiking in March 2014.
There were spoofs.
There was some precedent for the term. The Oxford English Dictionary has a citation from 1942 for "uncoupling" to describe the end of relationships. Paltrow and Martin attributed the new formulation to "On Conscious Uncoupling", an essay written by Paltrow's spiritual advisers Dr Habib Sadeghi and Dr Sherry Sami. "Although it looks like everything is coming apart; it's actually all coming back together," they advise. Others said that it was actually the therapist Katherine Woodward Thomas who came up with it in 2011.
---
The statement in full
"It is with hearts full of sadness that we have decided to separate. We have been working hard for well over a year, some of it together, some of it separated, to see what might have been possible between us, and we have come to the conclusion that while we love each other very much we will remain separate.
"We are, however, and always will be a family, and in many ways we are closer than we have ever been. We are parents first and foremost, to two incredibly wonderful children and we ask for their and our space and privacy to be respected at this difficult time.
"We have always conducted our relationship privately, and we hope that as we consciously uncouple and coparent, we will be able to continue in the same manner."
---
While some viewed it as the epitome of celebrity spin, a few commentators saw it as part of a more grown-up attitude to relationships. Tammy Nelson, author of the New Monogamy, wrote in Huffington Post that marriage had changed. The idea that it was for life, and that divorce was wholly negative, was fading, she argued. "It helps to keep the children in caring shared custody arrangements. Things like 'conscious uncoupling,' or 'divorcing with integrity' are a possibility for any couple looking to end their marital contract with dignity and respect for their partner. It is not necessary to rewrite the whole history of your marriage to justify a divorce."
In a surreal postscript, the term then took on a political context for the UK's sometimes awkward governing structure. Graham Brady, chairman of the 1922 committee of Conservative MPs, said in relation to the coalition government that both the Conservatives and the Lib Dems would need to move apart in the months before the general election. "Whether it's a complete break, whether it is a planned disengagement - a conscious uncoupling, I think, is the modern term - it can come in any form as long as you allow the two parties to communicate separately."
Subscribe to the BBC News Magazine's email newsletter to get articles sent to your inbox