A Point of View: The story of the Queen's Christmas speech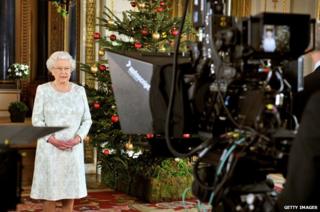 The British monarch's Christmas speech was originally to be a one-off event, but as historian David Cannadine explains, it has become one of the most important fixtures in the royal year.
The Queen's latest Christmas message to the Commonwealth was the 62nd she has delivered during the course of her reign, and across that time, she's only missed a single broadcast, which was in 1969. That year, a special and revealing documentary, entitled Royal Family, had been shown in connection with the investiture of the Prince of Wales, and fearing the risks of over-exposure in the media, the Palace decided there would be no Christmas broadcast, and the Queen confined herself to issuing a brief written message instead.
But with that one exception, she's been a permanent fixture in many people's homes and lives every 25 December since 1952, and there can't have been any other living figure who's been so constant and pervasive a Christmas presence during that time.
Since the Queen seems both determined and also likely to become the UK's longest-reigning monarch, it's almost inconceivable that any of her successors will deliver more Christmas messages than she has already made, and she has long since given many more than her three royal predecessors put together.
Beginning in 1932, her grandfather, George V, broadcast every year, up to and including his last Christmas in 1935. But there was no royal message in 1936, because her uncle, Edward VIII, had abdicated only weeks before Christmas, having delivered a very different kind of broadcast, explaining and trying to justify why he had renounced the throne. His reluctant but dutiful successor, George VI, the present monarch's father, preferred to stay quiet while things calmed down. His first Christmas broadcast as King was given in 1937, but he did not deliver another the following year, and it was only when he resumed in 1939 that the annual sequence really began, which has continued virtually uninterrupted ever since.
All the broadcasts made by George V and George VI went out on the wireless, and they were delivered live from Sandringham around 15:00 - with the exception of George VI's last message of 1951, which was recorded in advance, sentence by sentence, on account of his failing health. The Queen initially followed the same practice, broadcasting her first Christmas message in 1952 from the same desk and chair that her father and grandfather had used. Only in 1957, which was the 25th anniversary of George V's first seasonal greeting, did she deliver her festive greetings on television as well. Two years later, when she was heavily pregnant with Prince Andrew, she confined herself to the wireless again, but since then, all her broadcasts have been televised, initially on the BBC, and from 1997 alternating between the BBC and ITN, with Sky News added to the rotation in 2011.
This is a very different world of technology and communications from the one that prevailed when George V gave his first Christmas broadcast more than 80 years ago. At that time, the first director-general of the BBC, Sir John Reith, was a fervent monarchist, and during the 1920s he sought to associate the newest institution of the realm with the oldest, in what he hoped would be to the mutual benefit of the wireless and the Windsors. In 1924, the BBC had broadcast the speech that the King delivered to open the British Empire Exhibition at Wembley, and thereafter George V's voice was sometimes heard on the airwaves on ceremonial occasions. But it was not until 1932 that he finally agreed to Reith's suggestion that he deliver a Christmas message to the whole of the British Empire.
For George V's subjects, spread across the globe, that first seasonal message was a kind of audible revelation. This was partly because the King had enlisted the help of Rudyard Kipling in preparing the text of his broadcast, and Kipling was a very accomplished wordsmith. But it was also because, although George V's public manner oscillated between gruffness and shyness, and while he was always nervous sitting in front of the microphone, he turned out to be a very able broadcaster, with a beautiful, resonant speaking voice. Harold Nicolson, the King's official biographer, would later describe it as being "strong, emphatic, vibrant, with undertones of sentiment, [but] devoid of all condescension, artifice or pose".
"I speak now," the King began, "from my home and from my heart to you all; to men and women so cut off by the snows or the desert or the sea that only voices out of the air can reach them." Today, when we take instant global communication for granted, it's difficult to appreciate the sheer magic and extraordinariness of this first Christmas broadcast. But when I visited Australia a few years ago, and found myself stopping over in a small, remote town in Tasmania, it didn't take much effort to imagine the sense of excitement and wonder that there must have been, as the King's subjects gathered round their wireless sets to listen to their sovereign addressing them as part of one vast imperial family, but doing so in the privacy of their own homes.
The broadcast of 1932 was such a success that George V had no choice but to repeat the formula every Christmas for the remainder of his reign. The result was that what had begun as a one-off innovation soon became an invented tradition, and there can be no doubt that it brought the king closer to his subjects than had been true of any monarch who had gone before him. Yet it also set a precedent which, once Edward VIII was gone, his successors have felt obliged to keep up, and for George VI, who was afflicted with a serious speech impediment, this meant that broadcasting live to his subjects from Sandringham on Christmas Day was a particularly demanding ordeal.
Since 2010, when the Oscar-winning film The King's Speech was released, many people have learned about George VI's stammer for the first time, and also of the heroic attempts he made to conquer it, assisted by the Australian therapist Lionel Logue. The film ends, on an upbeat and triumphal note, with George VI delivering a rousing call to arms on the outbreak of World War Two, cheered on by the entire cabinet and by thousands of people gathered in front of Buckingham Palace. As the critics hastened to point out, there were many factual inaccuracies about this resolutely determined happy ending. But the greatest error of all, in a film called The King's Speech, was that this was not the broadcast for which he was best known or by which he would be most fondly remembered.
In fact, George VI delivered his most famous speech a few months later, when he broadcast his first wartime message to his people at Christmas 1939. After the gaps of 1936 and 1938, it re-established the sovereign's message as an essential event on Christmas Day, and it did so largely because of these comforting words of faith, hope and reassurance with which the King concluded:
"I said to the man, who stood at the gate of the year, 'Give me a light, that I may tread safely into the unknown.' And he replied, 'Go out into the darkness, and put your hand into the hand of God. That shall be to you better than light, and safer than a known way.'"
The author of these final sentences was named Minnie Louise Haskins, a lecturer at the London School of Economics. In her spare time, she wrote devotional poetry, and it was from one such work that these words were taken. They became a great favourite of the King, and of Queen Elizabeth, and also of many people who, like them, went through WW2. When George VI died in 1952, he was buried in St George's Chapel, Windsor, where his widow - by then Queen Elizabeth the Queen Mother - would later join him. The memorial chapel that was specially created for them is bounded by fine wrought ironwork and some of the words to the side of it are taken from that first wartime Christmas broadcast. They read very simply: "The Gate of the Year."
Subscribe to the BBC News Magazine's email newsletter to get articles sent to your inbox.