The world's biggest ship - for 53 days
By Justin Parkinson
BBC News Magazine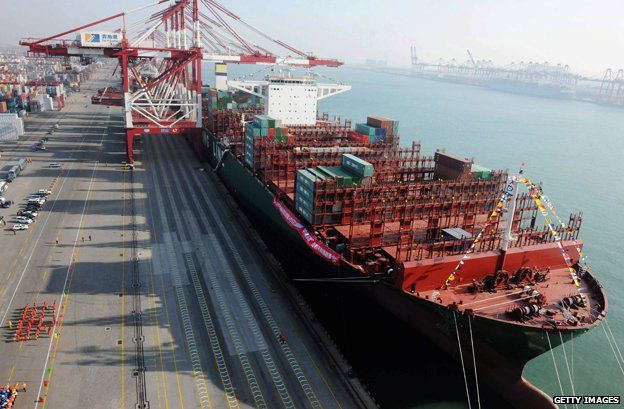 The world's largest container ship, the Globe, is docking in Britain for the first time as it continues its maiden voyage. But how vast and powerful is it and how long until it's superseded?
The Globe is more than 400m (1,312ft) long, the equivalent of eight Olympic-size swimming pools. It is 56.8m (186ft) wide and 73m (240ft) high, its gross tonnage is 186,000 - the equivalent of 14,500 London buses, according to the Port of Felixstowe, where it arrived on Wednesday.
But the record-breaking aspect of the Globe, owned by Shanghai-based China Shipping Container Lines and built in South Korea, is its capacity. It can carry 19,100 standard 20ft containers. That's estimated to be enough space for 156 million pairs of shoes, 300 million tablet computers or 900 million standard tins of baked beans.
Laid end-to-end, the maximum number of containers on board would stretch for 72 miles, the distance between Felixstowe and London, or Birmingham and Manchester.
"You would feel dwarfed by the Globe," says Damian Brett, container expert at Lloyd's List shipping publication. "It's like an office block lying on its side. It's a huge beast."
The Globe's maiden voyage began in the Chinese city of Qingdao on 3 December and is due to end in Ningbo, China, on 25 February. Felixstowe is its first European stop. It will also call at Rotterdam, Hamburg and Zeebrugge.
The Globe is the first of a series of five such ships of the same size to be built by South Korea's Hyundai Heavy Industries. All are expected to be delivered by the end of the year.
The Globe's period as the world's biggest cargo ship is due to end later this month. The Oscar, owned by the Mediterranean Shipping Company and built by Daewoo in South Korea, is scheduled for its official launch on Thursday. Named after company president Diego Aponte's son Oscar, it will be able to carry 19,224 20ft containers.
Its first full voyage, from Asia to Europe, starts on 25 January - 53 days after the Globe's commercial debut.
MSC Oscar - bigger than the Globe
Owned by Mediterranean Shipping Company, built by Daewoo in South Korea
395.4m long, 30.3m deep and 59m in breadth; gross tonnage 193,000 tons
The Oscar will fly under a Panamanian flag and service trade routes between Asia and Europe
It was only in 1996 that the world's first 6,000-container capacity ship, the Regina Maersk, first set sail. The Globe, Triple-E and Oscar are more than three times as big. So, does this rapid development mean ships will continue to get bigger?
"There's talk of ships which can take more than 20,000 standard 20ft containers being ordered soon," says Brett, "but a lot of people think they won't be able to go very much further without access to ports becoming a problem.
"The 18,000 to 20,000-capacity ships can really only sail on the Asia to Europe lanes. Ports in other lanes, including those in the US, couldn't handle them. About 22,500 seems to be the size that people believe is the ultimate. Lack of port access becomes a problem after that stage."
But the main problem facing world shipping at the moment is that there's too much of it for the amount of cargo in circulation. This has increased competition between firms.
"The industry will continue to face overcapacity in the coming years," says Chee Chen Tung, chairman of Hong Kong-based Orient Overseas Container Line. "Despite the gradual recoveries of the developed economies, demand growth is not expected to return to the pre-global financial crisis level over the short to medium term."
The two-stroke engine, built in South Korea, operates at 56.8 megawatts. That's the equivalent of almost 38,000 1,500-watt vacuum cleaners.
For such a huge ship, the Globe's crew is surprisingly small. Only 23 people work on board during voyages. They spend most of their time in the bridge area, where there is a sauna and gymnasium.
"The technical team would spend some time maintaining the engine," says Brett, "and there might be occasions where some of the crew would have to go to some of the crates to make sure everything's OK."
It usually takes about 24 hours for a port to deal with loading and unloading the largest vessels. The crew takes little part in this, as the port itself does most of the work.
The price of fuel has slumped in recent months with oil prices falling below $50 (£33) a barrel, but the main reason China Shipping Container Lines and its competitors are investing in larger ships is to save money over the longer term, when costs are expected to rise again.
The economies of scale allow freight to be transported more cheaply. It's estimated that the Globe's engine, which automatically adjusts fuel consumption based on the ship's speed and sea conditions, uses around a fifth less fuel per container than a vessel carrying 10,000 containers. Maersk describes the Triple-E as the "most efficient ship in the world".
China Shipping Container Lines has invested $700m (£463m) in building the five Globes.
How much bigger can container ships get?
The world's cargo ships are getting big, really big. No surprise, perhaps, given the volume of goods produced in Asia and consumed in Europe and the US. But are these giant symbols of the world's trade imbalance growing beyond all reason? (The Magazine, February 2013)