The woman who swapped home for a hut near Chechnya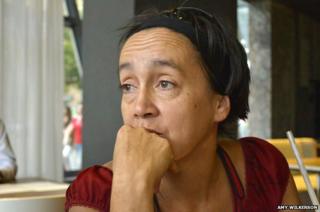 For much of her life, Devi Asmadiredja was a housewife in Germany - but then her husband told her to pack her bags and leave the country. She ended up 3,000km (2,000 miles) away living in a remote mountain hut among the Chechens of Georgia's Pankisi Gorge.
Few tourists visit the gorge, a notoriously insular region with a reputation for drug and arms smuggling, and radical Islam - one of the top leaders of Islamic State (IS), Abu Omar al-Shishani, hails from here.
But this remote part of the Caucasus Mountains is where Devi Asmadiredja, a German woman of Indonesian descent, found refuge.
Four years ago, she was living in Germany with her husband and three children. But in early 2011 he abruptly informed her that he no longer loved her, and told her to leave their home. He ordered her to go to Pankisi to learn Chechen, the language of his forefathers.
"He knew I was good at languages, he thought I could come back and teach him," she says.
He bought her a plane ticket and gave her enough money for food. "I had never travelled before. For me it was interesting and a chance to run away from him," she says. Leaving behind her three children - then five, eight, and 12 - was harder. "It was very difficult. I'd never slept a single night without them," she says. But she didn't feel she had a choice.
Asmadiredja arrived in the Georgian capital, Tbilisi, and took a series of marshrutki - shared minibuses - to the village of Duisi, the first of five villages that snake along the gorge. She says she didn't even have any local contacts, "I had nothing."
She asked the first locals she saw where she could find someone to teach her Chechen. Within 20 minutes, tuition and free accommodation with a local family had been arranged.
She quickly learned the language and members of the community soon gave her a Chechen name, Khedi - derived from Khedijat, the name of Muhammad's wife.
Still, she attracted some suspicion, both as a foreigner and as a woman travelling alone. "They thought I was a Russian spy," she says. Her uncovered hair, her independence, her seven tattoos - she sports a traditional Indonesian dagger on her left leg, a Caucasian one on her right - set her apart.
Under pressure from the imam at the recently built hardline Wahhabi mosque, her hosts told her she had to leave and she moved in with another Kist family, the people she now refers to as "my mother" and "my sister". The Kists, Georgians of Chechen descent, migrated to the valley in the 19th Century.
After 18 months in the village, her estranged husband called, to tell her that he had moved on, and that there was no need for her to come home.
"So I went to the mountains," she says. A friend took her to a cowherd's hut - a simple stone building with no heating, electricity, or running water. She had one modern convenience - a mobile phone with a camera and solar charger.
Asmadiredja spent two months there living alone, surviving off the occasional donation of food from passing shepherds and water from the many mountain streams.
Despite - or because of - the harsh circumstances, the solitude and mountain life brought her fulfilment. "I fell in love with the mountains," she says. "I had never seen mountains like this before - the light was unbelievable up there, the people I met while wandering around were unbelievable. She ate little, she says, and kept warm by walking.
She began to walk further - to the villages of Khevsureti, Tusheti, and Georgia's most remote mountain regions. "I didn't have any money. I had no choice but to walk," she says.
At this point Asmadiredja had only mastered the Chechen language, but now, meeting Tush and Khevsur shepherds, she learned to speak Georgian as well.
She memorised the labyrinthine, unmarked trails from Pankisi into the mountains. Once she injured her ankle and was stranded, without food and only a stream for water, for 12 days before passers-by found her. "It was damned close," she admits.
Other challenges came from the locals. Initially some shepherds aggressively pursued her. "They hadn't seen a woman in a long time" - and a woman like Asmadiredja, living alone, was particularly interesting. Most of them were dissuaded by sharp words but one she had to fight off. "Nothing happened," she says. Other shepherds - who had by now come to recognise her - stepped in to stop the attack.
Eventually, Asmadiredja returned from the mountains to the village. A German travel agency offered her a job - $100 a day to guide hikers through the Caucasus, where there is little tourist infrastructure and few locals speak either English or German.
"I had to open a bank account," she laughs. Another friend, hearing of Asmadiredja's interest in photography, brought her a second-hand camera, and she began displaying her photographs of Pankisi in galleries across Tbilisi. "I'm not an intruder," she says. "People know me." Early next year, Asmadiredja's work will have its first international showing, at the Georgian Embassy in Indonesia.
But life back in the village could, at times, feel oppressive. "I am not Chechen, I am not Kist. I am not even Georgian. I was born in East Germany. I need my freedom. I am an independent woman, who does not ask for permission to do or go anywhere. In the Kist traditions you have to follow your elders. I needed some time for me alone, [in a place] where I didn't know anyone."
In March last year, a friend told her about a small, hidden cave in Georgia's southern Samtskhe-Javakheti province. She went at once, taking only a camping stove, a sleeping bag, and some fruit and nuts.
But once there, something happened that would change Asmadiredja's life again. Two local cowherds driving their cattle happened across the cave, and at once insisted that she return home with them. She refused.
"My first thought was 'Why don't they leave me alone?'" They asked her if she liked khinkali - traditional Georgian meat dumplings. "They left and a half-hour later they were back with khinkali and wine."
One of the cowherds, a Georgian called Dato, began to visit her every day, insisting that she give him her telephone number. At last, she relented, and the two began a relationship.
They plan to marry later this year. The ceremony will not be legally binding - Asmadiredja is still married to her Chechen husband who is in Germany. But her adoptive family has already planned a traditional Pankisi supra feast anyway. "I never thought I would have love like that," she says.
She knows he cannot join her in the various caves and huts she has called home, but envisages a life spent between a home in Pankisi and the mountains - she is encouraging him to learn to drive, so that he can work alongside her on her guided tours.
Even so, Asmadiredja, now 45, is aware of how much she left behind. Two of her children, aged nine and 12, who initially remained with her husband, are now in foster care. With a different partner, she also had an older child, a daughter who lives with her father.
Asmadiredja emails her children from time to time, but they do not respond. She has been tempted to return to Germany to seek custody, but has been given no assurances that she would be able to get them back.
"I have a life here," she says. "It has cost me a lot of strength. To go back to Germany... maybe I will get my kids, maybe not, but even if I get them, [it would only be] for a few years - and for this, I should throw everything away? I cannot. Maybe I'm selfish, [but] I have built my life here. My name is known here as a guide, as a photographer. Why should I throw it all away - just to live off [benefits] there?"
The mountains, she says, are her real home. "In the mountains I am free."
Subscribe to the BBC News Magazine's email newsletter to get articles sent to your inbox.