The team that has to cycle hundreds of miles to compete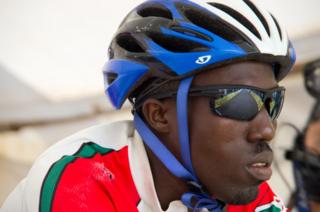 When Burundi's cycling team took part in an international race in November, they had to rely on donations for their bikes and kits. And when it came to getting to the competition, held in another country, there was only one way they could afford to travel.
On a sunny Monday morning, I find five cyclists from Burundi - along with their support team of three - sitting in a dark hotel room. It's cramped with the nine of us in there.
The team has just completed one of Africa's major cycling races, the eight-day Tour of Rwanda.
But there's only one item on the agenda - how they are going to get home from Kigali to Bujumbura, Burundi's capital.
They cycled all the way here for the race - are they really going to have to pedal almost 200 miles home after the event as well?
The cyclists are all entirely amateur - in their resources at least, if not in their mindset. Their leading member, Didace, rides a bike delivering milk when he's at home.
He tells me he travels 25 miles outside of Bujumbura to collect 150 litres of milk. Then he rides it all into the capital.
Then, he tells me, he does it again - a tidy 100 miles in a day.
His colleague Ismail rides a velo-taxi, carrying people around Bujumbura on his bicycle. Another team member is a businessman - although his teammates correct him with the distinction that he's less businessman, more trader.
One rider divides his time between school and work in a restaurant. The fifth is a carpenter.
In the hotel room, the team pores over my map, pointing out the route they cycled to get here - Bujumbura, Kayanza, Ngozi, Kirundo and then over the border into Rwanda.
They spent an entire day waiting for clearance at the border, sitting on the side of the road until dark, when they were finally allowed through.
When they got off their bikes at their Kigali hotel, it was after 10pm on a Friday night.
Didace, Obedi, Tharcisse, Ezechiel and Ismail had covered almost 200 miles. They were to start eight days of racing on the Sunday morning.
The bikes Burundi's team travelled - and raced - on were donated by the international cycling body, the Union Cycliste Internationale (UCI). Without these machines, they tell me, they couldn't have come.
But even with them, and with a spare bike donated by a French team, they still felt dreadfully under-equipped.
Jerseys and energy drinks had been donated and their cycling federation essentially handed round a tin to get them to Rwanda.
But the Burundi manager, Faustin, is an optimist. He's looking to yellow jerseys on the Africa Tour inside of three years and tells me that in the months to come they'll be racing on the Tour of Congo, at the African Championships and in Rwanda again.
Their showing in Rwanda was very respectable this year, with three riders surviving the week and pulling back places in the peloton every day. It was a happy improvement on their 2010 effort, which saw them give up en masse after only two days.
Burundi's cyclists tell me they're proud to wear their three-starred red and green national jersey, but are frustrated at not having the equipment or resources to prepare properly.
They want to send a rider to the World Cycling Centre in Switzerland and another to a cycling centre in South Africa. Once again, though, they don't have the money to cover travel costs - and they can't just cycle to Switzerland.
Back in the hotel room, a call has come through. A man has a small van that he might be able to drive to the Rwanda-Burundi border, to take the riders and bikes some of the way back.
It sounds promising but I hear no more about it. A hotel worker asks them: "So, you're cycling home then are you?''
In front of the hotel, the five Burundi riders hand over their bags, fill up their water bottles, clip their shoes into their racing pedals and slowly freewheel down the hill, with just a nod to their manager. It's midday and it's warm. And they have a lot of road ahead of them.
I'm travelling through the city centre a few minutes later when I see them again, threading their way softly through the traffic.
Twenty-four hours earlier the roads were lined with screaming fans as the Tour of Rwanda concluded in noise and speed, with lap after lap round the city.
Although the crowds are gone, the five men from Burundi think there's room for one more piece of cycling heroism, and they veer left off the main road, heading south for the border, and on home.
How to listen to From Our Own Correspondent:
BBC Radio 4: Saturdays at 11:30
Listen online or download the podcast.
BBC World Service: At weekends - see World Service programme schedule.
Subscribe to the BBC News Magazine's email newsletter to get articles sent to your inbox.