Been and Gone: The woman who swam with sharks, and the man who booked the Beatles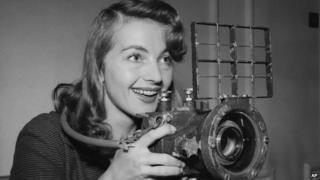 Our regular column covering the deaths of significant - but lesser reported - people of the past month.
Lotte Hass was part of the husband and wife diving team whose skills were showcased in the BBC's 1956 series, Diving to Adventure. For many viewers it was the first time they had seen underwater wildlife, although the striking scenes, filmed in colour, were somewhat muted on the black and white TV sets of the day. She'd secured a job as a secretary to Hans Hass, already a renowned underwater film-maker, and secretly took diving lessons before asking to join the next expedition. In a male-dominated profession Hans saw the benefit of having a glamorous figure in the team. The resulting film won an award at the Venice Film Festival. Lotte proved herself not only to be skilled but completely fearless, diving among sharks and manta rays clothed only in a swimming costume. The couple went on to make many successful films although, from the end of the 1950s, Lotte devoted most of her time to raising her family.
Cartoonist Martin Honeysett showcased his love of black humour in his drawings. His characters - moth-eaten grannies, yobbish teenagers and slovenly mothers - often came from the lower end of British society. He'd spent several years abroad before returning to the UK when he was 25 to work as a bus driver in London, and draw cartoons in his spare time. Over the years his work appeared in a wide range of publications including Private Eye, the Daily Telegraph, the Oldie and Punch. His eye for a good punchline was typified by the obese mother, with cigarette and pint in hand, ordering her teenage sons to "go out and nick a car" so they could get home. As well as his cartoons he illustrated a number of books, notably Sue Townsend's republican tome, The Queen and I, and Dick King-Smith's Farmer Bungle Forgets, as well as collections of his own work.
Pauline Yates had become familiar for guest appearances in a host of TV programmes before finding fame as Elizabeth in The Rise and Fall of Reginald Perrin. In it she provided the calm and sensible foil to the manic title character, played by Leonard Rossiter, who found himself in increasingly bizarre situations. Yates began her career in rep, getting her TV breakthrough in the ITV soap, Emergency Ward 10, where her ability to memorise lines quickly endeared her to directors. It led to parts in many TV programmes including Z Cars, Gideon's Way and The Human Jungle. She also remained loyal to the theatre, making appearances in Joe Orton's What the Butler Saw and Peter Schaffer's Lettice & Lovage. She found herself as the foil to yet another eccentric in the ITV sitcom, Keep It In The Family, in which she appeared for four series.
Ena Baxter's homely presence in her TV soup adverts belied the entrepreneur who was the driving force behind the gourmet food company Baxters of Speyside. It was an image she deliberately nurtured to showcase the fact that, despite the success of the company, it remained a family business at heart. She'd married Gordon Baxter in 1952 when his business, founded in the 19th Century, employed just 11 people. She set herself to create new recipes, often working far into the night and collapsing exhausted over the kitchen table. Her drive and determination led to rows with her husband, once over the proposed name for a new soup she wanted to call cream of leeks. He insisted on cock-a-leekie, which became one of the firm's bestsellers. She once compared her skills to that of a perfumier: "Instead of a nose, I have a mouth."
Television director Fiona Cumming worked on the fifth incarnation of Doctor Who, including the story, Castrovalva, which marked Peter Davison's debut in the leading role. Other episodes included Planet of Fire, which was largely shot in Lanzarote. It had been a long career path for the woman who began as an actress and had a brief stint as an announcer on Border TV. Her initial application to join the BBC foundered when the Corporation lost her file but she eventually secured a job as an assistant floor manager on St Bartholomew's Fire, an early Doctor Who episode starring William Hartnell as the first Doctor. She went on to direct many of the BBC's most high-profile dramas including episodes of Angels, Z Cars and Blakes 7. She was booked to direct The Ultimate Evil but it was scrapped after the BBC decided to end Doctor Who in 1985 - a decision quickly rescinded after a public outcry.
When Ray McFall took over a damp former air raid shelter in Liverpool it seemed an unlikely place as the cradle of the British pop explosion. Opened as a jazz club two years earlier, The Cavern was struggling when McFall took charge. He quickly realised the future lay with so called "beat music" and began booking bands such as Rory Storm and the Hurricanes, featuring Ringo Starr on drums. In 1961 he was persuaded to book the Beatles, who had just returned from Hamburg. McFall was shocked at their scruffy appearance - he had a strict dress code - and even more dismayed by their musicianship. However, they pulled in the crowds and boosted the club's finances at a time when no alcohol was sold on the premises. McFall booked other acts, such as The Kinks, while The Beatles appeared nearly 300 times. But, with success they outgrew the Cavern and a bill for new drains forced McFall into bankruptcy.
Among others who died in January were
Demis Roussos - kaftan-wearing Greek pop singer
King Abdullah - absolute monarch of Saudi Arabia
Leon Brittan - Conservative home secretary under Margaret Thatcher
Anne Kirkbride - Coronation Street's Deirdre Barlow
Edgar Froese - founder of German electronic group, Tangerine Dream
Brian Clemens - producer of The Avengers and The Professionals
Subscribe to the BBC News Magazine's email newsletter to get articles sent to your inbox.