Who won the social media Super Bowl?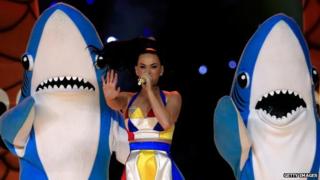 It's the biggest sporting event in America and the stakes are huge - especially online.
More than 28m tweets were sent out using game-related hashtags such as "#SuperBowl" and "#SB49" (Sunday's game was the 49th instalment of the game - or "Super Bowl XLIX" as rendered in traditional American football Roman gladiator style). Facebook reported that 65m of its users were chatting about the game - and that more women were talking about it than men. And as ever, the ads in between the action generated a huge amount of interest online.
The winners? In terms of volume of social media buzz, #LikeAGirl was still trending Monday after an advertisement by the feminine hygiene brand Always. It was a push back at the notion that "like a girl" means weak or ineffectual, particularly when it comes to athletic endeavour. A longer version of the advert posted by Always - owned by the consumer goods giant Procter & Gamble - has been watched more than 50m times on YouTube.
At halftime Katy Perry and Missy Elliot entertained the crowd, with a predictably huge social media reaction, but attention was also lavished on the people in goofy costumes dancing - with varying degrees of success - on stage. One of the dancing sharks in the show was hotly pursued by Reddit users who begged him for an AMA (Ask Me Anything) session.
On the losing side was an insurance company advert that featured boy listing everything he couldn't do - because he died in an accident. Nationwide meant to remind viewers that many childhood deaths are preventable, but many tweeters didn't appreciate a grimly serious message interrupting the big game.
The Ecuadorian Ministry of Tourism also came in for some criticism for buying ad time - at a reported rate of $4.5m per half minute - to promote the country's charms.
The advertisement pushed the tag #AllYouNeedIsEcuador to the rousing Beatles tune "All You Need is Love", but it got exactly the opposite from some Ecuadorians. "All we need is free speech, democracy and yes, another president," one tweeter fired back.
(Over the weekend, Trending chronicled Ecuadorian President Rafael Correa's tricky relationship with trolling and Twitter.)
Oh, and apparently in between the adverts and the music there was also a pretty exciting sporting contest, won in the waning moments by the New England Patriots.
Blog by Mike Wendling
More BBC Trending stories:
Democracy without women? Why Spanish feminists are looking at Greece.
What's most infuriating about everyday life in the United States?
Watch more videos on our YouTube channel or follow BBC Trending on Twitter @BBCtrending.
All our stories are at bbc.com/trending