The plane-builder of South Sudan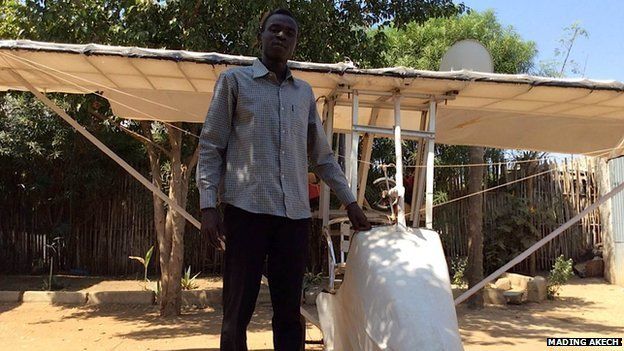 George Mel has dreamed of flying since he was a boy, but when his father died he had to give up his studies, and any chance of training to be a pilot. Instead he built a plane in his back yard - which so impressed his country's air force that it gave him a job.
"I've had the passion to become an aeronautic engineer since I was young," says George Mel, a 23-year-old, who lives in Juba, the capital of South Sudan.
"I love to make aircraft.
"When I was still young I tried to fly. I got curtains and put metal in to form wings, and got on top of the roof. I wanted to see if I would fly like a bird, but I fell. I almost broke my leg."
Despite such early disappointments, Mel set out to learn as much as he could about aviation.
He went to study at high school in Uganda, but in 2011, as he was preparing for his final exams, his father died, leaving him unable to pay his tuition fees.
He had no choice but to give up his studies and come home.
But he continued to do whatever he could to teach himself aeronautics.
Losing his father was bad, Mel says, but it also seemed to give him the space to pursue his goal.
"When I didn't go to school I had a lot of time," he says.
"My brain was released to do a lot of research. I didn't just sit down… I stuck to my dreams and I started doing them practically and researching a lot."
He painstakingly gathered the materials to build an aircraft, scouring Juba's metal workshops to piece together an aluminium airframe, and importing two small petrol engines to power it.
Using a garden chair for the pilot's seat, he put the aircraft together with information he found in old textbooks and on the internet.
In late 2013, South Sudan slid towards civil war amid a power struggle between the country's two top politicians.
But Mel continued working on his aircraft even as the conflict spilled on to the streets around his family compound.
Shooting could be heard in his neighbourhood as fighting approached the United Nations mission close to Mel's home.
"I didn't stop my project," he says, "I kept on doing it in my research centre. I just locked myself inside, and did my work.
"A lot of people left the place but I didn't move anywhere. I didn't know where to go, so I kept on doing my work."
Mel's "research centre" is his own room, where his bed sits alongside pieces of aircraft.
"You can see wooden propellers here, and UAVs, because these were my interest, this is what I focused on.
"This is where I sleep, and the same place where I do my research, because they don't have any working places like hangars at the moment."
Occasionally, as the family bread-winner in one of Africa's least developed economies, he has deemed it wise to conceal his activities from the rest of the household.
"Sometimes when I bring materials I sneak them into the house through the fence so they will not see. If they see, they will start saying I'm wasting money on crazy stuff," he says.
But when Mel eventually took his work to the South Sudan Air Force, officers were impressed and gave him a job in their IT department.
He is now hoping to get a scholarship to study aeronautical engineering abroad.
So far the authorities in Juba have refused Mel permission to test-fly his ultra-light, restricting him to taxi-ing the aircraft in his yard.
But he remains determined to realise his ambitions, for himself and for the future of his country.
One of his aims is to develop a farming drone to spray crops, though in the long run, of course, he wants to design and build full-size planes.
On the tail of his first aircraft he has painted the South Sudanese flag, along with the words: "We have a future".
"I'm very hopeful. What happened has happened and we have to move on with life," says Mel.
"So we forget about the past and struggle for the future. Mainly as the youth we need to do our level best and lift up this country.
"It's logic. The youth are the future of the country."