The brutal killing that hardened Jordan's hearts against IS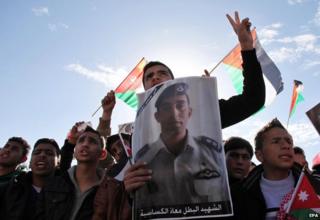 Less than a week ago Islamic militants released a video of a Jordanian pilot being burned alive. As Paul Adams found on a trip to the airman's home town, the killing and graphic images that were shown on TV have hardened Jordan's attitude towards IS.
I was half asleep when the call came through - slumped uncomfortably in the back of a car, dozing off the effects of a a day spent criss-crossing northern Israel. The sat-nav told us we'd gain a few minutes on the return journey to Jerusalem by going down the Jordan Valley, so when the phone rang and a BBC voice from London said "Go to Amman, now," I was already halfway there.
On the Jordanian side of the Allenby Bridge, in those familiar, smoke-filled minutes of uncertainty that always accompany Middle Eastern border crossings, I looked up at the TV screens in the arrivals hall - at images I'd only started to hear about and wasn't quite ready to see.
Most Western news organisations tend to exercise extreme caution when it comes to the graphic images and political content of videos whose subtexts sometimes seem less important than an obvious desire to scare us witless.
But here in the Middle East, broadcasters and the public are less squeamish. When it comes to man's inhumanity to man, it sometimes seems there's nothing they won't show.
And so, the handful of travellers making the late crossing were treated to something unspeakable, even by the depraved standards we have, so quickly, come to expect.
Not quite the moment of immolation, but everything else. Over and over. I looked at the faces watching beside me, but most seemed blank. Inured, or not quite comprehending? I couldn't tell.
But it was clear, as I boarded a taxi for Amman, that by the end of the evening, every Jordanian would know exactly what had been done to one of their sons.
The following morning we headed south to find Lt Moaz al-Kasasbeh's family home, winding through rocky hills turned green by winter rain, past villages perched on the slopes high above the Dead Sea. Far below, in the desert haze, the salty lake at the bottom of the world gave off a dull glow.
On our way we passed the imposing ramparts of the castle at Kerak, one of the largest fortresses in the Middle East. Built in the 12th Century, it served for a while as the headquarters of the notorious crusader Reynald of Chatillon, who used it as a base from which to menace Mecca itself and, it is said, delighted in throwing his enemies from the castle walls onto the rocks far below.
Regarded as one of Islam's most implacable enemies, he spent 15 years in prison in Aleppo, was freed for a vast ransom of gold but was finally captured and beheaded by Saladin himself.
It all happened more than 800 years ago, but for the men who fight under the banner of Islamic State, it might just as well have been yesterday. For them, the crusaders are still here, along with their modern-day allies, the Zionists.
They still deal in ransoms and, like Reynald, they're not above throwing their enemies to their deaths from tall buildings. And in this holy war, they clearly feel justified in meting out a uniquely horrible punishment to a fellow Muslim who had the temerity to take up arms against them.
---
Timeline: Jordanian pilot held hostage
24 December 2014: Jordanian Lt Moaz Youssef al-Kasasbeh captured by IS after his plane crashes
25 December 2014: Pilot's father urges IS to show mercy
24 January: IS calls for release of Sajida al-Rishawi, an Iraqi militant sentenced to death in Jordan
28 January: Jordan offers to release Rishawi in exchange for Lt Kasasbeh
29 January: Deadline to kill Lt Kasasbeh expires
3 February: Video released appearing to show Lt Kasasbeh burnt alive, with Jordanian media suggesting he was killed weeks earlier
---
And so, finally, we reached the village. The surrounding hills were deserted, but A'ee was packed, cars lining the streets all around the building that serves as the tribal headquarters. Workers were putting up a huge sign above the door - from now on, this place will be known as the Hall of the Martyr, Moaz al-Kasasbeh.
Next to it, solemn well-wishers were making their way along a receiving line, into a vast white marquee. Men in traditional robes. Men in suits. Men in the uniforms of the army and the air force. No women here - they were attending a separate event nearby.
And there, in the corner, being embraced and kissed, the pilot's father, Safi, receiving public condolences for the first of three long days, as waiters offered dates and cardamom-scented coffee to rows of seated guests.
The Kasasbehs were already a prominent family before this appalling event - part of the influential Bararsheh tribe, one of the clans that form the backbone of support for the Hashemite kingdom.
Now Safi, the father of the martyr, is the voice of the nation. Last week, pleading for his son's life, he questioned Jordan's role in the US-led coalition against IS. Now, his hopes so brutally dashed, he told me Jordan should hunt down the militants wherever they are and destroy them.
The next day, as King Abdullah arrived to pay his respects, jets flew overhead, apparently on their way back from bombing IS targets. Jordan says it's stepping up its involvement in the campaign. Have the men who lit the torch that killed Moaz al-Kasasbeh over-reached themselves, or is this exactly what they want?
How to listen to From Our Own Correspondent:
BBC Radio 4: Saturdays at 11:30 and Thursdays at 11:02 GMT
Listen online or download the podcast.
BBC World Service: At weekends - see World Service programme schedule.