Powerball lottery: The states where you can't win $563m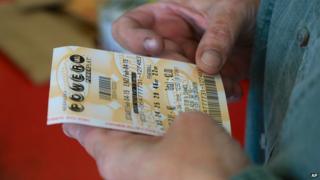 According to US lottery officials there were three winning tickets sold for Wednesday night's Powerball jackpot, with an estimated total payout of $563m (£366m).
That was the fifth-largest prize in Powerball history, and it had created the kind of buzz that only the (minuscule) chance to win incomprehensible sums of money can generate.
The winning tickets were sold in Texas, North Carolina and Puerto Rico, and customers lined up all over the US in the days leading up to the drawing to take their shot at a piece of the big prize. All over, that is, except for six states.
Alabama, Alaska, Hawaii, Mississippi, Nevada and Utah don't participate in Powerball. In fact, they have no state-run lottery whatsoever.
A look at the list of states reveals that there's no one explanation for their reluctance. It all comes down to local concerns - fiscal, moral and geographical.
In Nevada, casino interests dominate state politics, and the prospect of a government-run gambling enterprise operating alongside the Mirages and MGM Grands of the Las Vegas Strip is a non-starter.
What's more, the Nevada government already gets a cut from the state's gambling industry, says Mark Hichar, chair of the gaming law practice group at the law firm Hinckley Allen.
"The government revenues from gambling are such that they don't see the need to have a lottery competing with those commercial interests," he says.
The same goes for Mississippi, where riverboat gambling and Biloxi-based casinos are a popular - and influential - industry that has successfully joined with anti-gambling religious institutions that hold greater sway in the Deep South "Bible Belt" to keep the lottery at bay.
Those Christian ethical concerns are even more dominant in Mississippi's neighbour, Alabama, and Mormon-heavy Utah.
"The Church of Jesus Christ of Latter-day Saints is opposed to gambling, including lotteries sponsored by governments," the church writes on its website. "Gambling is motivated by a desire to get something for nothing. This desire is spiritually destructive."
Of course the lack of locally sold lottery tickets isn't much of an obstacle for residents who are able to drive to a neighbouring state that participates.
The prospect of losing money across the state line has been an often-cited reason for why states have ended up adopting their own lottery.
According to Terry Rich, president of the Iowa Lottery Authority, the cross-border traffic was a prime reason why his state adopted the lottery in 1985 - and the lure of winning millions is still at play in the non-lottery states.
"A lot of the folks in Utah are heading to Idaho today," he says, "and Nevada people are all heading to California."
It's not a challenge faced by two of the states that don't participate, however - isolated Alaska and Hawaii.
In Hawaii one of the state's political giants - Senator Daniel Inouye - was adamantly opposed to gambling of any kind, arguing it would harm his home-state tourism industry. Gambling, he said, will attract a "different type of people" - "it will not be the type you no see now with their young children, young folks spending their honeymoon."
Inouye died in 2012, but his state's opposition lives on.
In Alaska, on the other hand, the lack of a lottery seems to have less to do with moral questions and more to do with oil. The state generates so much revenue from drilling that it operates with a budget surplus and gives a dividend of nearly $2,000 back to each of its residents every year.
Where states like Georgia, Colorado and Texas use lottery revenues to fund college scholarships, environmental programmes and public schools, Alaskans see no such fiscal urgency.
The numbers involved in the US lottery industry are inarguably massive, however. According to the North American Association of State and Provincial Lotteries, US lottery revenue in 2014 was $70bn. Powerball alone accounted for $4.81bn.
For comparison's sake, the combined 2014 gross revenue for professional American football, baseball and basketball was only $23.6bn.
It's a booming business that 44 states have found impossible to resist.