'Yoga pants': Are leggings and other tight trousers indecent?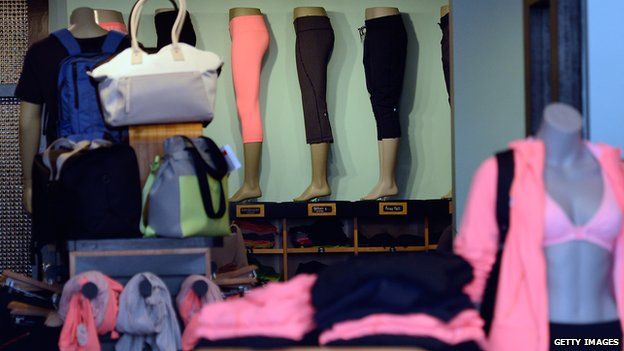 Are yoga pants a threat to public decency? It might seem so after the beloved athletic wear once again made headlines - this time after a lawmaker debating public decency said the pants "should be illegal".
Yoga pants, as they are called in the US, or leggings, are a current fashion staple for women who are either into yoga or want to look athletic while running errands. They're soft and stretchy, but also form-fitting.
In 2014 denim sales fell 6% as the growing trend of "athleisure" encouraged more women to reach for comfortable leggings instead of skinny jeans. According to Anu Hastings with the product database Inix, over 2,700 types of so-called "yoga pants" are now available on the market.
With the increased exposure (in more ways than one) has come increased controversy.
Montana lawmaker David "Doc" Moore received national attention this past Wednesday when he proposed a bill aimed at bolstering the state's indecent exposure laws. He was prompted after a nude bike ride in Missoula, Montana, made clear that the indecent exposure laws in the city were, well, bare.
When asked by a reporter what clothing he found indecent, Moore singled out the popular stretch trousers - and made a social media stir. (The law has been delayed for now.)
It is not the first time the clothes have faced banishment - several US schools have made yoga pants against the dress code, along with other tight-fitting women's clothing like leggings and skinny jeans. Administrators cite the clothing as distraction.
But aficionados say the gear is both comfortable and flattering - and that other people's wandering eyes should not be their problem.
"I think it's safe to say if you find a woman sexy in yoga pants, you probably will find her sexy in other items of clothing as well," says blogger Ashley Crtalic, who wrote a post defending leggings when her alma mater threatened a ban. "I don't think yoga pants are working some kind of voodoo magic on otherwise strong and secure bystanders."
And yet, yoga pants made headlines in 2013 when Lululemon, a large clothes retailer, had to recall many of its leggings because wear over time led to thinning (and subsequently awkward downward dogs).
Representative Moore has now made a statement claiming that his yoga comment was his own brand of sarcasm. And Walt Hill, who co-wrote the bill, told the BBC: "The comments were a joke to a reporter, one of those statements we make from time to time that we all now wish we hadn't made."
Reporting by Savannah Stephens