The foreign workers trapped on trawlers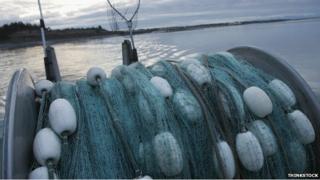 Visa regulations allow some foreign workers to be trapped on vessels just outside British waters, unable to come to land, writes Sarah Shebbeare.
Marco's childhood dream had always been to come Britain. He'd heard that it was a country where jobs were plentiful, and where people worked with dignity. But he was to have a rude awakening.
As a Filipino taxi driver in his fifties, Marco found himself unable to feed his family. Desperate to be able to support them, he paid an agent in the Philippines more than £2,000 to secure him a visa and a placement in Britain to work on a fishing boat in Cornwall. He signed a contract to work for 48 hours a week, fishing for prawns.
But nothing of what he was promised turned out to be true. He didn't end up in Cornwall. He was flown to Belfast and set to work on a fishing boat off Northern Ireland. There was no training, even though Marco had never worked in the fishing industry before. There was no mention of that 48-hour working week.
Within hours of landing on British soil, after a long flight from Manila, Marco was set to work on a prawn trawler for the very first time.
"From the moment I arrived they don't give me a chance to have a rest. I worked 20 hour days, seven days a week. I never got a day off. I was tailing the prawns, filling baskets, and if I didn't fill the baskets within two hours, my skipper was screaming and shouting at me. He treated me like an animal."
But Marco was unable to complain about his treatment because of the type of visa which allowed him into the UK.
A transit visa allows migrants from outside the European Economic Area to land in the UK to join a ship due to operate outside British territorial waters. Transit visa holders are only authorised to be in the UK while in transit to their final destination - in Marco's case, a prawn trawler. It means that if he stepped off that boat, he would be in breach of his visa conditions and thus liable to arrest and deportation. So, he was confined to the boat on which he worked.
"The accommodation was like a coffin. You cannot sleep because of the noise of the engine and the smell of diesel. When it rained, water dropped through on to my face while I was sleeping. I lived on board the boat for two and a half months. I thought when I arrived in the UK everything would be better but it was a nightmare."
To get a sense of the kind of conditions in which Marco was confined, Scotland's Inspector for the International Transport Workers' Federation took presenter John Waite and me aboard a prawn trawler, albeit one that has faced no allegations of exploiting foreign workers.
The overwhelming stench of diesel is striking, and the unrelenting drone of the engine.
The accommodation area below is accessed by a precarious ladder - four wooden bunks filled a 10ft-wide space. Marco's description of sleeping in a coffin was no exaggeration. The inspector explained that under normal conditions, local fishermen might sleep on these bunks for weeks at a time with weekends off, but the migrant fishermen on transit visas on other boats can spend up to a year stuck in such cramped conditions. He says it is impossible to understand how it can even be legal.
---
Breakdown of training
16,200 fishermen have completed the basic safety training in the UK
77% of those are British, 13% from the EU, 9% from outside the European Economic Area (EEA) and 1% from inside the EEA
Of those outside the EEA, 34% are Filipino, 34% are Peruvian and 9% are Indonesian
Source: Report by industry funded body Seafish, October 2014
---
"These lads are brought into the country on to a boat with no training and overnight thrown in at the deep end in one of the most dangerous working environments in the UK with no training, no background, and no knowledge. Wires running past their heads at 15, 20mph, the skipper shouting his commands from the bridge, and you've got men that are not used to this weather and this environment trying to understand what's going on.
"In moments of high intensity, in dangerous operations how can you expect that to work? How can you have the sheer disregard for someone's life to put them in that position? And a system that allows it? It's unacceptable."
Those dangers are real, as Marco can testify. When a winch sliced into one of his fingers so that he couldn't continue working, he says his skipper simply abandoned him on the quayside of a Scottish port. He was later taken to hospital with the help of local charity, where the top of his finger was amputated.
Rev Richard Haggarty is Scottish chaplain for the Apostleship of the Sea, a Catholic charity supporting seafarers worldwide. He says Marco's experience is all too familiar.
"I wasn't at all surprised to hear Marco's story. It wasn't new to me, it was just - here is another case. Over the years I've met a number of fishermen and seen the sense of fear that they have had.
"Not only getting verbal abuse but sometimes physical abuse too. I knew this type of thing happened in other parts of the world but definitely not here in Scotland so I was quite shocked. Probably the British public isn't aware of this and I'm sure if they were they would be up in arms to hear that around our British waters we are exploiting our fellow human beings to this extent. It's modern-day slavery. Slavery has not ended, it still exists."
The nature of the transit visa means that Marco had no access to UK employment rights, even though he was working on a British vessel, to a British skipper, trawling for prawns for the British market. He says he received no wages whatsoever.
The government says it is aware that there are problems within the UK fishing industry. The Modern Slavery Bill, currently passing through parliament, will grant border force teams new powers to board ships on the high seas.
But there are no plans to overhaul the rules for transit visas, which are also used by cruise ship workers.
Seafish, an industry-funded body which represents fishing interests in the UK, was asked to explain why the offshore fishing industry uses transit visas to bring in crew from outside the European Economic Area countries or EEA.
"UK fishing vessels employ non-EEA crew for a number of reasons. The local workforce may be limited in numbers as they are attracted to other industries or the use of non-EEA crew may provide an economic benefit to some skippers in that the wages are likely to be competitive. However, many skippers hire the same non-EEA crew year after year as they are professional and experienced with the necessary skills."
Marco has now been identified as a victim of human trafficking and given a year's leave to remain in Britain while his case is investigated by the police.
---
Fishing by numbers
770,000,000: Value of fish, in pounds, landed by the fishing industry and people it employs in the UK in 2012
12,000: People employed in on UK vessels in 2013
6,400: UK fishing vessels used in 2013
Source: Marine Management Organisation 2013
---
Listen to the full story on Britain's Legal Slaves on BBC iPlayer