Oscars 2015: Secrets of the limo drivers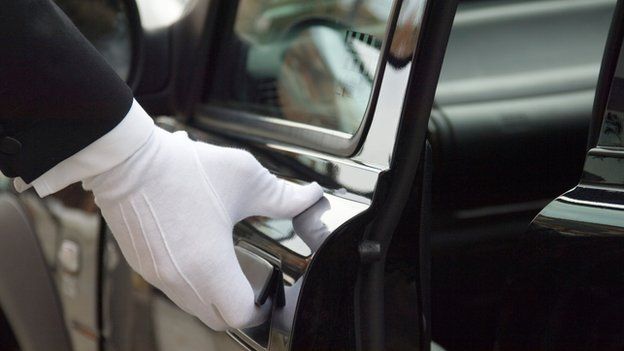 More than 1,000 limousines will fill the streets of Los Angeles ahead of the Academy Awards. One limo manager shares his secrets.
On Oscar night - this year 22 February - the usually car-clogged streets of Hollywood fall silent because everyone is at a viewing party or, if they're very lucky, sliding into a dress by Dior or slipping on a tuxedo en route to the big show.
The streets aren't entirely empty: countless limousines are zipping all over town, then making their way to the Dolby Theatre, more than a dozen blocks surrounding Hollywood Boulevard closed to all other traffic as the purring cars patiently wait to drop off their clients.
Parking's as difficult as a diva at the best of times in Hollywood, so where do hundreds and hundreds of limos - and their suited and booted chauffeurs - go to wait until they have to pick up again?
The answer is at another Hollywood, the Hollywood Bowl. One of the most famous concert venues in the world, it's just a little north up Franklin Ave, and very convenient for a quick recall to collect the lucky winner or unlucky loser.
Hired out just like it would be for a concert, the Bowl's wooden benches are empty on this night. Parking space is the star attraction here, and it quickly fills up with a stream of classy cars.
"It's a military-style operation," explains Alex Darbahani, chief executive of KLS Worldwide Chauffeur Services, who estimates that around 500 to 800 cars will be parked at the Bowl and over 1000 more on the streets throughout the day. Not everyone is going to the ceremony itself; there are plenty of Oscar-related happenings, too.
"It's our biggest night of the year. I have to put on a magic show, and show who we are. It's a red carpet for us, too," he says. As a boutique firm, many of their limos are hired by production companies and studios rather than individual actors.
The minimum rental is eight hours at $140 - $425 (£90-£275) per hour, depending on the vehicle: a stretch limo, an SUV, a sedan, a Rolls Royce or something else.
On site, the Bowl parking is carefully segmented by limo company. Before chauffeurs get to turn off the engine they have to pass through a Los Angeles Police Department (LAPD) security check - explosives K9 and all - and even then plain clothes LAPD officers will be there to keep watch.
Despite the futile efforts of over-enthusiastic fans and paparazzi, you're not getting into the Bowl without an official parking pass - even if you're a superstar. Each pass has a number, and after the show the KLS rep at the Oscars will take it and call up for the corresponding ride. Darbahani says, half-jokingly, that at times the red carpet becomes the most glamorous valet stand in the world.
KLS staff at the Bowl includes a mechanic and someone armed with a duster and spray to give cars the metaphorical spit-and-polish.
Sometimes the Academy of Motion Picture Arts and Science (AMPAS) will put up a big screen TV for the chauffeurs to watch, and often car companies will arrange a catering truck. But the chauffeurs aren't there for the food, nor are they allowed to leave their vehicles unattended during the four-hour ceremony - they're there to provide tip-top service.
After all, this is a night that often goes on long past the ceremony itself. "Nearly everyone goes to a party after the Oscars - Vanity Fair, Elton John's, the Governor's Ball - and then there are the after-parties, which are usually at homes, on boats, or in hotels," says Darbahani.
Most vehicles start the day at 7 or 8am, and half stay out until around 4 or 5 in the morning.
It's not just picking up the glitzy celebs from a hotel (they rarely depart from their actual homes) and taking them to the ceremony. Many people are coming in from overseas and need to be picked up at the airport, taken to their hotel, then taken to the event.
Celebrities have hairdressers, make-up people, dress companies and jewellery suppliers coming to call. They have to be collected too. Darbahani mentions a regular client, Jennifer Lopez, who might have armed guards: not for her, but for the sparklers she's been loaned to wear for the night.
As usual, Darbahani expects to have at least 50 cars working this year, but he can sub-contract out to 80 smaller companies if things get busier. "Most people tend to book just 10 days to two weeks before. It's always the last thing they do."
Cooperation, not competition drives the big four or five companies including KLS on awards nights. Since almost every car in town is being used, they need to work together and put rivalries aside to keep things running smoothly. Everyone knows that "the person awarding the contracts for the whole of next year for CBS or Disney is probably in the vehicle," and those contracts can be worth millions of dollars a year.
There are still competitors to look out for though. In the last few years car companies like Audi and Tesla have offered a car and a driver for free. Bottled water and magazine companies are keen to offer free product and muscle their way into the Oscar-day limos.
That water has to be room temperature, not chilled, because "it can affect their voice," says Darbahani, and the same applies to the AC - that has to stay switched off.
Behind the tinted windows there are also chips, peanuts, juice and hard candy ("chocolate is too messy,") too, but it's usually requested that the drinks cabinet stays dry. No one wants any flubs in front of the camera, though the champagne is usually in the trunk ready for after the show.
The limos are mini-offices, with Apple TV, wifi and Bluetooth. Chauffeurs always take time to lay out the goodies, even arranging the napkins, because a good impression (or knowing the nearest place to get cigarettes) can affect the size of their tips, which Darbahani says average around $100, though can be as much as $800 - or as little as $20.
Special requirements cost extra, of course. One "very well-known actor," says Darbahani discreetly, "wanted incense, no music, and a specific route for the driver to take. He was meditating in the car before the Oscars."
Drivers have an emergency kit as well: a black bag with travel-size hairspray, mouthwash, a small sewing kit and other bits-and bobs.
"It can get them a big tip," says Darbahani, recalling the time when a driver had to staple the dress of an actress. "In the pictures from the event, you can see how she kept her hand over the staples the whole time."
Planning begins several weeks in advance, and at the main office there's a dispatch room "like air traffic control," which ensures they know where all the drivers are at all times.
"It's a nightmare, because everyone is always changing their pick-up times, and we can't say no to clients. The night before the Oscars I don't get home until 2am, and I only relax after the Oscars have ended."
And does anyone ever leave Oscar behind on the back seat?
"Never!" he laughs. "They always hold onto it. It's priceless! But when our details guy is washing the cars the next day, our lost and found box is quickly full: iPhones, keys, make up, make up cases, lipsticks, once a watch worth $68,000. The phone rings all day. We also find bras, clothing, underwear. Sometimes there's no place to change, and clients change in the vehicle."
But there is one thing that always gets left behind: "Fake hair! Toupees! We have a lot - a lot! No one ever claims those, even though some of them are very expensive!"