Campaignspotting: The BBC's 2016 US presidential blog
You may not be ready for the 2016 US presidential race, but the candidates are ready for you.
Imagine a speech by Ted Cruz
23 March, 2015
Back before Ted Cruz was famous, when he was just a Houston lawyer running a quixotic race for the US Senate, I wrote that the Texan's speaking style was "a cross between Atticus Finch and Tony Robbins".
Cruz's particular oratory - thundering lines punctuated by emotive whispers, all delivered while prowling the stage with a wireless microphone - was on full display as he announced his presidential candidacy on Monday morning at Liberty University in Lynchburg, Virginia
Here are a few takeaways from the day's main event.
Imagine that. Cruz used the word "imagine" 38 times in his speech, prompting countless John Lennon jokes, including a rather inspired musical mash from the website the Takeaway.
Cruz must have read the 2011 column by political communications strategist Frank Luntz, who wrote: "'Imagine' is still the most powerful word in the English language because it is inspiring, motivating and has a unique definition for each person. When you want to inspire, imagine is the language vehicle."
Rand fans crash the party. It was hard not to notice a collection of students in red T-shirts emblazoned with "I Stand With Rand" in the audience as Cruz spoke. What were supporters of Rand Paul, a Kentucky senator who will likely challenge Cruz for the presidential nomination, doing there?
If they were Liberty University students, they had no choice. Cruz's announcement was made at one of the school's thrice-weekly convocations. Student attendance at such events is mandatory - and punishable by "four reprimands" and a $10 [£7] fine.
A world apart. At the same time Cruz was launching his candidacy, Hillary Clinton was 180 miles away, at the Center for American Progress, a left-leaning Washington, DC think tank.
While economic mobility and urban policy were on the agenda, Cruz's entry into a presidential race that Clinton may soon join was the subject of much discussion among the press and policymakers in attendance.
"It's what everyone was talking about," says BBC's Jon Sopel, who attended the event. He adds that the staid panel discussion, with East Coast academics and eggheads, couldn't have been a greater contrast from Cruz's church-revival-style announcement.
Five things to know about Ted Cruz
23 March, 2015
Two years ago Ted Cruz was a little known, newly elected US senator from Texas. Now he is the first officially announced candidate for the 2016 Republican presidential nomination.
While the senator's fiery manner and aggressive posture have lately made a name for him in national political circles, there's more to him than meets the eye. Here are five things you should know about the Canadian-born son of a Cuban immigrant.
1. He's an establishment insider in outsider's clothing
2. He's a dangerous underdog
3. He's a gifted public speaker
4. He's already made enemies in Washington
5. He's got an uphill climb
Campaignspotting: BBC's 2016 blog
What is Rand Paul doing at South by Southwest?
16 March, 2015
Conventional political wisdom in the US is that the path to the Republican presidential nomination goes through the early voting states of Iowa and New Hampshire.
So what exactly is Kentucky Senator Rand Paul doing here in Austin, Texas, at the South by Southwest interactive conference?
It all comes down to dollars, votes and technological know-how. If the Kentucky senator is going to find a path to the presidency, it will likely be anything but a conventional campaign. He needs support - both political and financial - from non-traditional sources.
Jeb Bush appears to be locking up much of the Republican establishment. He's got so much cash in hand he's actually told his fund-raisers to ease off for the moment.
Wisconsin Governor Scott Walker is pulling in money from grass-roots Tea Party conservatives, thanks to a network of donors he built up in his battles against his state's unions and the unsuccessful recall campaign they waged against him in 2012.
Mr Paul needs to build on his donor base - and the libertarian-leaning technology moguls gathering here in Austin this week could prove to be a receptive audience.
There's more than just money at stake, however. (Read the full story)
Carson chooses to apologise
5 March, 2015
On Wednesday night Republican presidential hopeful Ben Carson took to Facebook to apologise for his comments earlier in the day about homosexuality being a "choice", citing prison sex as supporting evidence.
He wrote that his "choice of language does not reflect fully my heart on gay issues".
He then noted that he has long supported civil unions and a state's right to issue same-sex marriage certificates - but distinguished it from unions sanctioned by religious institutions.
"I am not a politician and I answered a question without really thinking about it thoroughly," he wrote.
"No excuses. I deeply regret my statement and I promise you, on this journey, I may err again, but unlike politicians when I make an error I will take full responsibility and never hide or parse words. As a human being my obligation is to learn from my mistakes and to treat all people with respect and dignity."
For some, however, it was apology not accepted. Mr Carson's post, writes Zack Ford of ThinkProgress, "does not correct anything that he said, addressing only those who were hurt or offended".
Mr Carson's slow retreat from his controversial comments had started by Wednesday afternoon, when he told Fox News host Sean Hannity that he was done talking about gay issues.
"Every time I'm gaining momentum, the political press says, 'Let's talk about gay rights'," he said. "And I'm just not going to fall for that anymore."
He had also asserted that his interview had been "chopped" by CNN and his comments were taken out of context.
Politics may not be brain surgery, but a successful presidential campaign requires a deft touch and benefits greatly from experience. It's a lesson Mr Carson, like many before him, is learning the hard way.
Questionable 'choice'?
4 March, 2015
Neurosurgeon-turned-presidential-aspirant Ben Carson told an interviewer on Wednesday that being gay is "absolutely" a choice.
His evidence? "Because a lot of people who go into prison go into prison straight - and when they come out, they're gay. So, did something happen while they were in there? Ask yourself that question."
A more pressing question is whether it was a good idea for Mr Carson to allow such controversial comments to step all over what should have been his lead story this week - that he is forming a presidential exploratory committee.
The move is a significant first step toward an official candidacy, which gives the retired doctor freedom to fundraise directly. Up until now, an independent political action committee had been sweeping in millions for Mr Carson, but none of it was under his control.
Despite Mr Carson's relatively high standing in some opinion polls, and his significant and vocal support at CPAC last week, the political neophyte is considered a long-shot for the Republican nomination. Although he gave a rather serious, restrained speech at the conference, he's becoming increasingly associated with over-the-top rhetorical flourishes.
As Bloomberg's Dave Weigel quips: "This was the day that Ben Carson moved from 'guy who will never be president' to 'guy who will never be president.'"
'No plan B' for Democrats
At this point a consensus is developing that Hillary Clinton's private email use likely was legal and similar in manner, if not extent, to what some previous government officials, including Secretary of State Colin Powell, used.
It was also a questionable decision, however - both ethically and politically - particularly given her position in an administration that campaigned on its openness. And if it turns out the security of her privately constructed system was compromised, or that she deleted requested emails, the outlook for Mrs Clinton could darken considerably.
As previously noted, the most consequential outcome of this story, besides further grist for the anti-Clinton mill, could end up being the heartburn it causes Democrats considering the outcome were Mrs Clinton to falter.
Bill Scher, writing in Politico, was one of many to explore this possibility, and reports that there's no Plan B for the party.
"The Democratic establishment is apparently so terrified of the idea of a Hillary-less race - and the vicious primary that might result - it's not even considering contingency plans," he writes.
Right now there are a handful of politicians considering, but not yet making serious moves, toward running for the Democratic nomination - Vice-President Joe Biden, Vermont Senator Bernie Sanders, former Virginia Senator Jim Webb and former Maryland Governor Martin O'Malley (who yesterday announced he will not run for his state's open Senate seat in 2016).
Scher speculates a bit further, noting that other prominent Democrats could step in should Mrs Clinton be seriously damaged by this or other stories. Among those he lists are New York Governor Andrew Cuomo, Virginia Senator Mark Warner and Massachusetts Senator Elizabeth Warren.
"There's always another shoe to drop with Hillary," Dick Harpootlian, a former South Carolina Democratic official, told the Washington Post. "Do we nominate her not knowing what's in those emails?"
Mr Harpootlian has his own agenda as a Biden supporter, but intra-party sniping could become more common if Mrs Clinton were to seem vulnerable.
The counterpoint to this kind of Democratic doomsday scenario is that the email story broke at a particularly advantageous time for Mrs Clinton - too far removed from election day for voters to care about a candidate's emails, but too late at this point for any top-tier candidate to mount a serious challenge.
That may turn out to be the case, but somehow I doubt it will help Democratic elders sleep easier this week.
More money, more problems for Jeb?
In these early months of the US presidential marathon, the so-called "money race" - to lock down big donors and amass a hefty campaign war chest - is of particular interest to campaign-watchers and political party operatives.
Given his family connections, former Florida Governor Jeb Bush has always been considered a powerhouse where fundraising is concerned . Now, however, it seems he's beating the competition so badly he doesn't want to run up the score.
According to the Washington Post, Mr Bush has told his major fundraisers not to ask for more than $1m (£660,000) apiece from their high-rolling donors.
"The move reflects concerns among Bush advisers that accepting massive sums from a handful of uber-rich supporters could fuel a perception that the former governor is in their debt," Matea Gold writes. "The effort is also driven by a desire to build as broad a pool of donors as possible among wealthier contributors."
Mr Bush's opponents probably wish they had his #Richcandidateproblems.
A Wisconsin caveat
One of Wisconsin Governor Scott Walker's big selling points as he (unofficially) campaigns for the Republican nomination has been his ability to win state-wide office in his left-leaning home state three elections in a row.
Marquette Law School's Charles Franklin pointed out at a WisPolitics event on Tuesday that there is one often overlooked caveat to that particular boast, however. While Mr Walker has a winning streak unrivalled by his potential opponents, he's never had to face the voters during a presidential election year, when turnout - and interest - is significantly higher.
In Mr Walker's 2014 re-election, turnout was 56.5% - compared with 70% in the presidential election of 2012.
Could Clinton emails shake up the 2016 race?
3 March, 2015
Make no mistake, Tuesday's New York Times report on Hillary Clinton's exclusive use of a private email account during her time as US secretary of state could turn into a major development in the 2016 presidential race.
This all stems from Mrs Clinton's position as the leading - only, really - candidate for the Democratic presidential nomination. At this moment there are no realistic alternatives. If Mrs Clinton's electoral prospects sink, her party goes down with her.
In the Times article Nick Merrill, a spokesperson for Mrs Clinton, said the email account was within the "letter and spirit of the rules" and that they have provided over 55,000 emails to the State Department. In politics, however, following the letter of the law is often not enough.
The story is particularly damaging to Mrs Clinton because it plays into two existing negative perceptions about both the former secretary of state and her husband - that they are overly secretive and they believe the normal rules don't apply to them.
Rand Paul wins CPAC straw poll
2 March, 2015
Given that he has won the previous two contests, it's not much of a surprise that Kentucky Senator Rand Paul captured the top spot in the 2015 Conservative Political Action Conference straw poll on Saturday. Slightly more interesting is who finished second. Here are the top results:
Rand Paul - 26%
Scott Walker - 21%
Ted Cruz - 12%
Ben Carson - 11%
Jeb Bush - 8%
Donald Trump - 5%
Placing close behind Mr Paul helps cement Wisconsin Governor Scott Walker's position among the top tier of candidates just a few months after he was considered a Republican dark horse.
When voters were asked for a second choice, the race between Mr Paul and Mr Walker remained close - 19% had Mr Walker second, while 13% chose Paul as their favourite alternate.
CPAC voters were a young crowd - among the 3,007 ballots cast, 42% were students and 47% were between ages 18 and 25. Participants provided their opinions on a range of issues, sometimes with interesting results. Legalisation of marijuana was supported by 41% of respondents, for instance. Slightly over half listed "economic issues" as their top priority in a presidential nominee. Just under 40% said illegal immigrants should be deported without an opportunity to apply for US citizenship.
As noted below, the CPAC straw poll has a spotty history of predicting the eventual Republican nominee. While Mitt Romney (a three-time winner), George W Bush and Ronald Reagan were past winners, so were social conservative activist Gary Bauer (1999), former Virginia Senator George Allen (2006) and libertarian Congressman Ron Paul (2010-2011).
The results are a bit of an embarrassment for prospective candidates like New Jersey Chris Christie, Louisiana Governor Bobby Jindal and Florida Senator Marco Rubio, all of whom finished with fewer votes than real estate magnate Donald Trump.
Roll on CPAC 2016
28 February, 2015
This year's Conservative Political Action Conference was equal parts presidential candidate casting call, swag-filled conservative trade show and media circus.
A four-day romp through the heart of the Republican id, it felt like a sneak preview of the insanity that awaits as the 2016 presidential campaign goes into full swing less than a year from now.
Almost a dozen legitimate Republican presidential aspirants (and Donald Trump) took the stage at the Gaylord Resort on the outskirts of Washington, DC, trying their best to appeal to the collection of grassroots organisers, libertarian true believers and field-tripping college students who make up the bulk of the 10,000 conference attendees.
On Saturday evening the fruits of their efforts will be revealed, with the announcement of the results of the conference's straw poll. While it's decidedly unscientific - a Paul, Rand or father Ron, has won four of the past five years - it will be a feather in the cap of whoever claims victory. Mitt Romney, not running this year (hence the X in the image below), won in 2012; George Bush came out on top in 2000; Ronald Reagan prevailed in 1980.
All three, of course, went on to capture the party's nomination.
Jeb Bush survives grassroots gauntlet
27 February, 2015 - 1700 ET (2200 GMT)
Former Florida Governor Jeb Bush has the money, national profile and, yes, last name to mount a convincing campaign for the Republican presidential nomination in 2016.
The one thing he didn't have was the support of much of the crowd during this week's Conservative Political Action Conference (CPAC).
Mentioning Mr Bush was a good way to prompt a smattering of boos on Thursday. On Friday morning conservative radio talk show host Laura Ingraham repeatedly bashed the governor, joking that he and Hillary Clinton "could run on the same ticket".
When he took the stage on Friday afternoon, however, the hall was packed, a rumoured mass walkout didn't materialise, and any boos were drowned out by more cheers.
It was enough to fuel snide talk from some of bussed-in supporters and underhanded tactics.
Duck Dynasty star steals stage from Jeb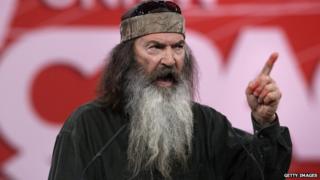 27 February, 2015 - 1430 ET (1930 GMT)
Florida Governor Jeb Bush waited backstage at Friday's CPAC gathering, and an audience expecting him to make a scheduled 1340 ET appearance packed the main auditorium. Phil Robertson, from the television programme Duck Dynasty, had other ideas.
He was on hand to receive the Andrew Breitbart Defender of the First Amendment Award, and he spoke freely. And spoke. And spoke.
He quoted Bible verses. He endorsed traditional marriage. He warned the audience of the dangers of sexually transmitted diseases. And he kept going.
When it became clear the bearded reality television star's speech wasn't anywhere near a conclusion - he was just starting, he joked at one point - he got an Academy Awards-style musical hook. Rock music blared, the crowd cheered and Robertson finally yielded the floor.
For a few brief moments, the Duck Dynasty filibuster was like a llama chase for political junkies.
Scott Walker's controversial analogy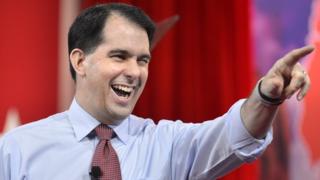 27 February, 2015 - 1100 ET (1600 GMT)
The Conservative Political Action Conference's (CPAC) new post-speech question-and-answer format claimed its first victim on Thursday evening.
Wisconsin Governor Scott Walker had just finished giving a rousing speech touting his ability to enact a conservative agenda in his moderate state, including overcoming massive public union demonstrations against his education reform programme.
When it was time for the man increasingly being seen as a frontrunner for the Republican presidential nomination to answer a handful of questions from a moderator.
What would he do to defeat Islamic State? His answer would become the top-line story from his appearance before the grass-roots activists at the conference in Washington, DC.
"I want a commander in chief who will do everything in their power to ensure that the threat from radical Islamic terrorists does not wash up on American soil," he said. "If I can take on 100,000 protesters, I can do the same across the world."
You could practically hear the hundred-plus national political reporters gathered at the back auditorium hall pouncing on their keyboards.
Nigel Farage in the USA
26 February 2015 - 2300 ET (0400 GMT)
After a day full of pontificating Republican US presidential hopefuls, the CPAC gathering in Washington, DC, ended with a would-be world leader of a different sort.
Nigel Farage, head of the United Kingdom Independence Party, didn't have a choice speaking spot. The crowds that packed the auditorium earlier to watch former vice-presidential candidate Sarah Palin, Wisconsin Governor Scott Walker and others had long since departed.
Those who stayed, however, gave a warm reception to the man introduced to them as "a living, drinking, smoking protest to political correctness".
Mr Farage addressed the audience for roughly 20 minutes and quickly turned to the subject of immigration - common ground with the collection of grassroots activists who make up a majority of CPAC's attendees.
He called it an issue "our so-called liberal media said should not be discussed in polite conversation" and said the UK was a small island that couldn't continue to welcome hundreds of thousands of new arrivals.
The audience stayed with Mr Farage as he ventured into an assault on the growth of corporatism - "big business, big banks and big government". When he turned his attention to foreign affairs, however, he stood on uncertain ground.
Criticising Mr Obama's Middle East policy as being insufficiently forceful had been a reliable applause line at the conference throughout the day, so there was a certain amount of unease in those gathered when Mr Farage came at the topic from a different angle.
"The time has come to assess whether an interventionist foreign policy has been successful," he said. "We've actually inflamed and stoked the fire of militant Islam by doing what we've done."
His words were a sharp contrast to Ms Palin's remarks just 40 minutes earlier.
"Aside from God almighty, what is the only force strong enough to keep this barbaric tide at bay?" she asked. "It's the red, white and blue; it's the United States military."
Mr Farage won the audience back in the end, however, with an attack on yet another common enemy - multiculturalism. "We must stand firm and defend our Judeo-Christian culture," he said to applause. "We must make it clear we believe in common law and not Sharia law."
After the speech Frances Hoogemboom, who had travelled to the conference from South Carolina, said it was his immigration remarks that stood out in her mind.
"He was very enlightening," she said. "He recognises the same issue in England - the overcrowding. We could relate to him very well."
Mr Farage's Ukip will face voters in parliamentary elections in just over two months. While the US presidential election is still more than a year and half away, it's front and centre on the minds of CPAC throngs. And does Mr Farage have any advice for the convention-goers who watched the parade of politicians earlier in the day?
"All I would say," he told the BBC, "is they need to pick a candidate that can reach out to people who want to work hard. They need to appeal to the American dream, and I'm not quite sure at the moment that they're doing it."
Given the crowd he chose to visit, it's a view that he probably would be advised to keep to himself.
Cruz loved, Christie grilled
26 February 2015 - 1530 ET
Two politicians, two regions and two faces of the Republican Party were on display this afternoon.
New Jersey Governor Chris Christie and then Texas Senator Ted Cruz both had prime speaking times, and the styles and reception of the two would-be presidential candidates couldn't have been more different.
Mr Christie - considered a moderate, establishment candidate - was first up, and he opted for sit-down questioning from conservative radio talk show host Laura Ingraham.
She quickly put him on the defensive. The media don't like you; your polls are abysmal; you're considered an explosive, short-tempered hothead - and "that's just what your friends say," she quipped.
Mr Christie parried with a smile. "I'm not about half-measures," he said. "I care about fighting for the people that I represent."
On questions about immigration and Common Core education standards, he had to defend or explain away positions reviled by many grass-roots conservatives.
There's no doubt, despite polite applause, this was not his crowd. Just showing up without a major gaffe or controversy constituted a win for him.
Mr Cruz, on the other hand, was a grass-roots, Tea Party favourite preaching to the choir. He spoke for nearly 20 minutes without notes or teleprompter, theatrically bashing both Washington and fellow Republicans who say they support conservative causes.
"When have you stood and fought?" he asked.
After his speech, Fox News host Sean Hannity questioned Mr Cruz, and it was a stark contrast from the New Jersey governor's grilling. His last question: "Why does Ted Cruz love America?"
Mr Christie surely would have appreciated a few softballs like that.
It's not brain surgery
26 February, 2015 - 1215 ET
Ben Carson, the paediatric neurosurgeon, turned right-wing commentator, turned possible Republican presidential candidate, had a tough draw for his Thursday appearance at the Conservative Political Action Conference (CPAC).
Scheduled to speak at 8:40am, the man who grew up in poverty and was recently listed as one of the most admired people in the US took the stage 10 minutes early - while the audience was still trickling in on a snowy Washington morning.
Those who had found their seats for the start of Mr Carson's 20-minute speech didn't get a lot of the red-meat rhetoric they were probably expecting, either.
The doctor had shot to stardom in the conservative movement in 2013 by harshly criticising President Barack Obama's healthcare reform - at an event where the president was sitting just a few feet away. He stirred controversy over the past few years by calling healthcare reform "the worst thing that has happened in this nation since slavery", comparing homosexuality to bestiality and saying the US was becoming like Nazi Germany.
Instead of taking whacks at the current White House occupant, however, Mr Carson said it was "too depressing" to talk about the Obama administration's failures.
He criticised the left for labelling people like him - blacks who "oppose the progressive agenda" - as crazy.
Even when he turned to the subject of healthcare, Mr Carson first targeted his own party - urging congressional Republicans to have an alternative to Obamacare before they scrap it.
"I want everybody to have good healthcare," he said as he endorsed medical savings accounts that allow participants to put money aside tax-free to cover healthcare costs.
Toward the end of his speech, Mr Carson warmed up a bit with tried-and-true conservative applause lines - blasting the Internal Revenue Service, embracing gun rights and urging: "Let's not turn our back on Israel!"
Although Mr Carson has been coy about whether he will actually launch a campaign, he's ramping up the requisite staff for a bid, including hiring an experienced hand as his Iowa campaign director and assembling a national fundraising team. An independent "Draft Ben Carson" political action committee already has raised more than $12m (£7.8m).
The National Review says Mr Carson is getting "awfully close" to the top tier of Republican candidates. A relatively somnambulant appearance at CPAC probably won't help him make that move, but his combination of a compelling life story, appeal to minority voters and vigorous defence of right-wing values will keep him in the conversation.
25 February, 2015
We have lift-off
Although it's only late February 2015, almost a year out from the first ballots being counted in Iowa and New Hampshire, the high-stakes poker match that is US presidential politics has already started. Aspiring White House occupants are buying their chips and bellying up to the table.
This blog will cover the contest - the big wins and inevitable busts - with regular analysis and updates on the issues and the state of play, from exploratory committees to announced candidacies; group debates to county fair speeches. We'll watch as the wide-open political field is eventually whittled down to two nominees.
Then it's on to the party conventions, the general election campaign, the sprint to the finish and, at last, a new chief executive.
It seems like a long road - and it is. This reflects not just what's at stake, but also the vast sums of money and organisational effort now necessary to mount a credible campaign for the top office in a nation of 318 million.
We'll start this week with coverage of the annual Conservative Political Action Conference (CPAC). All the major Republican players will be there (well, almost all). And unlike past years, they'll have to face questions from an assortment of convention-going grass-roots conservatives, political activists and libertarian anti-government true believers.
Some may soar; others certainly will stumble.
Welcome to American politics. Just like a real casino, the action never stops and the losers go home early.
Does Mike Huckabee want to be president?
Contender or pretender - what can we make of Mike Huckabee?
The former Arkansas governor is at or near the top of many Republican primary polls, both nationally and in first-in-the-nation-voting Iowa. He's also making moves that appear to be clear indications that he intends to seek his party's presidential nomination.
On the other hand, he's the one notable no-show among Republican presidential hopefuls at a prominent conservative conference this week. And some critics, recalling that he teased running in 2012, think this could be just another attempt to use presidential-season media interest to generate publicity for personal gain.
Hillary Clinton's grandmother gambit
"Grandmothers know best."
Hillary Clinton attached that line as a hashtag to a tweet about the importance of measles vaccinations earlier this month. Given that Mrs Clinton's tweets are read like messages from the Delphic oracle, it has rekindled speculation that the former secretary of state will be leaning on her new grandmatronly status in her all-but-announced upcoming presidential campaign.
Since Chelsea Clinton gave birth to her daughter, Charlotte, last September, Hillary Clinton has frequently mentioned how being a grandmother has given her a renewed interest in ensuring the security of future generations - which, come to think of it, sounds like a pretty reliable campaign theme.
Perhaps more importantly for Mrs Clinton, however, it's also a humanising theme.
Rand Paul and his Ron Paul Conundrum
Kentucky Senator Rand Paul has a Ron Paul problem. Or maybe it's a Ron Paul opportunity.
Both sides of that particular coin were on display Friday, when Ron - Rand's father - spoke to the International Students for Liberty Conference in Washington, DC.
It was the elder Paul's kind of audience - young and enthusiastic about the libertarian emphasis on robust individual freedoms and minuscule government. Crowds like this had fervently supported the former congressman's quixotic bids for the Republican presidential nomination in 2008 and 2012, where he proved to be a pesky participant in the debates and a headache for local party structures, but a lesser threat when ballots were counted.
Now the question is whether a crowd like this will pass their support on to Paul's son - and whether the price of that support will put the senator at risk of alienating a larger, more important part of the Republican base.
Graphics by the BBC's Franz Strasser