Sandy Hook: Victim's family seeks trademark protection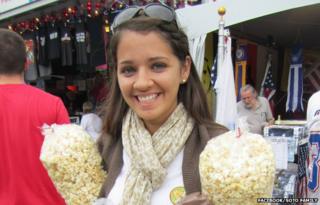 The family of a teacher gunned down in the Sandy Hook elementary school shooting have applied to trademark her name in an effort to stop online harassment. Will it help?
It's hard for Carlee Soto to talk about why she's trying to trademark her sister's name. She'd rather just be allowed to grieve and remember the loved one she lost on 14 December, 2012, in Newtown, Connecticut.
Victoria Soto, 27, was killed as she tried to protect her class of first grade students from gunman Adam Lanza. She was one of six teaching staff who died that day, along with 20 students, Lanza's mother and Lanza himself.
Since Soto's death the family haven't just had to contend with their loss. On a daily basis they receive hate-filled messages on social media, from a small group of people who say the fatal shooting spree didn't really happen.
Soto says fake accounts are regularly created in her sister's name - many attacking her dead sister, others casting doubt over the Sandy Hook massacre.
"It's extremely hurtful that people can continually nag and pick wounds after everything we have been through," she says.
"I saw my sister in a casket. I saw her clothing with all the bullet holes - and I don't want to have to deal with this."
In an effort to stop the daily barrage of online abuse, the family has taken the highly unusual step of applying for a trademark for Victoria's name.
"We did it because the biggest problem we are having is that people are making fake Twitter accounts in Vicki's name and tweeting conspiracy theories and untrue things," says Ryan Graney who helps the family with social media.
Graney says her job is to remove unpleasant and false posts about the family from social media, "At one point there was 158 fake Facebook pages dedicated to Vicki, and it took me two months to get it down to four," explains Graney, who says some websites are falsely trying to raise funds in Victoria's name, while others are plain harassment.
The FBI has investigated some of the fake accounts they've seen, but due to the huge volume of unpleasant messages the family receives, the usual course of action is to report them to the social networks which host them.
Graney says the family has established a protocol with Facebook to ensure hurtful posts and pages are taken down. It's been harder with Twitter, where they receive the most abuse.
Twitter's CEO, Dick Costolo recently admitted that the company needed to improve when it came to dealing with internet trolls, admitting that when it comes to handling "abuse and trolls on the platform," the company has had problems for "years".
But the balance between free speech and online abuse can be tricky. A spokesperson for Twitter told the BBC that the company investigates all complaints its receives of this nature: "We review all reported content against our rules, which prohibit impersonation and targeted abuse. If we find the accounts are violating our rules, we will suspend them."
Twitter suspends users who are impersonating someone falsely, but with a reported 681 Victoria Sotos in America, making use of this policy is trickier.
Having a trademark provides additional protection for a user - accounts which are seen to violate a trademark can be suspended quickly, which is why the family say they're taking this path.
But applying to trademark a deceased relative's name is extremely unusual, so the family's request is not guaranteed, explains Mark Jaffe, a trademark lawyer.
Name-associated trademarks tend to apply to products, such as Ralph Lauren shirts or Louis Vuitton handbags, says Jaffe.
"You would be receiving trademark protection in connection with goods and services. People have to view the name as not just the name of a person, but a product," he explains.
There is the Vicki Soto memorial fund which could be considered as a service that requires protection, but that wouldn't cover the general online abuse the family receives.
If someone tweets from a fake Nike account, for example, the company can ask that it be taken down. But trademark law can't stop people writing about the company, even if what they say is outrageous and offensive, explains Jaffe.
The Soto family may have to wait months to find out if their trademark application is successful, but Carlee Soto says it's an important step.
"We are hoping that it will be a deterrent and people will see that we are serious about this. The fact people think my sister isn't real has to be the most hurtful thing people say.
"My sister is as real as it comes. I lived with her for 19 years - and I still can't even believe that she's not here."