The Victorian craze that sparked a mini-sexual revolution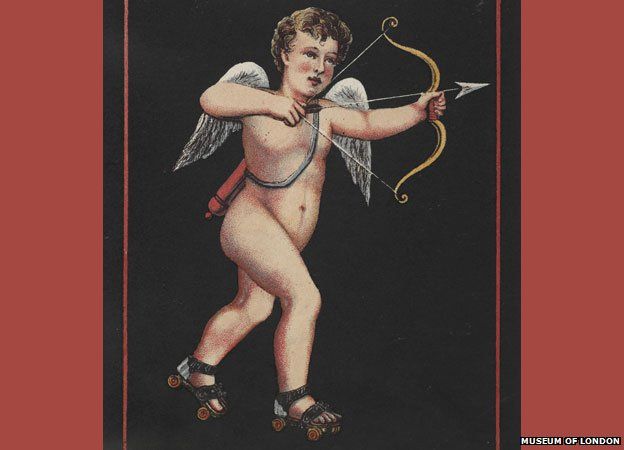 Rollerskating is a long-established hobby, allowing for exercise and fresh air. But was its original popularity partly down to a desire for more romantic freedom?
It is a truth universally acknowledged that taking one's potential mother-in-law on a date is a questionable idea.
Pity the upper- and middle-class Victorians, whose every romantic move, at a dance or a soiree, was monitored by their elders.
There was little means of escaping this stultifying atmosphere until, in 1863, the American inventor James Leonard Plimpton patented a four-wheeled roller skate that was capable of turning. Skates had already been around for about 100 years, but were cumbersome because steering meant having to stop and pick up one's feet. Plimpton's innovation meant skaters could move easily in a circle.
Aware of the commercial possibilities, Plimpton opened the first rollerskating rinks in New York and Rhode Island. Promoted as family-friendly health and fitness venues, they grew in popularity.
By the mid-1870s, a craze for indoor rollerskating had come to Britain, with 50 rinks in place in London at one point. The press dubbed the phenomenon "rinkomania", but the healthy exercise that Plimpton had boasted of was not all that attracted the young "rinkers".
"The skating rink is the neutral ground on which the sexes may meet," reported Australia's Port Macquarie News of goings-on in London and elsewhere, "without all the pomp and circumstances of society. The rink knows no Mother Grundy, with her eagle eye and sharp tongue, for Mother Grundy dare not trust herself on skates, and so the rinker is happier than the horseman of whom Horace sang."
Holding hands and whispering sweet nothings became easier without Mother Grundy - a contemporary term for a stern matriarch - and her ilk tagging along. Prolonged eye contact with one's intended replaced stolen glances.
In 1876, it was satirically reported in Punch magazine that London's Royal Albert Hall, named after Queen Victoria's late husband and opened only in 1871 as a venue for the high arts, could itself become a rink. A cartoon in the Illustrated Sporting and Dramatic News in the March of that year joked: "If you would be my Valentine; On Plimpton rollers learn to shine." The composer Edward Hoffman created a piece called the Rinkomania Grand Promenade March.
The Lady's Letter from London column in the California Mail reported that rinkomania was "spreading with extraordinary rapidity, until every available space is threatened with being converted into an asphalted plain, on which young men and maidens... may spin and twirl about on wheels, attired in rink hats and the latest rink costumes".
It was hardly the sort of sexual revolution Britain and much of the rest of the Western world was to experience almost a century later, with the advent of "free love", mini-skirts and the pill, but at least it offered a little more freedom.
"If a youth possesseth good parts do they not shine to greater advantage in the whirring arena of wheels; if a maiden be graceful, doth not her grace become still more charmingly enhanced by the very poetry of motion?" asked the Port Macquarie News.
"Above all, does not roller skating recommend itself beyond all other pastimes, insomuch as even the first crude effort to strike a balance, not to say an attitude, is aided in the case of the fair sex by the gentle and respectful, yet firm and sufficient, support of some skilled cavalier, whose well-timed assistance and experienced counsels, smooth the rugged - no, that won't do - render less glacial the slippery path."
A path rendered less glacial was as much as the skilled cavaliers of mid to late-Victorian Britain could hope for. But rollerskating became less popular by the 1890s, with many rinks, built in a hurry at the height of the craze, going out of business.
John Joseph Merlin, a Belgian inventor, was the first recorded person to invent a roller skate, in London in about 1760
Merlin wore a pair of his new skates to a masquerade party at Carlisle-House in London. He was not a good skater and crashed into a large mirror, severely injuring himself
He had reportedly been trying to play the violin at the same time
In his 1897 book Social Transformations of the Victorian Age, Thomas Hay Sweet Escott looked back fondly at the 1870s, when he had been a young man. He recalled how the middle classes had "slipped about, and called it skating".
Most acquaintances between men and women had been "probably blameless. They often ended in blissful and desirable marriage. But not without a shock to her sense of maternal propriety did the English matron of old-fashioned ideas see, or hear of, her daughter being twirled round in the arms of some youth just introduced, or perhaps without even the preliminary of that easy form."
It's something young people today would take for granted. At the time it was truly revolutionary.