A man and his wallet, reunited after 65 years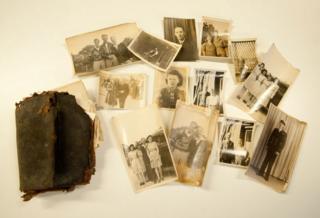 A man is being reunited with his wallet, 65 years after he dropped it down the back of a medieval bookcase at Lambeth Palace, writes Newsnight's James Clayton.
Most of us have lost our wallet at some stage in our lives. But few would imagine having it returned after a nearly seven-decade gap.
Edward Parker dropped his wallet in 1950 into an inaccessible spot behind a bookshelf, while working as an electrician, repairing World War Two bomb damage in the palace.
The wallet stayed there until this year when a builder, doing some restoration work, finally found it.
The wallet is a time capsule. Its leather and webbing has long ago started to disintegrate. But it contains numerous pictures of family, invoices, receipts, old union cards, results of a chest X-ray (sent to him in 1948, the same year as the NHS was founded), a national service card dated 9 December 1944 and a medical insurance card.
His business cards - E Parker, Electrical Contractor - seem almost pristine. Reflecting the typical methods of contact of the time, they have an address but no telephone number.
A month ago I was speaking to a press officer at Lambeth Palace and he mentioned that the wallet had just been handed in. We thought it might be nice to try and work out whose it was and give it back to the family.
Edward Parker is a pretty common name, but his medical card contained two places of residence - Poets Road and Springdale Road in north London. From this, Islington Council were able to find details of a marriage between Edward Parker and Constance Butler in 1947.
That information was enough to work out that he was still alive and in a care home in Essex, so I went to visit him.
Now 89, Edward has dementia, but he was clearly happy to get the wallet - and in particular, the photographs - back. He pointed out pictures of his mother and father, his brother, his cousins and his wife Constance, who was with him when I visited.
He hadn't seen a picture of his father since he lost the wallet, Constance, 90, says. The wallet also contained a photo of her and Edward taken in Eastbourne the day she told him she was pregnant with their first child. "I was frightened to tell him," she recalls. "We didn't have any money"
She remembers the day the wallet went missing: "I know he was upset. He came in and said 'I lost my wallet' and I said 'Never mind'.
"And one of his mates said to him: 'What did you lose, Ed?' And he said 'Never mind what I lost, the money I don't worry about, it's the memories that I lost.'"
The story of the wallet featured on Newsnight on Friday 13 March 2015.
Subscribe to the BBC News Magazine's email newsletter to get articles sent to your inbox.