Happy funerals: A celebration of life?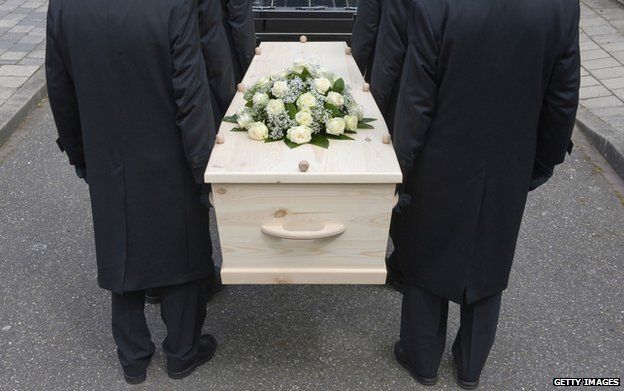 The British funeral has been transformed. Increasingly, the ceremony pays tribute to the deceased's life instead of mourning their death. Why?
It may be the only thing that's inevitable in life. But death is changing. Now it's a time to be joyful.
Instead of looking ahead to the afterlife, British funerals increasingly rejoice in memories of the deceased's triumphs, relationships and their favourite songs. There's a phrase for ceremonies like this - "a celebration of life".
The tone is happy rather than mournful, celebratory instead of sombre. Wearing black is commonly discouraged. You're more likely to hear Monty Python's Always Look On The Bright Side of Life - according to a 2014 survey, the most popular song played at UK funerals - than Verdi's Requiem.
A survey of 2,000 people by ICM suggested that 54% wanted their funeral to be a "celebration of life". Some 48% said they wanted it to incorporate their favourite "hobby, colour, football team or music". Crematoriums - where nearly three-quarters of British funerals now end - are virtually always equipped with audio visual systems that allow video clips to be played.
There are thousands of web pages devoted to planning a "celebration of life service", tailored with memories and mementos of the deceased taking centre stage, and the funeral industry has not been slow to keep pace with demand.
Celebrities have led the way. The actress Lynda Bellingham's funeral was planned as an "all-singing, all-dancing knees-up", according to one paper. Sex Pistol's Svengali Malcolm McLaren's hearse wound its way through north London accompanied by a boisterous 200-strong party singing along to Sid Vicious's version of My Way. Across the Atlantic, Joan Rivers' funeral was opened by the New York City Gay Men's Chorus performing a series of Broadway show tunes.
In the US, ceremonies of this kind are well established, with some members of the baby boomer generation having planned their own such send-offs as far back as the the 1970s. This is perhaps not surprising in a nation with a large new age movement, a tradition of upbeat New Orleans jazz funerals and a large Hispanic population that celebrates the Mexican Day of the Dead festival. In the UK, it's somewhat more of a departure.
It's not for everyone. There are plenty of others who prefer the sober dignity of a traditional church funeral, or indeed a secular service that is solemn rather than celebratory.
But despite being being the great leveller, death is increasingly seen as an occasion to express one's individuality.
Take Malcolm Brocklehurst, 81, a retired aircraft engineer from Cleveleys, Lancashire. He's carefully planned his own funeral as an expression of his singular personality.
After he dies, Malcolm's remains will be taken to Bloomfield Park, home of Blackpool FC, in a coffin shaped like an aeroplane and coloured tangerine to match his favourite club's home strip, in which his body will be dressed.
After the casket is conveyed on a flat-bed truck to Blackpool Crematorium, the congregation will listen to tributes to Malcolm before being invited to "spin my propeller to fly me to the moon", he says. He's already staged a dress rehearsal.
He doesn't want any tears. The purpose is not to dwell on loss, he says, but to rejoice in what happened when he was alive: "I don't want them mourning - I want them laughing."
This is a radically different vision of the death ritual from the Christian rites that until recently predominated across the UK.
Though church services include eulogies, their focus has always been on the future - the promise of everlasting life. "He that believeth in me, though he were dead, yet shall he live", says the Book of Common Prayer. Catholics pray for the deceased's immortal soul.
For traditionalists, the "celebration of life" misses the point of a funeral ritual.
Funeral music and camper vans
Monty Python's Always Look on the Bright Side of Life is the most requested funeral song in the last six months, according to The Co-operative Funeralcare music charts
Queen is the most popular group with nine tracks requested, including Who Wants to Live Forever and Don't Stop Me Now
The theme tunes to Coronation Street, Downton Abbey and Strictly Come Dancing also feature
JCBs, camper vans, pickup trucks, skip lorries and double-decker buses are among the vehicles that have headed funeral processions
Source: The Co-operative Funeralcare
By looking back rather than forward, and focusing on happy memories rather than the immediate sense of loss, they reflect modern society's incapacity to deal frankly with grief, says Alexander Lucie-Smith, a Catholic priest, doctor of moral theology and consulting editor at The Catholic Herald.
These kind of upbeat, "self-knitted" ceremonies do the deceased a disservice, he believes. "If you airbrush out the fact we are all sinners, you flatten out the funeral - it becomes insipid," he says.
But it's surely not surprising that, in a secular society where belief in eternal life has diminished, people without faith in the afterlife look for ways of commemorating the dead that go beyond the strictures of the church. In 2011 12% of funerals were humanist or non-religious.
Likewise, with the average cost of dying - including funeral and estate administration fees - standing at an estimated £7,622 in 2014, it's understandable that families demand a more personalised service.
Princess Diana's funeral, with its Elton John soundtrack and public displays of grief, is often cited as a watershed moment, in which the British lost their stiff upper lip when it came to public mourning.
But it would be wrong to suggest that elaborate ceremonies are a modern innovation that arrived in 1997, says Tony Walker, director of the Centre for Death and Society at the University of Bath. In Victorian times, extravagant burials were a status symbol.
The ashes of gonzo journalist Hunter S Thompson were blown into the sky from a cannon. His ashes were fired from a 150ft tower topped by a red fist with two thumbs - the symbol of Thompson's free-wheeling, first-person gonzo journalism. Johnny Depp, who played Thompson in the film of his book Fear and Loathing in Las Vegas, paid for the cannon. The writer's friend Matt Moseley told the BBC before the funeral that it would be "the grandest celebration... on the planet". Friends were instructed to remember him afterwards with the clink of ice in whiskey.
It is true, however, that during times in which life was fragile, such as World War Two and its aftermath, the individual was secondary to the collective and events like weddings and funerals were comparatively fuss-free affairs. Now, Walker says, "we have got the kind of security and affluence to celebrate individuality".
There has been a trend towards humanist and civil funerals, as well as natural or woodland burials. The Church of England decided in 2012 to raise the cost of a service by 50%.
Of significance, too, is that an increasingly multicultural UK contains many ethnic and religious groups with a tradition of celebrating or giving thanks to mark the loss of loved ones.
Jewish funerals include a eulogy or hespeid. Hindus have a ceremony called shraaddhas in which they give thanks to deceased parents and relatives. Irish Catholics may be familiar with solemn requiem masses, but these are often followed by often exuberant wakes.
What's apparent is that people choose to grieve in quite different ways, and potentially this could cause friction at family gatherings. Older relatives might find a "celebration of life" irreverent and offensive. Others might consider a traditional ceremony morbid and upsetting.
"We are still quite uncomfortable with people being too expressive," says Walker. "Bereaved people receive mixed messages. It's OK to cry, but please don't do it in the supermarket."
To Malcolm Brocklehurst, however, the celebration of his own life he has planned is as much a memento mori as the most reverent Anglican rite. "It's about saying that life is for living," he says. "It's not a rehearsal."
In Ghana there is a tradition of honouring the dead with coffins that celebrate the interests of the person when they were alive. Joseph Ashong, or Paa Joe, is one of the country's most well known coffin makers. He has made them in the shape of a giant beer bottle, a Porsche and a frilled lizard.