Hunting for Prince's vault
By Mobeen Azhar
BBC, Minneapolis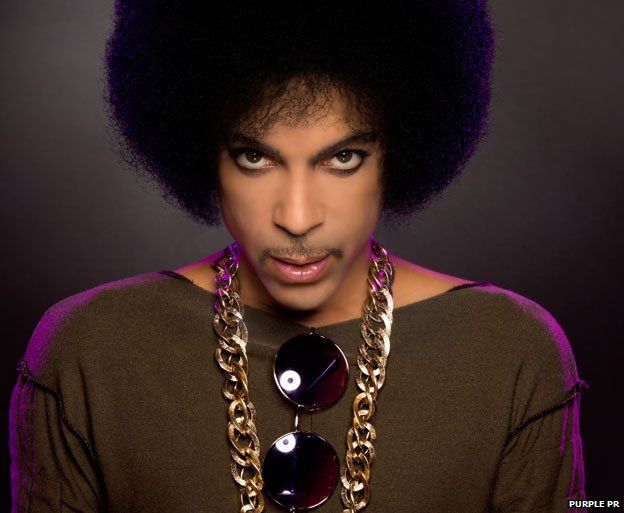 There is the popstar Prince, the androgynous, multi-instrumentalist who sings about sex and spirituality in the same breath. And then there is Prince the enigma. It's this second Prince that has created a great pop-culture mystery - the story of a vault holding thousands of unreleased songs.
Prince grew up in Minneapolis and that's still where he records most of his music. Following the success of his blockbuster Purple Rain in 1984 he was able to build his own recording utopia, Paisley Park.
Since then, much of Prince's music has been recorded within its walls, making it a place of pilgrimage for fans. The building is at the centre of one particular legend - the idea that if Prince was to die tomorrow, he has so much unreleased music, he could release an album a year for the next 100 years.
I've been hearing about the legendary vault for years. Some say it's an urban myth. Others claim to have actually seen it. Susan Rogers, Prince's former sound engineer sets the record straight.
Prince once described his creativity as a curse, explaining: "If I didn't make music, I'd die." He records something almost every day.
Hans Martin-Buff, Prince's engineer from 1996-2000: I remember someone asking Prince why he was working on a weekend. He laughed and said, 'This might be work for Hans, but it's not work for me.' I never knew I had a day off, until the day had passed. I carried a pager. It could beep at any time of the day or night. If Prince wanted to record, I would set everything up and he would go for it. He'd move from drums to bass to guitar to keys and vocals. He could start working on a song from scratch and have it completely mixed within one session. It was completely normal to work through the night. In the same way that most people have a conversation about their day, Prince creates music. It's effortless for him.
Eric Leeds, a saxophonist who's performed with Prince on and off for three decades: We would just go into the studio and jam every night and just record everything. We worked on a whole bunch of instrumentals and Prince threw it all to me and said, "Make me an album." I actually sequenced the record. There was one 45-minute jam called Junk Music. The project was going to be called The Flesh and it was the greatest thing in the world in Prince's mind. That lasted about three days. Then Prince got bored and the record got shelved. There's no question about his speed. In 2004 we made an album called NEWS which did make it to release. That entire album was recorded pretty much as you hear it. It probably took an hour.
Susan Rogers recalls Prince's real-life heartbreak being the inspiration for a particularly magical night of recording: He came into studio and recorded this ballad. It starts with spoken word. Prince is speaking to Wally, a dancer in his crew. He's telling him, "I want go out tonight and meet someone new." He goes into this chorus. It's beautiful, just beautiful. There's a crescendo. The song gets huge. It breaks down. He says, "I'm not going out any more." The background vocal arrangements, the expression of it was just gorgeous. Of course he played all the instruments. We finished recording the song and then Prince said to me, "Erase it."' He said it very calmly. I could feel the fan in me screaming "No!" I said, "Think about it. Wait til tomorrow at least." He reached over and hit record. He erased it. It was gone.
There was perhaps a four-year period where every song he would record would make me think, "This is the greatest thing he's ever done." Projects would just bleed into one another. There was Crystal Ball and Dream Factory and at one point he was saving songs for a kind of super-album called The Dawn. Before we'd go on tour I would take a map and plot out a route so I could mark where the closest recording studios would be. It was common for Prince to want to record after performing for two or three hours. He'd either do an after show or go into a studio to record."
Speaking to those who have been in the studio with Prince, it soon became apparent that only a small amount of recorded work has been released.
Brent Fischer, a Grammy-winning composer who has collaborated with Prince since the 80s: "I think over 70% of the music we've worked on for Prince is yet to be released. There are lot of songs that were sent to us clearly with the idea that they would never be released. They were almost comical songs that he would work out with his horn players. There was lot of wild horn parts and experimentation with samples."
Alan Leeds, Prince's former manager recalls a conversation with Prince in the early 90s in which Prince said he'd "just burn everything" one day. But there are reasons to be optimistic about the future of the vault too. Prince himself has teased fans, name-checking unreleased songs in his album liner notes and suggesting they could be released at "a later date". In 2012, he released a YouTube clip of new guitarist Donna Grantis auditioning to be part of his band. The clip ended with the text: "Every good thing in the vault… coming 2013." But of course 2013 passed without the flood of music that was promised.
Since his debut, Prince has released an average of one album a year, with two full-length releases coming out on the same day in 2014. But many fans and musical historians want to put together the missing pieces of the Prince puzzle. Only then will anyone be able to truly grasp the breadth of his creative energies.