Uwe Johnson in Sheerness: Why did a major East German writer move to an English seaside town?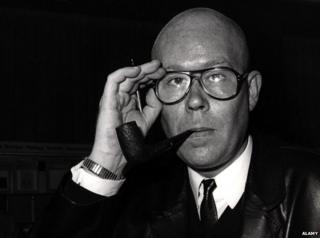 Gunter Grass called him the most significant of all East German writers. So why did Uwe Johnson choose to live in the unlikely setting of Sheerness, Kent, asks John Goudie.
To his fellow drinkers in the Seaview Hotel, he was Charles or Charlie, the mysterious foreigner who had become part of their hard-pressed world. They noticed he kept a notebook in his pocket.
To the international literary scene, he was Uwe Johnson, a world-class East German writer who found fame with his first published novel in 1959 - the same year that Guenter Grass published The Tin Drum, and the two writers were widely regarded then not just as contemporaries but also as equals.
Johnson's book, Speculations About Jakob, was the first to focus on the difficulties of living in a divided Germany. Its unsparing account of life in the East forced Johnson to move to West Berlin for its publication. He found himself described as "the poet of the divided Germany", a title he hated. He was uncomfortable in the capitalist West, too.
After spending some time in New York in the 1960s, Johnson moved to the seaside town of Sheerness, on the Isle of Sheppey, Kent, in 1974. He was 40. It was a decision that astonished his admirers.
In the 1970s Sheerness was not a pretty place, as Johnson himself was quick to acknowledge. Hundreds of jobs were lost when the Naval Dockyard closed in 1960 and the town had struggled to replace them.
Professor Patrick Wright of King's College London has looked closely at Sheerness and Johnson's life there and commissioned new English translations of his writing about the town. Wright argues that, then as now, "Sheerness was often stigmatised as a place of industrial dereliction and defeated people."
Johnson lived with his wife and daughter in a Victorian terraced house on Marine Parade overlooking the water. In his words, Sheerness was "no sleepy suburb" but "an ugly, living community".
Martin Aynscomb-Harris was Johnson's neighbour, and still lives on Marine Parade. Four decades on, he can still recall the arrival of the mystifying East German.
"We didn't know what he was - was he a millionaire in hiding, was he poor? One of the first things he said to me was: 'My name is Uwe Johnson but everyone in England has difficulty with that name and so I'm called Charles.'
"So I always called him Charles."
Johnson's double life still puzzles scholars. "What was it that drew him to this place?" wonders Astrid Koehler of Queen Mary, University of London. "There are a number of different reasons given, but none of them really cuts."
Some suggest that he wanted his daughter, who had been to school in New York, to continue her education in English.
The sea view - from the relatively inexpensive Sheerness property - was also an attraction: Johnson always enjoyed a view over water.
Damion Searls, who has translated Johnson's Sheerness writings, points out that "he grew up on the Baltic, and he had lived on Riverside Drive in New York with a view of the Hudson". It's likely that the light and sea at Sheerness reminded him of North Germany.
More importantly, Sheerness felt far from the literary world - and Johnson seems to have wanted to keep it that way, as he struggled to finish his epic four-volume novel Anniversaries.
Aynscomb-Harris remembers Johnson handing him copies of a couple of his books, saying: "I'm giving you these on one condition - that you don't discuss them with me."
"In divided Germany, on either side, authors were very public and important figures," says Astrid Koehler. "And it's almost as if he wanted to withdraw from this responsibility into a relatively anonymous private life."
Enjoying his anonymity, Johnson turned his forensic writer's eye onto his new surroundings, notebook at the ready.
"Although he remained an East German outsider, he was also a brilliant witness to the life of a struggling working-class English town," Wright believes.
"Johnson produced many sympathetic portraits of the islanders as he came to know them in local pubs and cafes, detailing their everyday struggles."
Johnson regularly ate a bacon and egg lunch in his "rather dingy" local cafe, alongside meter-readers and drivers ("less fat than I am," he admitted), and observed how hard it was to keep the place going. Despite the arrival of new salt and pepper shakers and a fancy curtain, "only rarely were more than seven of the nineteen wobbly chairs occupied".
The business came to an unhappy end - the woman "stacked the furniture crying, and an awkwardly written note asking to be excused for the early closing hung in the window".
Johnson also recorded energetic, even raucous pub conversations, and noted in precise detail British habits usually taken for granted, such as the number of times the phrase "thank you" was used when buying a rail ticket and travelling by train.
In the mid-1970s, Johnson's relationship with his wife came to a disastrous end, and she and their daughter moved out to a small house nearby.
He lived alone, working on and eventually completing Anniversaries and spending his nights in the nearby Seaview Hotel and The Napier. He was Charles, a regular, and accepted as such.
Colin Riordan, now Vice Chancellor of Cardiff University, was writing a PhD on Johnson in the early 1980s and was eventually invited to visit him in Sheerness. He says he found a lonely man, who looked to be in his 60s - Johnson was then in his late 40s.
Johnson died in his Sheerness home in February 1984. It was almost three weeks until his body was discovered. His security system, which turned on lights and closed curtains, had deceived his neighbours, including Aynscomb-Harris.
Since 1989 and the re-unification of Germany, his work has become the focus of considerable academic research and interest in his homeland. German scholars travel to Kent to see his house on Marine Parade - marked by a small black plaque - and to visit his grave in Sheppey Cemetery.
His gravestone is a flat piece of pink granite. Fittingly for a man who enjoyed hiding his identity, the stone offers no other information than a name: Uwe Johnson.
Patrick Wright presents BBC Radio 3's Sunday Feature A Secret Life: Uwe Johnson in Sheerness on Sunday 19 April at 18.45 BST, or listen again on iPlayer
Archive photographs of Sheerness provided by Trevor Edwards, Sheppey Pictures and Postcards.
Subscribe to the BBC News Magazine's email newsletter to get articles sent to your inbox.