The migrants who took over a Sicilian palace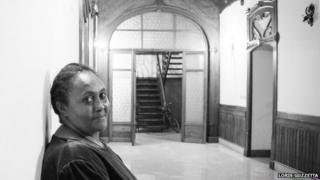 As thousands of desperate African migrants arrive on Sicily's shores, they must suddenly find their footing in a country in the grip of recession. They have something in common, though, with the island's own homeless and unemployed - and in fact, working together with Sicilians, a group of migrants recently moved into a palace sitting empty in Palermo.
When I visited, the elegant building appeared empty, its windows shuttered against the sun. I rang the buzzer and waited. Unsure if anyone had heard me, I banged on the heavy wooden door, but there was no answer.
At last, a woman opened the door. Behind her, several of her housemates looked on nervously.
They had been reluctant to come to the door, she explained, in case I was from the police. Some of the residents knew I was coming but my knocking had scared them.
We stood in a long, dimly lit corridor, lined with several ornately carved doors.
The woman introduced herself. "My name is Wubelem Aklilu," she told me. She had three rooms and shared the palace with 18 other people from Ethiopia and Eritrea, and one from Sicily. Wubelem means "Beauty" in Amharic, so that's the English name the Italians have given her. Her housemates call her Mommy.
Beauty agreed to show me around. One of the first rooms we entered was pitch black. When she hit the lights I found myself standing in front of an altar, below a vivid religious oil painting.
This impressive mansion, which Italians call a palazzo, was built in the 19th Century by one of the most important families in Palermo - the Florios - whose name still adorns a brand of Marsala wine. The Florios eventually gave the building to an order of nuns, the Daughters of St Joseph. After their numbers dwindled over the years, the nuns tried to sell it - but without success. For a decade the palace stood empty.
It was also 10 years ago that Beauty left Ethiopia.
She had been running a shop near the university in Addis Ababa. But as well as selling food she handed out pamphlets and sold T-shirts in support of a political party - a party in opposition to the government. It was a dangerous thing to do. One day, she saw police waiting for her as she approached the shop, so she turned round and walked quickly away.
Afraid for her life, she crossed over the border to Sudan, leaving behind her mother and children. She trekked across the Sahara to Libya, and eventually decided to attempt the sea crossing to Europe.
The number of migrants making this perilous journey has rapidly increased since Libya descended into civil war. More than 1,727 have died on the route this year, and the death toll could be as high as 30,000 by the end of 2015, it's estimated, if current trends continue. More than 85% of those making the journey come from sub-Saharan Africa.
When Beauty contacted people smugglers and took her place on a boat, she spent six days at sea with nothing to eat. Eventually she and her companions were rescued and taken to the small Italian island of Lampedusa. From there, she was brought to Sicily.
Today in many Sicilians towns, abandoned convents and monasteries are being used by the authorities to house and process new arrivals. It is in these marbled halls that many migrants first encounter Italian bureaucracy.
Back when Beauty arrived, she was finger-printed, assessed, and eventually given leave to remain in Italy.
Asylum applicants in Europe are obliged to live in the state where they first ask for protection. But this meant Beauty was stuck in a country struggling to emerge from a deep recession. Social programmes that might have helped migrants integrate have been cut. In Sicily unemployment runs at almost 20% - and nearly 50% for young people.
Beauty had to fend for herself. After several years in the country, she now works as a carer looking after elderly members of a wealthy family. But, even though she visits her clients several times per day, seven days a week, her income is not enough, she says, to pay for accommodation.
There are plenty of people in Sicily in an equally precarious situation, many of them Italian.
Beauty connected with an organisation called Prendocasa - literally, "I take the house" - a network of homeless people, both young Italians and migrants, who occupy abandoned properties.
In March last year, Beauty and some friends from Prendocasa broke into the Florio palace by climbing through a second-floor window.
Occupying abandoned buildings, says Emiliano Spera - one of Prendocasa's co-ordinators - is a practical way to tackle the "contradiction" created by Italy's economy. Stagnation, the lack of historic preservation funding and the decline in Catholic vocations all result in more and more buildings becoming empty and unused. At the same time, there has been a rise in the number of homeless and unemployed - and new migrants.
The way Spera sees it, occupying empty houses is not just a matter of economic expediency, but a new way to live together.
I got a glimpse of this when I sat in on a meeting of residents at the Florio palace. Like housemates the world over, they started by discussing the cleaning schedule, and the importance of turning lights off, and shutting doors to the courtyard when it's raining. It was clear that the group saw themselves as the building's caretakers. They had chosen not to occupy, and risk damaging, one room with frescoes and unique tiles.
But soon the discussion moved on to political matters. A recent change to the housing law meant that, as squatters, Beauty and her housemates couldn't get a residenza - the residents' document necessary to prove your address for getting a job, sending your children to school and taking advantage of social services like healthcare.
Prendocasa recently connected with squatters in other cities to co-ordinate protest marches across Italy. So a few days later the building's residents took to the streets outside city hall, chanting "We are the ones who occupy the houses," and taking turns to hold a banner protesting against austerity measures. It was raining and the turnout was small - just 100 people or so. Moreover, since it was late on a Saturday afternoon it seemed unlikely that Palermo's mayor would be within earshot. After a while, I began to see that the march was as much for the marchers as it was for the people in power - a reminder to this disparate group of individuals that they faced the same struggles and challenges.
I was surprised by the level of support in Palermo for the Florio palace's residents. In general, Sicilians seem to be more welcoming to migrants than Italians in the north, perhaps because of the island's own history.
When I asked some people in a cafe near the Florio villa for their thoughts, one replied: "What about when our grandparents went to America?" Others compared the squatters favourably with Sicilians who had taken over a nearby Catholic school and trashed the place.
Advocacy groups in Sicily have not documented any cases of hate crimes against migrants, though they have found instances of extortion by the mafia.
But it soon became clear that the authorities wanted the squatters out. Shortly after I left Sicily, I got a phone call from Beauty. The palace, she told me, had been repossessed and the residents evicted.
One morning, almost exactly a year after she and her friends had taken it over, when one of the residents opened the door to leave the building he found a police squad waiting outside. They pushed their way in, rounded everyone up and led them out. Beauty has not been allowed back to fetch her things.
"I'm angry, I'm nervous, I'm tired," she tells me. "What can I do?"
While many migrants land in Italy, the best-informed try hard to leave and apply for asylum somewhere else. Jobs are scarce and the state provides little support.
Beauty advised her own daughter to keep going until she got to Germany before claiming asylum. She is there now, and has enrolled in classes for new arrivals.
This week, Prendocasa broke into another, even larger building in Palermo, a former institute for the deaf in the city centre. Most of the residents from the Florio Palace moved in, but Beauty is not among them.
"I'm finished," she says.
Should Beauty now go and join her daughter as an undocumented migrant?
She is thinking about it. In Italy, she says, "nothing is easy".
The Abandoned, presented by Will Coley, is on the BBC World Service at 18:30 GMT on Saturday 25 May. After broadcast you can listen on the BBC iPlayer.
Subscribe to the BBC News Magazine's email newsletter to get articles sent to your inbox.