How Tippi Hedren made Vietnamese refugees into nail salon magnates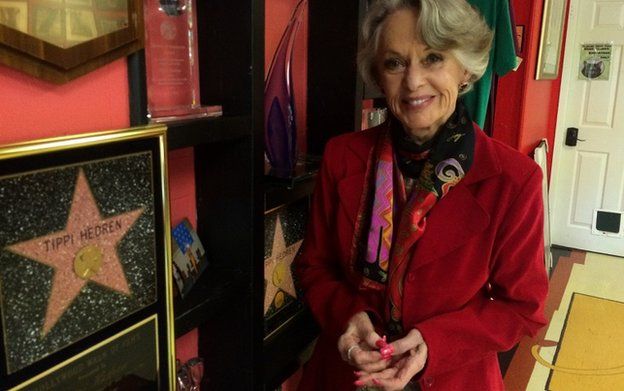 When actress Tippi Hedren visited a Vietnamese refugee camp in California 40 years ago, the Hollywood star's long, polished fingernails dazzled the women there.
Hedren flew in her personal manicurist to teach a group of 20 refugees the art of manicures. Those 20 women - mainly the wives of high-ranking military officers and at least one woman who worked in military intelligence - went on to transform the industry, which is now worth about $8bn (£5.2bn) and is dominated by Vietnamese Americans.
"We were trying to find vocations for them," says Hedren, who is perhaps best known for starring in Alfred Hitchcock's The Birds and for running a wildcat sanctuary at her home in Southern California.
"I brought in seamstresses and typists - any way for them to learn something. And they loved my fingernails."
Hope Village, the refugee camp, was in Northern California near Sacramento. Aside from flying in her personal manicurist, Hedren recruited a local beauty school to help teach the women. When they graduated, Hedren helped get them jobs all over Southern California.
"I loved these women so much that I wanted something good to happen for them after losing literally everything," Hedren told the BBC from a museum she is building next to her home. The museum includes Hollywood memorabilia, a few photos of the women at Camp Hope and awards she's won from the nail care industry.
"Some of them lost their entire family and everything they had in Vietnam: their homes; their jobs; their friends - everything was gone. They lost even their own country."
The Vietnamese gave the nail salon business a radical makeover. In the 1970s, manicures and pedicures cost around $50 - fine for Hollywood starlets but out of reach for most American women. Today, a basic "mani-pedi" can cost around $20 - largely due to Vietnamese American salons, which typically charge 30-50% less than other salons, according to NAILS Magazine.
Forty years after the fall of Saigon, 51% of nail technicians in the United States - and approximately 80% in California - are of Vietnamese descent. And many are direct descendants of that first class of women inspired by the nails of a Hitchcock blonde.
"Of course I know who Tippi Hedren is! She's the Godmother of the nail industry," says Tam Nguyen, president of Advance Beauty College, which was started by his parents.
"My mother is best friends with Thuan Le, one of Tippi's original students. It was Thuan who encouraged my mother to get into the business."
As Nguyen speaks, dozens of students are learning about cuticle care in a lecture behind him. At 41, Mr Nguyen was born just before the fall of Saigon. In Vietnam, his father was a military officer and his mother a hairdresser. His parents pressured him to become a doctor, which he dutifully did, but then he decided his heart was in the nail business.
"It broke my mother's heart," he says.
But Nguyen's parents soon forgave him and blessed his decision to take over the family business with his sister. They now run two beauty schools and are opening another. All of their courses are taught simultaneously in English and Vietnamese.
The language barrier was the initial reason nails were an attractive option for refugees. They only had to learn a few phrases of English to get by.
Not all of the women remained in the nail salon business, but many did. Thuan Le is still working at a salon in Santa Monica, California. Yan Rist, who worked in military intelligence in Vietnam as a translator and then later as a secretary for State Department officials, stayed in the nail business then moved into tattoos once she settled in Palm Springs.
"Tippi got me a job in Beverly Hills so I could make a lot of money," Yan Rist said. "I worked on Rodeo Drive - but I am a refugee and I didn't dress well at the time. All the rich women coming in - they didn't want to try the newcomer. Every day I went to work it cost me $8 for the parking. Eight dollars for parking! In 1976!"
She says Hedren helped her get a different job closer to home when she quit her job in Beverly Hills.
The women, who still have occasional reunions, say they never anticipated the butterfly effect their polishing and cuticle cutting would have on Vietnamese Americans, the pampering of ordinary people or the US economy.
"There was hope in a idea that maybe I could help these incredibly wonderful women. And I had no idea it would reach the gigantic numbers," says Hedren, looking out the window at the lions and tigers fenced in on her yard.
She shows off a tiny bunny painted on her toenail, left over from her Easter pedicure. Her current favourite manicurist is a man, and Vietnamese, "of course," she says laughing.
"Now it's dominated by the Vietnamese. I sure wish I had a percentage of it - I wouldn't be working so hard to keep these lions and tigers fed."