Baltimore students get a crash course in 'surviving' a police stop
By Olivia Crellin
BBC News, Washington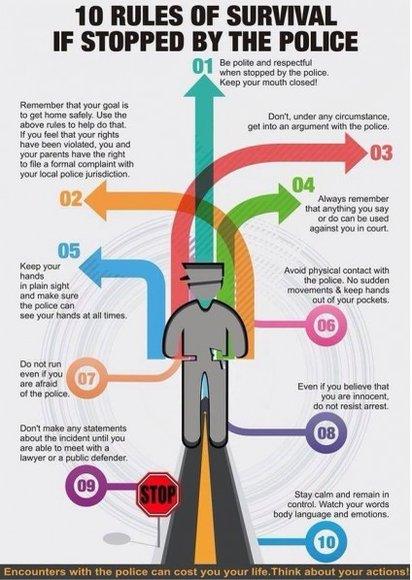 An infographic is being used by some teachers in Baltimore schools as communities try to create learning opportunities in the classroom after the city's riots.
Frederick Douglass High School in Baltimore received several visitors this week including members of the Baltimore Ravens American football team and rapper Wale in an effort to calm the unrest. Several Douglass students were involved in confrontations with police on Monday.
As well as the high-profile guests, who gave out food and toiletries at the schools, and spoke to the students, a simple infographic was used to help teach students - many of whom view the police with suspicion - how to safety interact with officers.
"10 Rules Of Survival If Stopped By The Police" was created by David Miller, founder of the Dare To Be King Project, which was created to support organisations that provide services to black young people.
"Our number one goal is to teach children what they need to know to be able to live through the police stop and to make it home safely," Miller told the BBC. "When you are at home you can file a grievance and look at other legal avenues."
In 1999, Miller researched and designed a curriculum for young black men to help them survive and thrive in urban communities while a fellow with the Open Society.
The infographic was first created over 10 years ago in 2003, although it was redesigned in 2013, and the advice on the poster was gathered from Miller's own experience as a teenager growing up in West Baltimore.
"You learned as a little boy - I was probably seven or eight years old - that you needed to avoid any confrontations particularly with Western District police," he said. "I was consistently being stopped, whether driving or walking."
Little has changed since his years in Baltimore. Miller said this is part of the problem.
"You are literally driving through war zones when it comes to large parts of urban America," he said. "I'm 47 years old and there are neighbourhoods in Baltimore that still look the same as when I was a boy - rundown communities, vacant buildings."
He says it is critically important to understand the rules of engagement when it comes to police encounters.
"There is no silver bullet. There is no way you'll be able to determine whether or not the police will actually harm you but if you can be respectful and humble you stand a better chance showing the officer you're not a threat."
When Michael Brown was killed in Ferguson, Miller's project tweeted out the infographic and it went viral, Miller says. The Chicago-based Salt Project then saw Miller on CNN and created a video 'Get Home Safely' based on his work. He encourages teachers to use both as teaching material in the classroom.
Miller doesn't believe that the onus should reside only with young black males to protect themselves, however. He is set to launch another similar infographic in the next couple of weeks aimed at advising police what they can best do to avoid resistance in such encounters.