Been and Gone: The woman who was Rosie the Riveter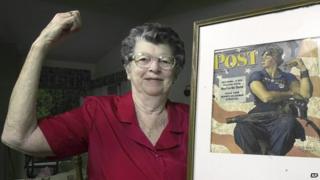 Our regular column covering the deaths of significant - but lesser reported - people of the past month.
When artist Norman Rockwell painted the iconic picture, Rosie the Riveter (not to be confused with We Can Do It), he took as his model a 19-year-old telephone operator named Mary Doyle. The painting, which appeared on the front cover of the Saturday Evening Post in May 1943, quickly became a symbol of the millions of women doing war work while their men were at the front. Over the years it has been adopted in various guises as a tribute to feminism. Doyle was paid $10, roughly $140 (£93) in today's values for two days of posing for Rockwell's photographer. The painter later apologised for bulking up her relatively petite figure to give the picture more impact and described her as the most beautiful woman he had ever seen. Doyle was the daughter of a Vermont logger who went on to graduate as a dental hygienist. The original painting sold in 2002 for $5m (£3.3m).
Richard Dysart achieved international fame as Leland McKenzie in the NBC TV legal drama, LA Law. The series, which won 15 Emmys, ran on US TV for eight years and was shown on television networks across the world. The scene in which his hitherto upstanding character slept with a competitor, Rosalind Shays, played by Diana Muldaur, was once voted one of the top 50 moments in TV drama. After serving in the Korean War, Dysart began his acting career with small parts on radio and the stage. During the 1960s he established himself on Broadway as a reliable character actor before turning to films and television. Among his big screen appearances were as a doctor in the 1980 Peter Sellers film, Being There, the villain in Clint Eastwood's Pale Rider and one of the scientists in John Carpenter's remake of The Thing.
Margaret Harrison was already a veteran peace campaigner when she and her husband set up the Faslane Peace Camp outside the gates of the Royal Navy submarine base on the Clyde. What started off as a couple of tents quickly mushroomed with the arrival of caravans and more permanent structures. Harrison herself did not spend that long in the camp feeling that, at the age of 64, she was not cut out for the rough living. She was born in Dumbarton in 1918 and registered as a conscientious objector during World War Two, a decision fuelled by her strong Christian beliefs. Both she and her husband were early members of the Campaign for Nuclear Disarmament, (CND), and regularly took part in the marches from the Atomic Weapons Establishment at Aldermaston to London. She was arrested more than a dozen times during various protests against Trident and Polaris. The peace camp she founded is still in place.
Artist Sargy Mann's gloriously colourful paintings belied the fact that he spent the greater part of his life battling deteriorating eyesight, eventually becoming blind. Born Martin Mann, he acquired the nickname Sargy while at school. He began his working life in a radiator factory, spending his spare time playing in a jazz trio that included the comedian and musician Dudley Moore. He did an arts course in London and exhibited his first work in 1963. His friend, Kingsley Amis, at whose house he lodged for a time, introduced him to collectors and he became better known. But in 1979, shortly after he married, he suffered detached retinas in both eyes, heralding years of operations for a series of eye problems. In 2005 he became completely blind but soldiered on with his paintings, using a combination of string and Blu-Tack to measure distances on the canvas. Many collectors consider these later paintings to be his best work.
When Viv Nicholson's husband Keith won the football pools in 1961 she famously declared that she was going to "spend, spend, spend". Spend she did, to the extent that she went through the £152,319 (around £3m in today's values), on cars, jewellery and a big house, in less than three years. On the way her flamboyant behaviour made her the darling of the tabloid press. Faced with a huge tax bill following her husband's death in a car crash in 1965 she eventually went bankrupt. She moved to Malta where her assault on a police officer brought a return to the UK and more publicity. Attempts to restore her wealth, recording a single and opening a boutique all failed as did three further marriages. A BBC play, written by Jack Rosenthal and based on her autobiography, aired in 1977. A musical based on her life became an unlikely West End hit when it opened in 1999.
Sheila Kitzinger's book, The Experience of Childbirth, came as part of a lifelong campaign for natural childbirth. An anthropologist by profession, her third home birth laid the foundation for her goal of "taking the obstetrics out of childbirth". In all she wrote 25 books, many of them about birth practices in various culture around the world. A founder member of the National Childbirth Trust (NCT) she is credited with encouraging fathers to be present at the birth of their children, something that is now accepted practice. Not all women were enamoured with her methods, particularly those who discovered that the pain associated with childbirth often saw them asking for medical intervention. Kitzinger was reputed to take a fairly abrupt line with those women who weren't prepared to go through the whole procedure naturally. Her house in Oxfordshire was full of birth symbols including sculptures of women giving birth, which she had collected on her worldwide lecture tours.
Among others who died in April:
Roy Mason: Labour politician and former Northern Ireland secretary
Keith Shackleton: Presenter of the BBC's Animal Magic
Percy Sledge: R&B singer famous for "When a Man Loves a Woman"
Guenter Grass: Nobel Prize-winning German author
James Best: Played Sheriff Roscoe Coltrane in The Dukes of Hazzard
Cynthia Lennon: First wife of John Lennon
Subscribe to the BBC News Magazine's email newsletter to get articles sent to your inbox.