Scroobius Pip and the benefits of a stutter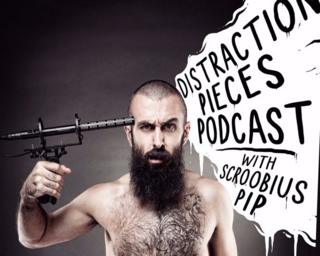 Hip-hop artist Scroobius Pip says his stutter has made him a better rapper.
Scroobius Pip rose to fame in the late 2000s for songs such as Thou Shalt Always Kill with fellow artist Dan Le Sac. In recent years his attention has shifted to radio and podcasting. He had his own show on XFm until last year and his podcast Distraction Pieces managed to knock podcast favourite Serial off the iTunes top spot.
The 33-year-old is well aware of the apparent irony of his chosen medium. "It wasn't until we started doing the radio show that it crossed my mind, 'They've given a radio show to a guy with a stutter,'" he says.
He doesn't think of his speech impediment as a negative, but is fascinated by it. Certain words and phrases cause blockage - he gives the example of "Dylan Moran" the well-known comedian - but he has tactics to deal with it: "Tapping out the syllables on my arm, or a desk means I can say it with no problems all day long," he says. "I think it is the rhythm, because I don't stutter when I rap or do spoken word and I think that's why. It's amazing."
Dylan Moran was a recent guest on his podcast in a playful nod to his long-running inability to say his name. Pip's stutter emerged when he was four or five. He thinks it may be related to nearly drowning on a holiday in France - a fact which came to light during a hypnosis session as a teenager. His parents had maintained the incident hadn't been serious but re-living the event made him believe he had been in real danger.
Growing up with a speech impediment meant thinking ahead for alternative words, so he could avoid the words he knew he would struggle with: "Right there's a 'w' coming up or a 'd' - what do I do? I need to switch that out." He says his vocabulary is vast as a result, and he has developed the ability to maintain two trains of thought simultaneously.
OUCH PODCAST
Scroobius Pip spoke to the Ouch podcast - your monthly dose of razor-sharp disability radio. You can hear more here.
Pip's raps include references to his stutter. The song 1000 Words is about how he stood out when growing up. His lyrics, however, show he has always had a positive view of his speech impediment: "Sure, broken stammers of a youth can kind of bring some attention, but the sympathy of a teacher can get you out of detention".
He speaks about it fondly, and insists the producers of his radio shows don't edit any stammers out. Authenticity is key, he says.
His songs address issues he believes are important and his podcast has the same aim. Guests have included big names such as Russell Brand and Simon Pegg, but Pip is also keen to introduce lesser-known guests: "The beauty is now we've built up our subscribers and followers I can then bring in someone like Jodi Ann Bickley who has an amazing story." Bickley had a stroke in 2011 and started a project called A Million Lovely Letters where she pens letters to anyone who "feels as though they need a handwritten letter and is down and sad". These are the kind of stories Pip wants to bring to a wider audience.
Mental health is another issue Pip cares about. A friend killed himself a year ago and he feels he has a responsibility to speak openly about the issue. He wants to break down the stigma around it, particularly for men. It's a topic that runs through his poetry, music and podcasts. "Magician's Assistant", for example, speaks directly to those who have suicidal feelings.
Pip once accidentally tweeted his phone number and received a call from a young man who said he had been helped by Magician's Assistant but who had decided nevertheless to take his own life. Talking to the man, it emerged he had bought tickets to a Scroobius Pip gig in a couple of months time. Pip reminded him "at some point recently you have had something to live for, I hope I see you at the gig". The man did attend, and Pip dedicated the song to him (although he says he wouldn't be bold enough to suggest his gigs are a great reason to live).
Jane Powell, chief executive of the mental health charity CALM, says young people who listen to Scroobius Pip's spoken word pieces can find help and ideas about their mental health problems when they feel unable to talk to somebody about their struggles. Pip always makes a point of performing his serious songs at live events. "It's essential," he says. "It might not be the biggest part moment at my gigs but it is so important."
Scroobius Pip spoke to the Ouch podcast. To hear more click here.
Follow @BBCOuch on Twitter and on Facebook or email ouch@bbc.co.uk