Election 2015: UK papers pull no punches with verdicts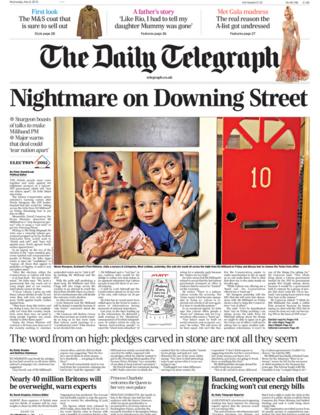 On the days leading up to the election, UK newspapers usually don't pull any punches.
The British tabloids have never been known to mince words, always looking for a catchy headline, but now - with so much on the line - the shots are coming fast and heavy.
"Nightmare on Downing Street," blares a headline from the Daily Telegraph, featuring a picture of Scottish National Party's Nicola Sturgeon waving from a window.
The Daily Mirror runs a picture of a concerned looking Prime Minister David Cameron with the headline "Major fail" - pointing out former PM John Major's sharp criticism of the state of Tory affairs.
"Save our bacon," pleads the Sun, with the text: "Don't swallow his porkies, keep Ed out." The front page includes the famously unflattering photo of Labour's Ed Miliband eating a bacon sandwich, with a tiny Ms Sturgeon perched on his shoulder.
The Daily Mail passes on the Photoshopping efforts and goes with straight text: "For sanity's sake don't let a class-war zealot and the SNP destroy our economy - and our very nation."
It's the conservative Rupert Murdoch-owned Sun, however, that has attracted most of the ire from Labour party officials and activists recently.
Last Thursday, the English edition of the paper endorsed Mr Cameron. The Scottish version of the paper, however, featured Ms Sturgeon in Princess Leia garb. "May the 7th be with you: Why it's time to vote for the SNP," they wrote.
"The two-faced Sun newspaper is at again - peddling one message in England and the polar opposite in Scotland," the Daily Record snaps.
A spokesperson for the Sun denied any concerted strategy, however, stating that the two papers have separate editorial teams.
Do any of these articles, endorsements and headlines work? Although it may be hard to tell, the newspapers themselves seem to think so.
"It's the Sun wot won it," boasted the headline in the Sun in 1992, two days after the Sun-endorsed Tories and Mr Major won an upset victory in the general election.
In the days leading up to the vote, the Sun had been particularly energetic in its attacks on the Labour Party, including an election-day front page of leader Neil Kinnock in a lightbulb, requesting that if he wins, "will the last person out of Britain please turn out the lights?" Even Mr Kinnock attributed his defeat, in part, to the Sun's crusade.
So what does Thursday have in store?
Given the sharp tenor of the headlines so far, expect more clever snark, cutting barbs and occasionally ill-conceived Photoshopping efforts, as every paper tries to be the one "wot won it" for their 2015 pick.