The fugitive well known along the Appalachian trail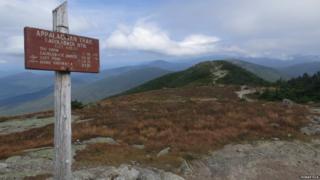 One of the FBI's most wanted white collar criminals hid for years in plain sight along the well-traversed Appalachian trail. But a trail tradition may have protected his secret even as he made friends along the hike.
James T Hammes had eluded the law for years. Since 2009, he had been on the run for allegedly embezzling more than $8.7m (£5.6m) from a Pepsi bottling plant.
But when he was finally apprehended earlier this month, it turned out he had been a well-known figure on the Appalachian trail who went only by the name of "Bismarck".
"Bismarck was by hiking standards more honest than most hikers I've encountered from my experience," Karl Humbarger, who knew Hammes as a "work for stay" resident at his hostel, commented on a news story.
Known on the trail as an honest and religious man, his fellow hikers were shocked to find out their "super nice" comrade had been featured on America's Most Wanted and American Greed: The Fugitives.
But when a former hiker recognised Hammes from television, he reported him to the authorities, submitting personal hike photos that included the fugitive.
How can one be so anonymous, even among those who claim to have known him so well?
It all comes down to the culture of the Appalachian Trail (AT), where trail names are most commonplace form of identity.
Larry Luxenberg, president of the AT Museum, admits he doesn't know the real names of many of the close friends he's made - including some he's known for 30 years.
"I have a friend ChooChoo," Luxenberg says, "and I have to really rack my brain to come up with his real name".
When hikers take on the Appalachian Trail - either in part or the entire 2,180-mile (3508-km) route - they will often take on a trail name. The name describes a hiker's characteristics or experience.
"Usually a trail name is given to somebody by their fellow hikers and often is something they do, that they mess up," says Luxenberg.
"There were some hikers who knocked over a stove and started a fire, and their trail names became Crash and Burn."
Once a hiker answers to the name, and introduces him or herself by that name, it's shared with others on the trail via word of mouth and notebooks - "registers" - that are left in the 250 rudimentary shelters along the way.
"People write in them and identify themselves by their trail name," explains hiker Alan "Gonzo!" Strackeljahn. "If the person has particularly interesting stories or style of writing, they become known even before they are met."
In 1948, Earl Shaffer was the first to hike the trail, then only 11 years old, in its entirety. He called himself The Crazy One, the unofficial first Appalachian Trail name.
The trail didn't become popular with hikers trying to trek the whole distance until the 1970s, and at that point half of the hikers had trail names, says Luxenberg.
"I hiked in 1980 and I like to say back then the names were not mandatory. Now they're pretty much mandatory."
Luxenberg does not have a trail name - yet.
In a blog post on Appalachian Trail Bloggers, writer Evans Prater explains the psychology of a trail name.
"A trail name represents a new identity, a new beginning, and a chance to leave everything that was once represented by 'John Smith' or 'Jane Dougherty' behind," writes Prater.
"People don't come out here to talk about their jobs as lawyers or bartenders or car salesmen; they come out here to leave the hassles of everyday life - the stresses of rent, insurance, bosses, student loan payments."
It's a way to leave the real world behind, something that could appeal to both known fugitives and frustrated middle managers
"I feel that it is one way to take on a persona that you might not normally be able to project, but by using a trail name, you can become anything or something you may not be, but want to be," says Strackeljahn.
AT Museum manager Joe "EarthTone" Harold did an informal social media survey of hikers earlier this year, to learn about the sources of trail names on the Appalachian.
Of 223 respondents, 77% said they had a trail name. Of these, 80% had been given their name and 20% chose their own.
"Of those who don't have trail names, most, (73%) are waiting for it to be gifted to them. Another 22% just haven't found the right one yet and are still waiting to find it," Harold wrote on his blog post.
Harold also collected the stories of some of these Appalachian Trail name in the same informal survey. One woman was named for her struggles to hydrate before hitting the trail, known in AT parlance as "camel up".
"I hated doing it and was always burping and grunting as I tried to drink a lot at once," she wrote. "One day early on, I looked over at my daughter and my husband and said, 'I'm a bad camel'. Their eyes lit up and they both said, 'That's your trail name!' and so I became Bad Camel."
But names can change. One hiker who goes by "Little Bear" said the name was "somewhat self-appointed" for carrying a small stone bear fetish given to him by his daughter for a thru-hike.
"That was my name on the trail in 2000. If I were to undertake another thru-hike (and I may), I would probably take on a different trail name. In other words, the person I was in 2000, is not the person I am today."