Who, What, Why: Is this the perfect size of carry-on air luggage?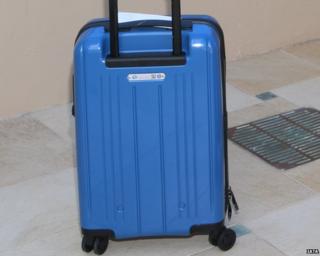 A global standard for the size of aeroplane hand luggage has been suggested, to avoid passenger confusion and speed up travel. Would it work and will it happen, asks Justin Parkinson.
It's a pain for passengers. Ramming a bag into a luggage-size gauge before boarding a plane, and facing a fine if it doesn't fit, can lead to angry outbursts.
To add to the frustration and confusion, airlines have different standards. But the International Air Transport Association (IATA) has devised an "optimum" for cabin luggage.
It recommends 55 x 35 x 20 cm (21.5 x 13.5 x 7.5 inches), meaning "that theoretically everyone should have a chance to store their carry-on bags on board aircraft of 120 seats or larger". That's smaller than the maximum allowed by Easyjet, Ryanair, Thomas Cook, Virgin Atlantic and BA.
The change will "help to iron out inconsistencies and lead to an improved passenger experience", says Tom Windmuller, IATA's senior vice-president for airport, passenger, cargo and security.
Currently, if everyone brings a maximum-sized bag on board, it can result in full overhead lockers, with excess hand luggage having to be placed in the plane's main hold for the duration of the flight before being handed back.
"The revolution's already happened," says David Learmount, consulting editor at Flight Global magazine. "Low-cost, short flights and charges for large luggage mean that many people are carrying everything they need with them in the cabin, rather than dropping off and collecting suitcases at airports. Firms like Ryanair have changed our habits totally."
Maximum free cabin luggage dimensions for standard passengers
IATA recommendation
55 x 35 x 20cm
BA
56 x 45 x 25cm
Easyjet
56 x 45 x 25cm
Ryanair
55 x 40 x 20cm
Thomas Cook
55 x 40 x 20cm
Virgin Atlantic
56 x 36 x 23cm
Lufthansa
55 x 40 x 23cm (57 x 54 x 15cm for foldable garment bags)
American Airlines
56 x 36 x 23cm
United Airlines
56 x 35 x 22cm
Delta Airlines
56 x 35 x 23cm
Air France
55 x 35 x 25cm
Emirates
55 x 38 x 20cm
Wizz Air
42 x 32 x 25cm
Germanwings
55 x 40 x 23cm
Flybe
55 x 40 x 23cm
US Federal Aviation Authority "standard" bag
55.8 x 36.8 x 22.9cm
IATA is only a trade body and can't enforce its regulations, he adds. But a smaller per-passenger capacity could save airlines time in dealing with excess cabin luggage, "and time is money", Learmount says.
Some operators use planes with a smaller capacity than the 120 passengers mentioned in IATA's guidelines. But standard Boeing 737s and Airbus A320s are bigger than this, meaning they would be covered.
Airbus is increasing the width of overhead lockers on A320s from next year, to accommodate more bags which are the US Federal Aviation Authority (FAA) "standard" size - 55.8cm x 36.8cm x 22.9cm - or even slightly larger. Up to eight could fit in a single section if laid next to each other on their sides, it says, meaning 60% more total cabin luggage could be stored.
IATA has developed an "IATA Cabin OK" logo sticker to signify to airline staff that a bag meets its new size guidelines, smaller than the FAA's. It says a "number of major international airlines have signalled their interest" in joining the scheme.
"Several major baggage manufacturers have developed products in line with the optimum size guidelines, and it is expected bags carrying the identifying label will start to reach retail shops later this year," IATA says.
Whether it will be taken up and make life more pleasant for passengers remains to be seen.
Subscribe to the BBC News Magazine's email newsletter to get articles sent to your inbox.