Is Iraq on the verge of falling apart?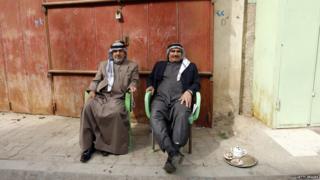 As Iraq tries to win back territory from Islamic State, people in Baghdad have managed to keep some sort of normality in their lives. But there are fears that older, deep-rooted tensions could threaten the entire country's future.
I was dropping off to sleep two weeks ago, when history repeated itself with a sickening thud. It was a bomb, nearby, so near it shook the BBC bureau in Baghdad.
Minutes later from the roof I could see dark smoke rising in front of an upmarket hotel - now called the Cristal, but formerly the Sheraton. It was one of two hotels targeted that night by the Sunni extremists of Islamic state. Fifteen people were killed.
Standing on that rooftop, hearing sirens wail, brought back another assault on the Sheraton, in November 2003. Then I was in the hotel during a rocket attack. There was a direct hit on the 16th floor. It sent the lift crashing into the lobby but no lives were lost.
The capital looks a little better these days. There are fewer blast walls, and checkpoints. When the searing heat of day fades, you can see families chatting on low walls along a section of the River Tigris.
Those that can afford it sit on wooden benches eating grilled fish, and puffing on water pipes. But any sense of normality here is easily shattered, like the countless shop fronts that have been smashed by bombs.
Iraq's newest enemy, Islamic State, is in residence in the city of Ramadi just 110km (70 miles) west.
We came face to face with members of an IS cell in the capital, who are now in custody. They are accused of helping to plan bomb attacks that killed about 50 people late last year.
The cell leader, Haider Mansur, limped into view, in a yellow prison uniform. We were told he injured himself trying to evade arrest. The 34-year-old was handcuffed and had shackled feet. He said he was studying accountancy before Islamic State came calling. With his short hair and neatly trimmed beard, he almost looked the part.
He calmly admitted helping to arrange eight bombings, though he said he avoided news reports about the attacks. "I didn't want to know how many died," he said, claiming he felt guilty.
One of his accomplices, Loauy Saleh, was a jobless father of four. He was balding and softly spoken. He claimed he only joined IS because they bought him a car, and promised to rent a house for his family. But he said he was attracted by their promise of a region for marginalised Sunnis like him.
Islamic state feed offs the dissatisfaction of the Sunni minority. Mansur and his men are in some ways a symptom of a broader danger to Iraq - sectarian hatred.
"Once IS is defeated, our problems will increase," said a seasoned Iraqi journalist. "The sectarian issue is the biggest threat. The next war will be about that."
It's already a familiar battle here. The country was riven by sectarian killings in 2006 and 2007. The situation is far more dangerous now, according to the journalist, himself a Sunni.
"I am 52 years old," he said, in precise English, matching his neat attire. "I have always lived in Baghdad. And this is the worst year of my life. I worry about Islamic State, but I also worry about being kidnapped by Shia militias. Every time I leave home I drive a different route."
Asked if he thought there was a future for his homeland his response was swift. "Not at all," he said, his voice rich with sadness.
What will the coming years mean for Iraq? What kind of landscape will be carved out by Islamic State, and sectarian power struggles?
I got one answer after coming within sight of IS territory in northern Iraq. Kurdish fighters took us to the windswept frontlines near the city of Mosul. We could see the plain of Nineveh down below us - an expanse of fertile ground held by Islamic State.
As we drove away our local guide spoke up. "We need independent states for Kurds, Sunnis and Shias," he said. "Iraq is on life support. It's time to switch off the machine."
---
More from the Magazine
The book market in downtown Baghdad is a joyful testament to the durability of the human spirit. The buyers and the sellers and the saunterers and schmoozers don't look like they're doing anything exceptional. But there is a kind of heroism to be found in ordinary things done in extraordinary circumstances.
The heroism of everyday life in Baghdad (May 2014)
---
How to listen to From Our Own Correspondent:
BBC Radio 4: Thursdays at 11:00 BST and Saturdays at 11:30 BST
Listen online or download the podcast.
BBC World Service: At weekends - see World Service programme schedule or listen online.
Subscribe to the BBC News Magazine's email newsletter to get articles sent to your inbox.