The Sanders brothers: A tale of two underdogs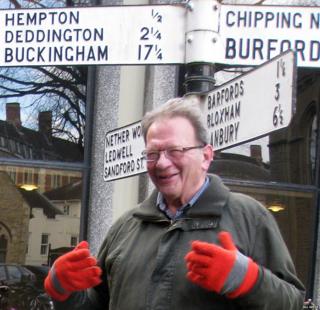 Bernie Sanders is known to many for taking on Hillary Clinton in a bid to become the Democratic candidate in next year's race for the White House. But his brother has been fighting a political battle of his own in the UK.
Larry Sanders sounds pretty cheerful for a person who recently lost an election.
The 80-year-old retired social worker and academic came fifth in the seat of Oxford West and Abingdon in May, representing the Green Party.
"Although we didn't win, we increased our share of the vote... we recruited new members and established new branches," he says.
He has lived in the UK since emigrating from his native New York in the late 1960s, but his voice still bears a trace of his childhood which was spent in Midwood, Brooklyn, from where his father used to travel to Long Island to sell paint.
That, he explains, was where his awareness of politics began.
"As a Jewish child growing up in the 1940s, in the shadow of the war, you saw quite starkly that politics was a life-and-death thing.
"But on a less dark note it was also the period of the New Deal. Our parents, who were not very political, believed politics could do something tangible for us. We didn't have many books in the house, but we had a good public library and a free college, Brooklyn College, which helped me get an education."
The "us" he mentions includes his younger brother, Bernie Sanders, familiar to Americans as the left-wing challenger to Hillary Clinton for the Democratic nomination in the 2016 presidential race.
Bernie is known for his progressive political agenda - a critic of the gulf between the richest 1% and the rest of the country, and an advocate of expanding social benefits and raising the minimum wage.
The two brothers each had a protracted journey towards party politics.
Bernie Sanders - unusually in US politics - began his career outside the two big parties. He was associated with the Liberty Union movement early on, later founding the Progressive Party and from 1988 onwards, running as an independent.
He has, in the past, argued that a third party is needed in US politics, but justifies his decision to stand as a Democrat.
He told The Nation last year: "If you run outside of the Democratic Party… you're not just running a race for president, you're really running to build an entire political movement. In doing that, you would be taking votes away from the Democratic candidate."
Larry, meanwhile, trained as a social worker and became a lecturer - first at the University of West London and later at Oxford University's department of social administration.
"I had been an active member of Labour in the 1980s, but it had become rather feeble. I noticed that in Oxford Labour councillors were voting with Conservatives, and the only person dissenting was a Green councillor.
"I stood unsuccessfully for them [the Green Party] a couple of times and was eventually elected to Oxfordshire County Council in 2005."
Discussing the Greens' limited success at general elections, Larry points to a "basic Conservative-Labour agreement on the fundamentals of the economy" which makes it "hard for a challenger to break through".
"It's not helped by the electoral system and right-wing press. There's also the problem of sheer money - which is bad, but not quite as bad as it is in the US," he says.
Larry calculates that he spent £3,000 on his campaign, whereas the official spending limit for candidates was more than ten times that.
Bernie faces a similar hurdle but on a much larger scale. While recent polls have put him within one point of Clinton in New Hampshire, and within 23 points in Iowa - two of the first states to vote - some warn his success may be limited.
"Bernie can only get so far with his small donor fundraising strategy - it might work in Iowa or New Hampshire, but after the small states it gets more difficult, you can't buy the TV ads you need," says Kyle Kondik, an analyst of political campaigns at the University of Virginia.
He cautions that Bernie seems to enjoy most of his popularity "in liberal enclaves and college towns - it's indicative of a hunger among some liberals for someone who is not Clinton".
"Bernie's supporters are not representative of the mainstream of US politics - or even the mainstream of the Democratic Party."
It's not a view Larry subscribes to.
"I don't think what I want, and what Bernie wants, is extreme," he says. "The things we are talking about are not very left-wing: having a proper health service, having enough money to eat, to heat your home."
In this sense, Larry can see a clear parallel between his political efforts and Bernard's (as he always refers to his brother).
"Although we didn't have a shot at winning, there was an intrinsic value in the Green Party standing, and it's the same for Bernard.
"The primaries last for a long time and candidates get a lot of attention so there will be a platform for his views. It's important he's there to say the things nobody else will say.
"The past 30 years have seen growing inequality in the UK and the US, and a failure by Labour here and by many Democrats there to address it. People feel excluded and there's a lot of anger, which Bernard is tapping into."
Larry still has US citizenship and he promises that, not only will he vote for his brother "at every opportunity", but he will be travelling to the US to work on the campaign.
Does Bernie have more of a chance than Larry did? The older brother laughs and says: "I wouldn't count him out."
Subscribe to the BBC News Magazine's email newsletter to get articles sent to your inbox.