Would Calais migrants really be better off in the UK?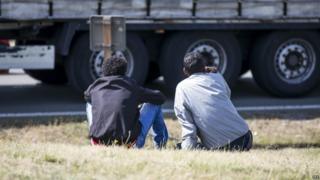 Around 3,000 migrants are camped around Calais in northern France. Many of them think life will be better in the UK than France - or many other EU countries - but are they right?
Scenes of immigrants trying to storm the Channel Tunnel, or climbing aboard lorries, show how desperate those who have fled to Europe are to get to the UK from France. One a migrant died on a freight shuttle through the tunnel.
Many want to claim asylum in the UK. Others want to enter the country incognito to remain as illegal workers. But what do migrants say is drawing them to the UK - and is the risk of prolonging their journey really worth it?
Benefits
"I heard good news about England. They give you a house and some money to spend and live. And then they give them the opportunity to study, to have a good life."
Hamzei, from Afghanistan
Both France and the UK offer cost-of-living benefits, for food, clothing, toiletries and so on, for those awaiting an asylum decision.
In the UK the system is known as Section 95 support, and is given to those unable to feed themselves. Its entitlements are £72.52 a week for a married couple or a couple in a civil partnership. Lone parents over 18 get £43.94 and single people of this age £36.95. Those aged 16 to 18 get £39.80 and under-16s get £52.96.
The French system is more simple. As of January this year, the allowance for adults was 11.45 euros (£8.13) a day. This equates to 80.15 euros (£56.82) a week.
This is higher than any adult rate in the UK. However, the French state provides no money for children. So, those with children would be better off in the UK.
People can look for work in the UK if their asylum claims have taken more than a year to process. This can only happen in areas of work where there's a shortage of personnel. They can also work in France after a year waiting and are subject to a labour market test along similar lines to that in the UK.
Housing
"In England I can get a house very quickly. England is a very good place to have a good life."
Fadi, from Syria
In the UK, asylum seekers will be given accommodation, either in a flat, house, hostel or bed and breakfast. "You can't choose where you live," is the government's advice. "It's unlikely you'll get to live in London or south-east England."
In France, asylum seekers awaiting decisions are also entitled to accommodation. But, according to the United Nations High Commissioner for Refugees, the authorities "claim there are not enough places and priority should be given to families with small children".
For those given refugee status and renting properties afterwards, costs can be substantially higher in the UK than France. According to the comparison website Expatistan, accommodation is 25% cheaper in Paris than London.
Average rents for central London were £2,561 per month in the first quarter of this year, according to the estate agent Countrywide. In south-east England they were £1,097, expensive for someone not on a medium-to-high income.
Healthcare and education
"I speak the language and I respect the education system in England. It's a civilised country."
Alaa, from Syria
In the UK, asylum seekers can get free National Health Service healthcare, enabling them to see a doctor or access hospital treatment. They also receive free prescriptions, dental care, eyesight tests and help paying for glasses.
Asylum seekers in France have access to healthcare thanks to the universal healthcare insurance system, as long as their incomes are proved to be low.
Illegal migrants in the UK, including failed asylum seekers liable to removal, illegal entrants and people who have overstayed their visas, will be chargeable for NHS hospital care, with exemptions for some groups, such as victims of violence. Treatment in accident and emergency departments and at GP surgeries remains free for all.
Children aged five to 17 of asylum-seekers in the UK must attend school. This is free, while children may be eligible for free school meals.
Similarly in France, children aged six to 16 are subject to compulsory education.
Illegal work
"Britain says, 'We don't want immigrants,' but does nothing to prevent the black economy."
Philippe Mignonet, Deputy Mayor of Calais
The main aim of those entering the country but not seeking asylum is presumed to be economic - they want to find work.
A 2009 study carried out for London Mayor Boris Johnson estimated that the UK had 618,000 "irregular" residents, with London accounting for about 70% of this. The campaign group Migration Watch says a figure of 1.1 million is "more plausible".
The size of black economies is hard to gauge, making the demand for unregistered, untaxed workers difficult to know. But it's thought those of France and the UK are very similar. In 2013, the management consultancy firm AT Kearney estimated that the black economy was the equivalent of 10% of GDP in both countries.
But the OECD, in 2012, put the UK's "non-observed economy" at 2.3% of GDP. That of France was 6.7%, arguably implying more opportunity for illegal workers there.
Despite this, the OECD estimated in 2011 that the use of illegal immigrants represented 1% of total employment in the UK - higher than the 0.75% in France.
It would be hard for a migrant to make an informed judgement of work prospects in the two countries based on these figures.
Existing communities
"I want to go to England because I have relatives and my father in England."
Abdul, from Pakistan
The European Union states that, among the factors drawing people to specific countries are "historical ties between countries of origin and destination (former colonies for instance), a certain knowledge of the language used in the host country, the presence of established ethnic communities".
The popularity of the UK among asylum-seekers from Pakistan, a member of the Commonwealth, could be explained in this way. The number of people in the UK identifying as Pakistani increased by about 0.4 million between 2001 and 2011, when they accounted for 2% of the population, according to censuses.
The Democratic Republic of Congo, contributing the largest number of asylum seekers in France last year, is a former Belgian colony. As a result, the official language is French.
A 2012 study found that the "likely higher proficiency" in English among migrants made them more likely to choose an English-speaking country. For instance, English is widely understood in Eritrea, one of the main countries producing asylum seekers at the moment.
The economy
What about the situation that awaits those who are eventually granted refugee status?
According to the EU's own figures, the unemployment rate in France in May was 10.3%.
In the UK it was 5.5% for the period from February to April, according to the Office for National Statistics.
The figures are not directly comparable, but it is clear that there is a better likelihood of getting work in the UK once settled. However, recent figures show the French economy growing faster than the UK's.
Likelihood of gaining refugee status
"EU member states have a shared responsibility to welcome asylum seekers in a dignified manner, ensuring they are treated fairly and that their case is examined to uniform standards so that, no matter where an applicant applies, the outcome will be similar."
European Union
Those choosing to claim asylum once they reach the UK have a better chance of this being granted than in France.
Last year, 38.8% of UK decisions ended in a grant of asylum or an alternative form of protection. For France the rate was 21.7%.
But, while the rate of approval differed between France and the UK, the overall number of people allowed to stay was 10,050 in the UK, for France it was 14,905, because France had more than twice as many applicants.
The top five countries of origin for UK asylum seekers in 2014 were Pakistan, Eritrea, Iran, Syria and Albania. For France, they were the Democratic Republic of Congo, Russia, Bangladesh, Albania and Syria.
In 2013, Matthieu Tardis, of France Terre D'Asile, which provides legal and social services to asylum-seekers and refugees, said the country's government did not consider many of the applications to come from those from "'good' countries, for example countries ravaged by war like Syria or Afghanistan". This, he added, helped to explain the lower rate of approval.
There was a wide variance between acceptance rates for asylum-seekers within the UK. Last year, of Eritrean applicants 87% were granted asylum, but just 20% of Pakistanis.
Detection
"There are no ID cards. They can easily find work outside the formal economy, which is not really controlled."
Natacha Bouchart, Mayor of Calais
It is reported that some illegal migrants want to come to the UK because there is no national system of identity cards and police cannot stop people in the street to ask for their papers. This would make it easier to go about their business, as detection is difficult.
In 2008, the Labour government started to introduce biometric compulsory identity cards for foreign nationals from outside the European Economic Area (EEA). The Conservative-Liberal Democrat coalition of 2010 to 2015 did not scrap this.
UK Immigration Enforcement officers arrested 139 suspected immigration offenders at locations including London, Durham, Manchester, Wales and Somerset in a single day in 2013 following raids.
The 2014 Immigration Act introduced a requirement for private landlords to check whether new tenants have the right to rent in the UK, or face a fine of up to £3,000. A pilot scheme in the West Midlands is due to be extended across England in the autumn.
Subscribe to the BBC News Magazine's email newsletter to get articles sent to your inbox.