The new Vegas of the East?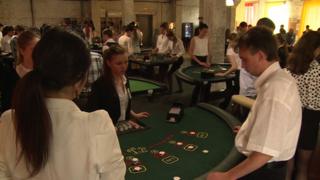 Russia's vast eastern frontier is sparsely populated and underdeveloped - but one town there is hoping to become the new Vegas of the East and attract gamblers from across Asia, says the BBC's Stephen Sackur.
The best roulette wheels are precision-engineered and hand-finished, soundlessly spinning their spell over gamblers in Monte Carlo, Mayfair, Las Vegas and... Vladivostok. Yes I did just say Vladivostok.
The port on Russia's remote Pacific coast - closed to outsiders during the Cold War as home to the Soviet Pacific Fleet - is rebranding itself as a pan-Asian entertainment destination. Think Vegas in the forest.
Craig Ballantyne, a loquacious Scot who has the conventional look of the Dundee accountant he once was, but who now glories in the title of chief operating officer for the Tigre de Cristal casino resort in Vladivostok.
Ballantyne works for one of Hong Kong's biggest gaming tycoons, Laurence Ho, and Laurence Ho is betting $800m (£500m) that Russia's Far East is about to kick off as a new hub for Asia's thrill-seekers.
"Remember, there are 120 million gambling-mad Chinese, Japanese and Koreans living within two hours' flying time of this place," says Ballantyne as he shows me round the towering reception hall of the Tigre de Cristal.
It's all Roman columns and state-of-the-art lighting, but it's very far from finished. Chinese labourers and Russian electricians are visible through the dust, working flat out to ensure that this cathedral of bling is ready for the grand opening in a couple of months' time. Vladimir Putin himself is planning to drop in. "No pressure, then," I say to Ballantyne. He grimaces.
Within five years, there will be half a dozen more casinos. There will be a water park, a golf course, spas and theatres. All carved out of a forest where temperatures plunge to -20C in the winter.
Hundreds of young Russians are currently being trained as croupiers, dealers, floor managers and receptionists. This entertainment zone, along with a proposed Vladivostok free port, and a host of tax and investment incentives, is supposed to transform Russia's Far East from forgotten corner of the Russian empire, to fulcrum of President Putin's pivot to Asia. The aim: to find new - eastern - sources of capital and trade.
It's a strategic vision that has already given Vladivostok a facelift. Two huge suspension bridges now define the city skyline. One crosses the Golden Horn Bay in the city centre, the other - commissioned by Putin for the Asia Pacific leaders' summit of 2012 - joins the mainland to neighbouring Russkiy Island. It cost $1.3bn, which is one heck of a price tag for a bridge that leads to a community of some 5,000 people. Some locals dismiss it as a monument to vanity and wishful thinking.
But at least it got built. Russia's Far East sometimes bears more than a passing resemblance to America's fabled Wild West, that is, lawless and full of bad guys. Moscow's grand ambitions are being thwarted by a local culture of corruption, kickbacks and scams best captured in the story of Vladivostok's two Hyatt hotels. They were supposed to be built for that 2012 Asia Pacific summit hosted by Putin.
Despite soaking up hundreds of millions of dollars of public money, they weren't finished on time. Three years later they're still empty. I visited one. A five-star building site surrounded by barbed wire. "What happened here?" I asked the lone security guard. He replied with a shrug. "We're just the little people - how would we know."
The last regional governor was dismissed amid a welter of allegations of corruption. A recent mayor of Vladivostok left under a cloud after a grenade exploded outside his office door. "We're cleaning up the mess," the current mayor told me. The men in his entourage exchanged meaningful glances.
Property developer Alex Riabov has no doubt that within a generation Vladivostok will be an Asian hub to rival Singapore or Shanghai. He invited me to see the two swanky ocean-side apartment buildings he's building with the backing of Chinese investors. "There are plenty of people around here who can afford some luxury," he tells me.
Later that same day I go to Zuma, billed as the city's poshest restaurant. Three gleaming Humvees are parked outside. The place is full of men wearing sunglasses long after dark.
The good times are rolling for the lucky few in Vladivostok and the city could be one of the big beneficiaries of Vladimir Putin's falling-out with the West. But given the motivations and inclinations of the business and political elite in Russia's eastern redoubt, don't bet on it - not unless you can afford to lose your shirt in the Tigre de Cristal.
HARDtalk On the Road in Russia is broadcast on Thursday on BBC World TV
Listen to From Our Own Correspondent:
BBC Radio 4: Thursdays at 11:00 BST and Saturdays at 11:30. Listen online or download the podcast.
BBC World Service: At weekends - see World Service programme schedule or listen online.
Subscribe to the BBC News Magazine's email newsletter to get articles sent to your inbox.