The deal to sell your home and get paid to stay
By Lucy Williamson
BBC News, Paris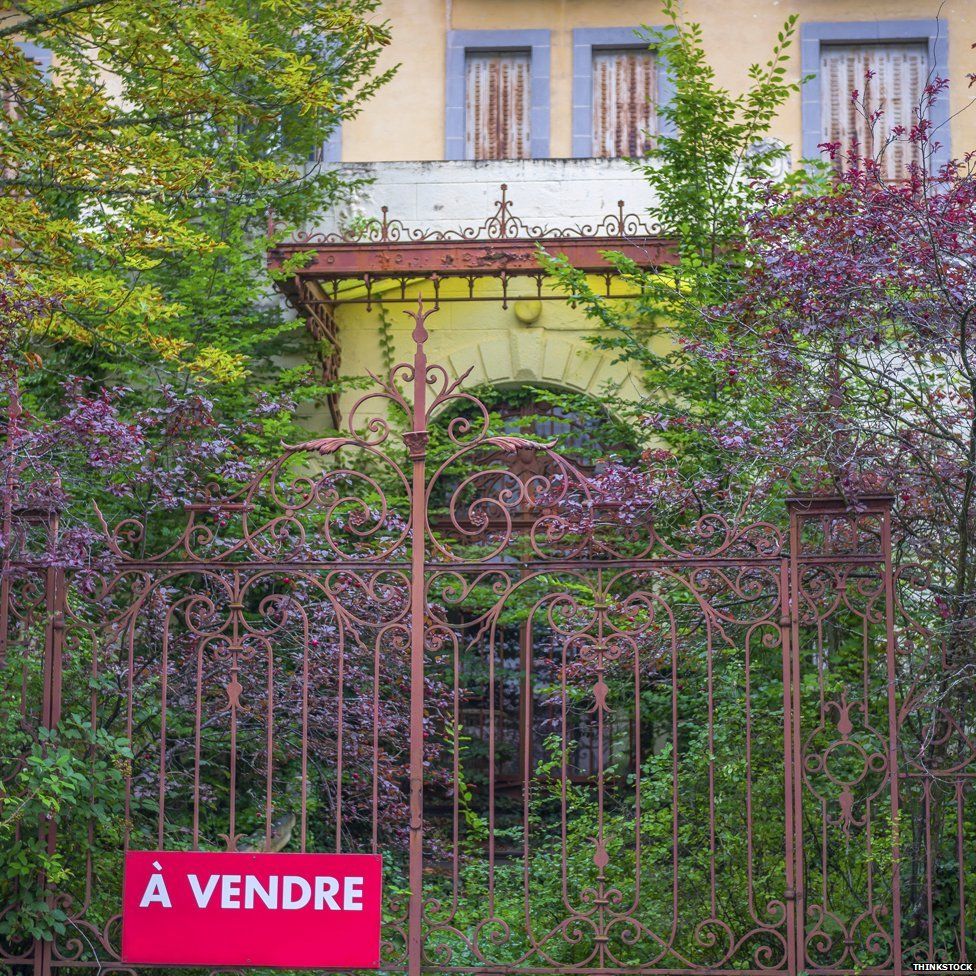 Buying a property with a sitting tenant and paying them to live there sounds like an odd investment, but the practice has been around in France since the 9th Century - and bizarrely it's getting more popular. Why?
We all know what it takes to sell a home: freshly brewed coffee, the smell of baking bread in the oven - but if you're buying under the ancient French system of viager you'd do better with a pile of medicine bottles in the bathroom cabinet and a nasty-sounding cough.
In a viager deal, the buyer pays a knock-down price - but only takes possession when the owner dies.
What complicates matters is that the buyer must pay the former owner (now the tenant) a monthly fee for the duration of their natural life - which could be months, years or even decades. And if all that sounds a bit like gambling on how long a stranger has left to live... well, it is.
Because it's forbidden to question the seller about his or her health, it also throws up incentives to indulge in a bit of, shall we say, theatrical behaviour.
"Some of the sellers ham it up a bit," one viager estate agent tells me in secret. "They sit on the sofa, with a blanket over their knees, and don't move. But actually they're in good health."
But then, he says, the buyer often needs that kind of reassurance: "Some of them expect the residents to be 100 years old," he says. "And they look for signs of illness when they visit the property - medicine bottles in the bathroom, that kind of thing."
Viager sales are a tiny fraction of real estate deals in France - less than 1%. But the popularity of this ancient and arcane way of doing business - part of French law since 876 AD - is on the rise again, as property prices in areas such as Paris remain stubbornly high.
Stanley Nahon is managing partner of Renee Costes Viager, which handles 40% of the viager market in France. He says the market is growing at an annual rate of 6-8%, and that his agency alone gets around 12,000 calls a year from elderly owners interested in a viager deal.
The growth in interest is due to the ageing population, he says, and the fact that senior citizens' pensions are falling in value as the cost of living rises.
"Eighty per cent of French personal wealth is held in property," Nahon says. "Liquid assets account for very little." So when the coffers run dry, the viager system is an appealing way out of trouble.
Genevieve Deloche is 71 and has just agreed a viager deal on her apartment in the 20th arrondissement of Paris. It's a peaceful, one-bedroom place, with a courtyard full of greenery, a large basement and a garage.
"It sold very quickly. Too quickly!" she says. "Within three months. It was a shock."
After living there for 12 years, she says it was time to consider a viager buyer because she had no children, and turning 70 meant there were no tax barriers to receiving a lump sum.
She doesn't particularly need the down-payment, she says, but the monthly stipend will go towards "having fun" - trips to the theatre, travel and eating.
With her frequent laughter, jokes and energy, Genevieve isn't quite the image of an ailing 71-year-old that her prospective buyers might have expected.
"I didn't organize anything, or hide anything, when they came round," she says. "But my sister told me: 'I hope you get one of your bronchitis attacks, then he'll think you're dying!'"
"Typically, sellers are 70-80 years old, and female," says Mikkael Ferrand of Viager 75, an agency based in the Paris's smart 5th arrondissement.
"They come from a generation where they haven't worked, their husband has died and they have a tiny pension. Sometimes they get landed with a big renovation bill for the building or something, and selling en viager is the only way they can pay the bills and still stay in their home."
It's also a way of having more control over your inheritance, says Genevieve Deloche. "You can pass on your children's inheritance to them early, at a time when they actually need it, and avoid inheritance tax too. It's also ideal for those who don't get on with their kids - because they can take the inheritance away."
In around 10% of cases, says Stanley Nahon, the first children learn about a viager deal is when their parents die - and it can leave them very disappointed. But such secrecy is rare, and many children encourage their parents to release the capital tied up in their home, as a way to support themselves in old age.
"Buyers, too, often see it as an ethical investment," he says, "because it allows the elderly to stay on in their own place and avoid moving to a retirement home."
But the children of the buyers can also be in for a shock, if they inherit their parents' viager contract. Unless they keep up the regular monthly repayments, the whole investment will be written off, and the original owner-tenant will be free to sell their property again.
A film released last year focused on just these kinds of tensions, with Maggie Smith playing a dowager lady ensconced in a viager deal, and Kevin Kline the penniless son of the deceased buyer, who turns up in Paris hoping to sell his inheritance.
Contrary to the scare stories, brokers say, positive relationships often develop over the years between buyers and sellers. They may meet for tea once a year, or send over a box of chocolates.
"It was important to like the person buying my flat," Genevieve Deloche tells me. "To have good relations, be able to laugh a bit."
Isn't it strange, I ask her, to meet someone who's gambling on how long you'll live?
"Yes, it's true, but I don't care." she says. "It's hardly a reason to jump under a car."
One broker told me about cases when the buyer's gamble spectacularly failed, with sitting tenants still going strong at 102 or 103.
It's a sign of the inherent tensions in the system that any death involving a viager is automatically investigated by the police, to clear up any suspicions.
Earlier this year, a man was charged with attempting to poison his 85-year-old viager tenant, by putting medication in her mineral water. He denied the charges.
But then the whole principle of the viager deal is based on risk - and sometimes the chips fall the other way.
"I had one client who was selling her apartment," agent Mikkael Ferrand tells me. "But a week after signing the first stage of the agreement, she died - before the deal was even completed. It's very sad. You get attached to the people. In this job, you get used to death."
'One sometimes makes bad deals'
In 1965 Jeanne Calment, aged 90, sold her apartment in Arles to her lawyer, Andre-Francois Raffray - a man half her age. It was a viager deal, and Raffray agreed to pay her 2,500 francs (about $500) per month. But Calment went on to become the world's oldest living person, dying 32 years later at the age of 122.
Raffray himself died two years before her, on Christmas Day 1995.
"On the same day, Jeanne Calment, now listed in the Guinness Book of Records as the world's oldest person at 120, dined on foie gras, duck thighs, cheese and chocolate cake at her nursing home near the sought-after apartment in Arles, northwest of Marseilles in the south of France," the New York Times reported, a few days after Raffray's death.
"She need not worry about losing income. Although the amount Mr Raffray already paid is more than twice the apartment's current market value, his widow is obligated to keep sending that monthly check. If Mrs Calment outlives her, too, then the Raffray children and grandchildren will have to pay.
"'In life, one sometimes makes bad deals,' Mrs Calment said on her birthday last Feb 21."