The man who was there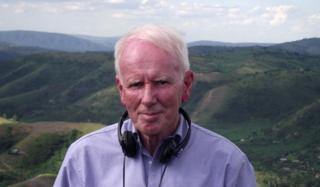 For 45 years, Mike Wooldridge has reported on some of the world's biggest news stories for the BBC. As he leaves the organisation, he reflects on some of the memorable events he has covered.
If you had asked me in 1965 when I started out on the Lowestoft Journal where I thought my career might take me, I don't think it would have included reporting at first hand on the likes of Nelson Mandela, Mother Teresa, the Dalai Lama... and Chief Dan Evehema. But it has.
Among the Hopi Native Americans, Dan Evehema is as well known as the other three - a spiritual leader who died in 1999 at the reputed age of 108. I had an absorbing encounter with him when he was already well over 100, after a seemingly endless journey to his mesa - his tableland home in Arizona.
The burning sun set on the day as he talked of the clan's history and of his distress over many young Hopi, as he saw it, abandoning important spiritual values. He was of course reflecting one of the great issues of our time - of all time perhaps - the relationship between religion, tradition and modernity.
But my life as a correspondent has, in a way, been framed by one of the greatest figures of our age.
When I first reported from South Africa, there seemed to be no end in sight to Nelson Mandela's life sentence. The single most memorable moment of my career has to be reporting his release after 27 years - live - outside the prison gates.
In 1994 I was with the long, patient queues of first-time voters in Port Elizabeth on the day he was elected South Africa's first black president.
Then in 2013 his long drawn-out passing. On one of my flights to Johannesburg, as the end seemed near, my neighbour was a white businessman working in Europe but going home because he simply wanted to be there. Among the crowds who gathered outside Nelson Mandela's hospital I heard from "born frees" - young black South Africans born since the end of apartheid - that they felt they owed their chances in life to him.
I was in Johannesburg the night he died and in Qunu, his ancestral home, for his funeral. It was indeed possible to feel that South Africa - and the world - had lost a moral compass.
About the author
Started in journalism in 1965 on a newspaper in East Anglia and in 1968 went to Uganda with Voluntary Service Overseas (VSO)
Joined the BBC on returning to Britain in early 1970, working first in the World Service newsroom and then becoming East Africa correspondent based in Nairobi from 1982-9
Reported live from the prison gates when Nelson Mandela was released in February 1990
After a stint in London as the religious affairs correspondent in 1996, became South Asia correspondent, based in Delhi
Based in London as a world affairs correspondent since 2001
Being a foreign correspondent can bring you face to face with the sacrifices so many people make simply to keep their families or their communities going, often against a background of crushing poverty and vulnerability or discrimination or outright oppression.
In the 1984 Ethiopian famine, in which up to a million people died, I saw the lengths rural people went to in an attempt to avoid trekking to the main roads to beg for food - risky journeys in every sense in the midst of a civil war and with food used as a weapon.
But eventually the camps and the crowded shelters became the visible face of a terrible famine the then regime could no longer deny.
A few days after we broke the story of the impact of the famine around the small town of Korem, I described in a despatch meeting eight-year-old Melkamu Getahun:
"Unlike others who grab at your clothes to plead with you to get them some food or help them to get medical attention," I wrote, "Melkamu's father simply came and stood in front of me with his son and gestured to me to look at him. He was extremely thin, with his ribs barely covered with skin... He looked as if all his life had already been drained out of him."
I had three young children at the time and - and in different life circumstances - it could have been one of mine. It remains one of my deepest and most unsettling memories.
At that time it was still possible for a government to shut down all communications. I covered a coup in Sudan in 1985 but couldn't get my reports out for five days. It's impossible to think that could happen now. Sadly, though, the dangers for journalists from those who want to prevent independent and impartial information getting out have only increased.
The world is of course changing fast in so many ways, and I am glad I have also reported on people's lives taking a turn for the better. After the end of the civil war in Mozambique, for example, I accompanied two church workers as they collected weapons people had dumped at agreed locations in the bush and brought them in to fashion them into pieces of furniture - Swords into Ploughshares, the scheme was called.
And when we made a programme on the return of music to Afghanistan after the fall of the Taliban at the end of 2001 it felt as if we were witnessing the revival of the nation's soul.
I once asked a farmer in Uganda whether anything had changed for the better in his family's life when, looking around their small compound, the hardship was only too evident. It has, he said, "The men with guns no longer come to our door." For him, it was one rung on the ladder.
But it is worth remembering in this year when world leaders will pledge to end poverty by 2030 that a long ladder will be needed to get there.
How to listen to From Our Own Correspondent:
BBC Radio 4: Saturdays at 11:30 and Thursdays at 11:02 BST
Listen online or download the podcast.
BBC World Service: At weekends - see World Service programme schedule.
Subscribe to the BBC News Magazine's email newsletter to get articles sent to your inbox.