Who, What, Why: Is it safer to cook rice in a coffee percolator to avoid arsenic?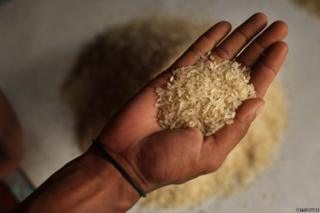 Rice should be prepared in machines designed for making filter coffee, experts say. Why, asks Jon Kelly.
Instead of boiling rice in a pan, people are being told to prepare it in a percolator.
Researchers at Queen's University Belfast found that doing so can reduce harmful amounts of arsenic which can cause bladder and lung cancer as well as damage to the nervous system. This is particularly an issue with babies and small children, whose exposure is greater.
"Rice is by far our dominant source of inorganic arsenic," says Andy Meharg, professor of plant and soil sciences at Queen's. Half of Europeans' exposure to it comes from rice and the figures are even higher in countries like Bangladesh and China, according to a 2009 report.
Rice contains high levels of the potentially toxic element because it is grown in flood plains, meaning arsenic from the soil is absorbed into the crop. It typically contains 10 times more arsenic than other foods.
An investigation by Channel 4's Dispatches programme in 2014 found 58% of rice products in the UK exceed proposed Europe-wide limits for arsenic. However the Rice Association, which represents the British rice sector, says the rice industry carried out over 1,000 tests on rice marketed in the UK and found more than 99% of samples were below proposed EU limits.
Boiling the rice on the pan until it is dry removes no arsenic, says Meharg. Any arsenic that is washed away by the water is simply re-absorbed.
But by putting the rice in the filter section of a percolator, the water flushes through it and removes 85% of the arsenic, according to results published in the journal PLOS ONE.
You would have to choose your percolator carefully. On grounds of practicality, "a stove-top percolator would not work", Meharg admits. It would have to be a drip-brewer. The researchers found it took 20 minutes to prepare white rice in this way and 40 minutes for brown rice.
This is quite a cumbersome process, given that coffee percolating machines typically run on 10-minute cycles. Queen's is developing a rice cooker based on percolation. It could safely re-circulate the water by evaporation, Megarg says.
In the meantime, people should pay attention to how much rice they consume, says Meharg. "If you are eating rice two or three times a week, it's fine. If you are eating rice two or three times a day you should be worried."
People of South East Asian heritage, vegetarians, vegans and people who are gluten intolerant tend to consume more and thus are at greater risk, he says. The Food Standards Agency says children aged under four-and-a-half should not be given rice milk as a substitute for breast milk, formula or regular milk.
Subscribe to the BBC News Magazine's email newsletter to get articles sent to your inbox.